Roe v. Wade overturned by Supreme Court in major abortion ruling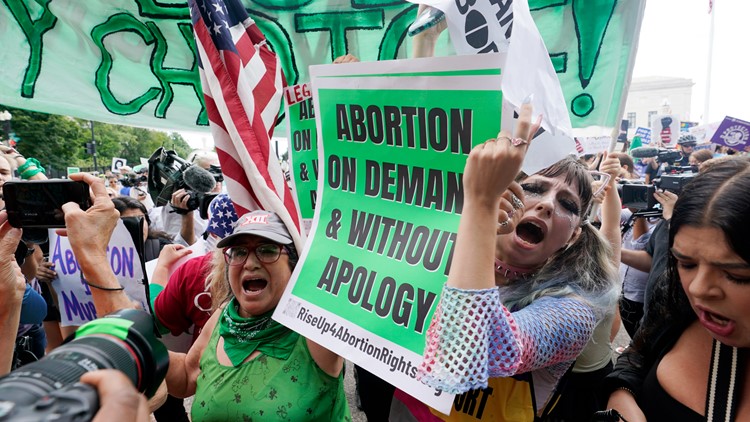 The Supreme Court decision ends nearly 50 years of state-guaranteed access to abortion and will have long-term implications for reproductive health.
WASHINGTON — The Supreme Court on Friday overturned the nation's constitutional protections for abortion that had endured for nearly half a century. The decision of the court's conservative majority overturned the landmark Roe v. Wade and is expected to lead to abortion bans in about half the states.
The ruling, unthinkable just a few years ago, was the culmination of decades of anti-abortion efforts, made possible by an emboldened right-wing court bolstered by three appointments by former President Donald Trump.
Both sides predicted that the abortion fight would continue in state capitals, in Washington and at the ballot box. Justice Clarence Thomas, part of Friday's majority, urged his peers to overturn other Supreme Court rulings protecting same-sex marriage, gay sex and contraceptive use.
Pregnant women who were already considering abortion faced a near-total ban in Oklahoma and a ban in Texas after about six weeks. Clinics in at least two other states, Wisconsin and West Virginia, stopped performing abortions after Friday's decision.
Anti-abortion activists cheered the ruling, but pro-choice advocates, including President Joe Biden, expressed their dismay and pledged to fight to restore rights.
"It's a sad day for the court and for the country," Biden said at the White House. He urged voters to make it a crucial issue in November's election, stating: "This decision must not be the last word."
Marjorie Dannenfelser, President of SBA Pro-Life America, agreed about the political stakes.
"Today a whole new pro-life movement begins. We stand ready to go on the offensive for life in each and every one of these legislatures, in each statehouse and in the White House," Dannenfelser said in a statement.
The ruling came more than a month after the stunning leak of a draft opinion by Judge Samuel Alito showing the court was ready to take the momentous step.
It puts the court at odds with a majority of Americans who are polled in favor of preserving roe.
RELATED: Which states are likely to ban abortion after Roe v. Wade was lifted?
Alito wrote in the final statement released Friday that Roe and Planned Parenthood v. Casey's 1992 decision upholding abortion rights was wrong and needed to be overturned.
"We therefore believe that the constitution does not grant a right to abortion. Roe and Casey must be overridden and authority to regulate abortion returned to the people and their elected representatives," Alito wrote in a statement closely resembling the leaked draft.
Alito was joined by Thomas and judges Neil Gorsuch, Brett Kavanaugh and Amy Coney Barrett. The last three judges are appointed by Trump. Thomas first voted to overrule Roe 30 years ago.
Four judges would have left Roe and Casey where they were.
The vote was 6-3 to uphold the Mississippi statute, but Chief Justice John Roberts did not join his Conservative peers in overthrowing Roe. He wrote that it was not necessary to overturn the broad precedents to govern in Mississippi's favour.
RELATED: What is Roe v. Calf? | Explanation of the 1973 Supreme Court decision, now overturned
Justices Stephen Breyer, Sonia Sotomayor and Elena Kagan – the court's scaled-down liberal wing – disagreed.
"With regret – for this court, but even more so for the tens of millions of American women who have lost basic constitutional protections today – we disagree," they wrote, warning that anti-abortion advocates are now pursuing a nationwide ban "from the moment of conception." could and without exceptions for rape or incest."
According to statistics analyzed by The Associated Press, the ruling is expected to disproportionately affect women from minority groups who already have limited access to health care.
Attorney General Merrick Garland said in a statement that the Justice Department will protect providers and those seeking abortion in states where it is legal, and will also "work with other arms of the federal government who are trying to use their lawful agencies to stop the." protect access to reproductive organs and maintain care."
Specifically, Garland said the Federal Food and Drug Administration has approved the use of mifepristone for medical abortions.
More than 90% of abortions occur in the first 13 weeks of pregnancy, and more than half are now performed using pills rather than surgery, according to the Guttmacher Institute, a research group that advocates for abortion rights.
The only abortion clinic in Mississippi that was the focus of Friday's case continued to treat patients Friday. Outside, men used a megaphone to tell people inside that they were going to hell. Clinic attendants in brightly colored vests used large loudspeakers to belt out Tom Petty's "I Won't Back Down" at the protesters.
Mississippi is one of 13 states, mostly in the South and Midwest, that already have laws banning abortion in the event Roe was overthrown. Another half-dozen states have near-total bans after 6 weeks of pregnancy, or bans before many women know they are pregnant.
RELATED: No, abortion isn't illegal everywhere now
In about a half-dozen other states, the battle will be over dormant abortion bans enacted before Roe was passed in 1973, or new proposals that would severely limit abortion, Guttmacher said.
West Virginia and Wisconsin, where clinics paused abortions, have 19th-century bans.
The decision came amid public opinion polls that showed a majority of Americans oppose toppling Roe and leaving the issue of full legal abortion to the states. Polls conducted by the Associated Press-NORC Center for Public Affairs Research and others have consistently shown that about 1 in 10 Americans would like abortion to be illegal in all cases. A majority support abortion being legal in all or most circumstances, but polls show that many also support restrictions, particularly later in pregnancy.
RELATED: How all 50 states have banned, restricted or protected abortion
Outside the barricaded Supreme Court, a crowd of mostly young women swelled to hundreds within hours of the decision. Some shouted, "The Supreme Court is illegitimate," while waves of others, wearing red shirts that read "The Pro-Life Generation Votes," celebrated, danced, and waved their arms in the air.
The Biden administration and other abortion rights defenders have warned that a decision toppling Roe would also threaten other Supreme Court decisions in favor of gay rights and possibly even contraception.
In their joint dissent, the liberal judges made the same claim: the majority "eliminates a 50-year-old fundamental right that secures women's freedom and equality. It violates a central principle of the rule of law that is intended to promote the stability of the law. In all of this, it endangers other rights, from contraception to same-sex intimacy and marriage. And finally, it undermines the legitimacy of the court."
And Thomas, the member of the court most likely to overturn previous decisions, wrote a dissenting opinion urging his peers to bring the same-sex marriage, homosexual sex and contraception cases to the Supreme Court to the table.
But Alito claimed that his analysis only referred to abortion. "Nothing in this opinion should be construed as challenging precedent unrelated to abortion," he wrote.
Whatever the intentions of the person who leaked Alito's draft opinion, the Conservatives were steadfast in overthrowing Roe and Casey.
In his opinion, Alito dismissed the arguments for keeping the two decisions, including the fact that several generations of American women have relied in part on abortion rights to gain economic and political power.
Changing the composition of the court was central to the anti-abortion side's strategy, the dissidents mischievously noted. "The Court is reversing course today for one reason: because the composition of this Court has changed," the Liberal judges wrote.
Mississippi and its allies became increasingly aggressive in their arguments as the case progressed, and two top abortion advocates retired or died. The state initially argued that its law could be upheld without overriding the court's precedents on abortion.
Judge Anthony Kennedy retired shortly after the Mississippi statute went into effect in 2018 and Judge Ruth Bader Ginsburg died in September 2020. Both were members of a five-judge majority primarily protecting abortion rights.
In their Senate hearings, Trump's three high-court picks carefully sidestepped questions about how they would vote on each case, including abortion.
https://www.king5.com/article/news/nation-world/roe-v-wade-overturned-supreme-court-abortion-ruling/507-28562686-fed6-4d38-ab16-dd049fc59907 Roe v. Wade overturned by Supreme Court in major abortion ruling