Roger Federer to play doubles with Rafael Nadal in final competitive match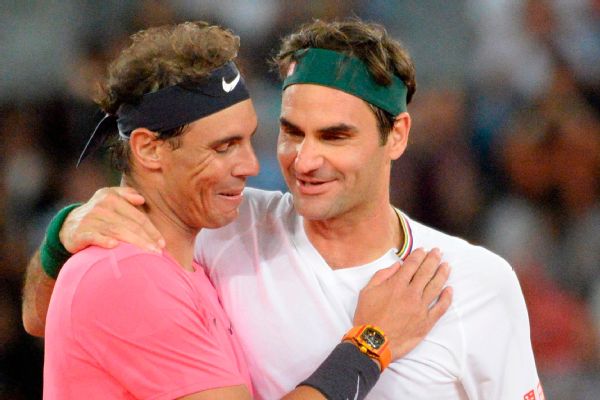 Roger Federer will team up with Rafael Nadal, his oldest rival, as he plays the final professional game of his career at the Laver Cup in London on Friday.
Thursday's draw confirmed that Federer will team up with Nadal for Team Europe against American pair Frances Tiafoe and Jack Sock for Team World on Friday night. Federer, a 20-time Grand Slam champion, will then be replaced by Italian Matteo Berrettini for the remainder of the event.
"It's very special to play with Rafa," Federer said in a press conference. "… To be able to do that again, I'm sure it will be wonderful."
Said Nadal: "Tomorrow will be a special thing. Difficult. Without a doubt it will be difficult to deal with everything, especially for Roger. But also for me. In the end one of the most important players – if not the most important player in my tennis career goes."
The 41-year-old Federer, who last week announced he was retiring due to an ongoing problem with his right knee, had said on Wednesday that playing with 22-time Slam champion Nadal would be a uniquely fitting path to go out.
"As long as we've fought together and always had that respect for each other, our families, coaching teams, for us too, to go through a career that we've both had, come out on the other side and have a nice relationship maybe great news to tennis and beyond," said Federer.
The three-day team event begins on Friday afternoon at the O2 Arena with two individual games. Norway's Casper Ruud, who finished runners-up at the US Open earlier this month, will play Sock in the opening match before Greece's Stefanos Tsitsipas takes on Argentina's Diego Schwartzman.
The evening session begins with former world No. 1 Andy Murray taking on Alex de Minaur before Federer comes onto the court for the last time.
"I'm not sure if I can handle it all, but I'll try," said Federer on Thursday about his certainly emotional farewell on the pitch.
Tiafoe, a 24-year-old American who defeated Nadal en route to his first Grand Slam semi-final at the US Open this month, gushed about the encounter: "Yeah, I'm just looking forward to playing two up-and-coming players tomorrow . ' before adding: 'It's going to be iconic to be a part of. Both guys are absolute legends."
Federer and Nadal have played each other 40 times in singles (Nadal won 26), including 14 Grand Slam matches (Nadal won 10, went 6-3 in the final). Nadal prevailed in their classic 2008 Wimbledon final, considered by some to be the greatest match in history, while Federer won their final showdown in the 2019 semifinals at the All England Club. They also played another doubles match together, defeating Jack Sock and Sam Querrey at the inaugural Laver Cup in 2017.
"To be part of this historic moment," Nadal said of Friday, "will be something amazing, unforgettable."
The Associated Press contributed to this report.
https://www.espn.com/tennis/story/_/id/34641049/roger-federer-play-doubles-rafael-nadal-final-competitive-match Roger Federer to play doubles with Rafael Nadal in final competitive match