Rookie Luke Hughes delivers 'a great night,' Devils win Game 3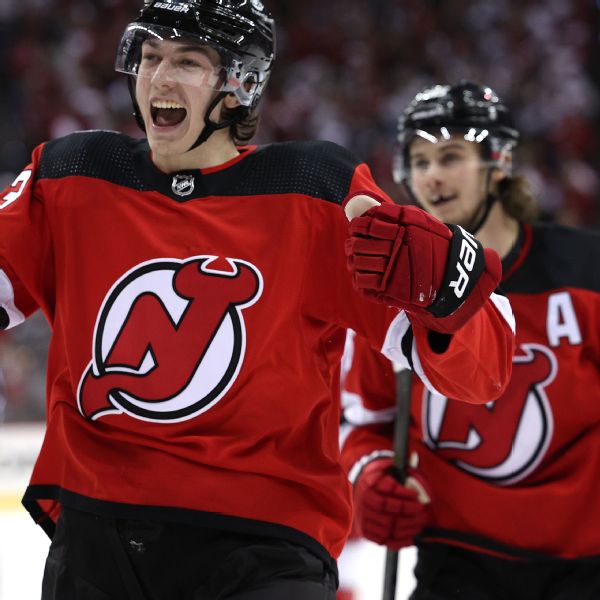 NEWARK, NJ — Luke Hughes is 19 years old. His third game as a National Hockey League defenseman was Game 3 of the Stanley Cup Playoff series between the New Jersey Devil and the Carolina hurricaneswith his club trying to climb out of a 2-0 hole.
But when there was pressure, he didn't feel it. If there were worries, he didn't have them.
"I don't really get nervous playing games. I got a lot more nervous watching from above," said Hughes, who had two assists in 12:55 Ice Age and helped energize the Devils 8-4 win Sunday at home.
"I thought the fans were great," he said. "Loved the 'Luuuuu' chants. But no nerves today."
Drafted fourth overall in 2021, Hughes signed with the Devils to join his brother Jack Hughes after his season at the University of Michigan ended. He had one goal and one assist in two regular-season games but had not seen the ice in the playoffs. With defender Ryan Graves injured, and his team needed an offensive spark after scoring twice in two games at Raleigh. Coach Lindy Ruff made Hughes one of the seven defensemen he dressed against the Hurricanes.
"I thought Luke had a great night," Ruff said. "From the first shift to the end of the game so the young man kicks like he did and plays like he did … you expect that you might get a good game. He gave us a great game."
defender Brendan Smith said Luke was a "great" skater.
"He skates like his brother. It's already elite," Smith said. "Obviously the more he plays, the better his decisions will be. But he can skate himself out of trouble and few players in this league can do that."
Luke accounted for two Devils goals. His strong forechecking gave the defender a chance Damon Severson seated behind Carolina goalie Pyotr Kochetkov for a 5:1 lead. He later picked up a secondary assist Ondrej Palat's decisive goal to make it 8-4, which was the Devils' first power-play goal of the season in 22 attempts against the Hurricanes.
But things didn't go smoothly for Luke. He had a brutal turnover on a Devils power play, sending a pedestrian pass over the blue line that was intercepted by the Hurricanes, who earned a game penalty. Jordan Martinook beat goalkeeper Vitek Vanecek at the time of 5:2.
"It wasn't a great game from me. I just put that in deep," he said. "But mistakes happen and you learn from them. And it's kind of a next-play-up mentality, so happen."
Smith said that he occasionally gave Luke advice throughout the game.
"When I was a young man, I was fortunate to have great mentors," said Smith, a former Detroit Red Wings Defender. "I can share some things I've been taught by people like Niklas Kronwall and Nicklas Lidstrom. I'll tell him how I see the game and hopefully I can help his game."
While Luke energized the Devils with his skate and puck moves, his brother Jack electrified the crowd in other ways.
"I mean, he got into a fight today. That was new," Luke said. Jack then shook his head. "It's not a fight," he replied.
In the second period, Jack absorbed repeated cross-checks in the back from Hurricanes Center Sebastian Ah. Finally, Jack grabbed him and wrestled the Carolina star onto the ice as the crowd cheered.
"Listen, he's a really good player," Jack said. "I think both of our teams want us to be on the ice and help each other out there, but that was just he sort of checked me out and gave it to me and I had enough of that. So, it's the playoffs, it's competitive, it's intense. I don't know if you can expect that to happen again, but that's hockey right there.
His teammates appreciated the effort.
"You can kiss the Lady Byng [Trophy] away," Smith joked, referring to the NHL Award for Gentlemanly Play, for which Jack is a finalist. He stood up for himself."
Jack and Aho received a small penalty for roughing, while Aho received an additional penalty for cross-checking.
When not involved in an on-ice wrestling match, Jack recorded two goals and two assists, becoming the 12th player in Devils franchise history to score four points in a playoff game.
One of those assists was an incredible pass between the legs behind the net to set up the winger Timo Meier for the Devils' first goal just 5:58 in Game 3. Meier batted the puck through Hurricanes goaltender Freddie Andersen, who was drawn after the Devils were 4-0 in the second period to earn his first point of the playoffs.
It was Meier's first shot and shot attempt of the game. Meier had 61 shot attempts and 32 shots on goal in Game 3 in eight games. His averages per 60 minutes in both categories ranked third among all players with last 100 minutes played.
Meier admitted that the goal relieved him a bit.
"A little bit, but whether you score or not, you're just trying to make a difference in every shift," he said. "It's playoff time. Every game counts and sometimes when you're not scoring goals you have to do other things and those things will lead the goals."
As the score would indicate, Game 3 was a wild ride. Meier's first point. The Devils' power play finally scores. The Hurricanes, meanwhile, became the first team in 35 postseasons to score three shorthanded goals in a game: Martinook's penalty plus shorthanded goals Jordan Staal And Seth Jarvis to reduce the lead to 7:4 in the third period. This was only the fourth time a team had scored three shorthanded goals in a game since the NHL began tracking power play and penalty shootout opportunities in 1933-34.
But that success was no consolation for coach Rod Brind'Amour after the loss.
"We were terrible," he said. "That's probably putting it mildly. Because of what they did. They were undoubtedly the better team."
The Devils are trying to bounce back from a 0-2 deficit in their second straight round after winning Games 3 and 4 against the New York Rangers before winning in seven games. Jack said experience helps the devils, but only so much.
"Totally different teams, different styles," he said. "You throw 'inexperience' around. We've been in that situation before, where we were 2-0 down. You don't want to say that you feel comfortable there. You know it's still a long series. But now we're back in this thing."