Rory McIlroy rues cold putter after falling short in U.S. Open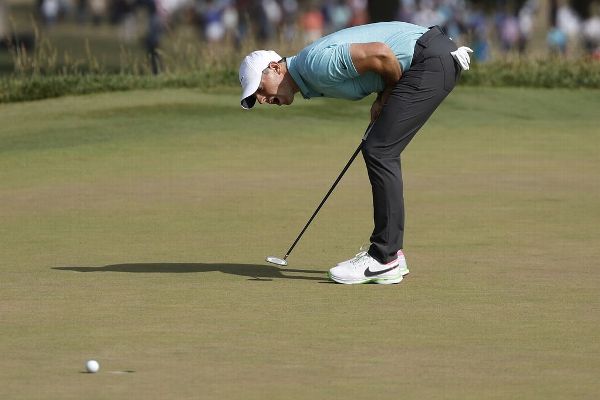 LOS ANGELES — Rory McIlroy got the kind of break most players need to win a US Open. If only he could have made a putt or two.
The golf gods, let alone the rule book, gave McIlroy a chance to salvage par after his approach on the 14th came too short and was sunk in deep grass over a bunker on the green. But McIlroy missed the putt – a common theme on Sunday – and made his only bogey of the day. That single shot cost him a one-stroke loss to Wyndham Clark.
McIlroy just hit par 70 — a birdie, par 16 and that lone bogey — and finished his four rounds at the Los Angeles Country Club with a 9-under 271. His major losing streak is now 33 tournaments, a losing streak approaching a full nine years.
"I think the putter, I'm going to regret some of the missed chances," McIlroy said. "It was difficult all day to get the ball really close. That and the wedge shot at 14 that came up a little short are the things I'm going to regret today."
He finished the day with 36 putts over 18 holes — no complicated math involved — and didn't sink a single putt over 8 feet.
His attempt to equalize on the 18th green was similar to most birdie attempts he'd had in a day, hitting the ball as well as anyone else from tee to green. It was a 40-foot contest that sprinted but ended up drifting for an easy tap-in par.
But if there was one moment that defined McIlroy's day, it was the par-five 14th. After driving into the left rough, he slammed down the fairway and had a 125-yard shot into the tight green.
McIlroy pulled out a wedge of sand, but then felt the wind pick up. Instead, he switched to a choke-down gap wedge. The approach failed. Putting both hands on his knees, he bent down and stared at his caddy, Harry Diamond, in disbelief.
"Maybe I should have waited another 15 or 20 seconds for that little gust to calm down," McIlroy said.
Instead, moments later, he was kneeling near the bunker, desperately trying to find the ball that had disappeared into the gnarled grass above the sand.
He found the ball embedded in the fairing just above the bunker. Previously, an embedded ball that was not in the fairway had to be played as it was. But following a rulebook overhaul in 2019, free relief is now awarded for any ball plugged in an area other than clay.
McIlroy settled in a perfectly working position over the bunker, 40 feet away. He threw a chip at 10 feet but missed the par putt. His only bogey of the day left him three points behind Clark.
"I felt like my chance was pretty much gone," McIlroy said.
Clark wobbled down the track with two bogeys. But McIlroy, whose putter was still ice cold, couldn't convert any birdie attempts from 22, 62, 33 or 40 feet over the last four holes.
"I can play freely, I think I proved that today," he said. "I just felt like my speed control with the putter was a little off. That's probably why I haven't birdied since the first time."
In fact, the first birdie on the short par-5 was the only time he had a win on any of the 15 greens he hit in regulation time. With those 15 greens, Jon Rahm was the best in round four.
McIlroy hit 59 greens that week. That was six more than anyone else in the field. What is often a winning formula instead resulted in McIlroy finishing second at a major for the third time. He will travel to Hoylake for the British Open next month, still without a major title since the 2014 PGA Championship.
This close decision felt a little like the last one. Last year at St Andrews he shared the lead all the way to the finals. He made two birdies that day and landed two shots back. This time he birdied and completed a shot back.
Someone has asked if those close odds are exhausting for a player who has won four major titles in his first 25 appearances but has stuck with four titles despite being among the top 10 players in golf for most of the past nine years has spent.
"It is, but at the same time it's going to be really, really sweet when I finally win that next Major," he said. "I would go through 100 Sundays like this to get another big championship."