Roundup: El Camino Real advances to City Section soccer final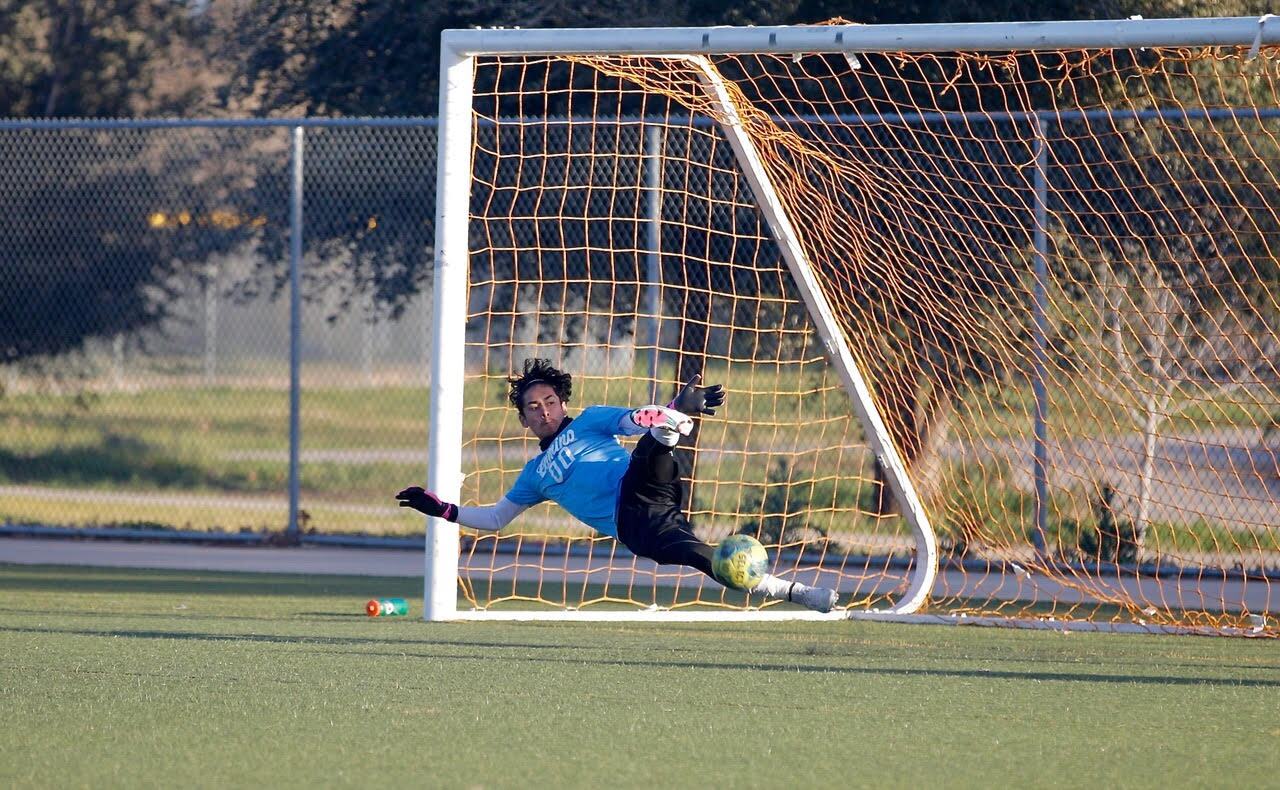 After 95 minutes in which El Camino Real and Palisades failed to score in a City Section Division 1 soccer playoff semifinal game, it was decided by penalties on a cold, windy field in the Sepulveda Basin on Wednesday. And nobody was bigger than ECR goalkeeper Matthew Ceja, who used his feet to lead to victory.
"It's an incredible feeling," said Ceja, whose side advanced to a 4-1 penalty shootout win over West Valley League rivals Birmingham in Saturday's City Section Championship game at Valley College. Birmingham defeated Taft 4-1 with Oscar Vargas scoring three goals.
El Camino Real and Palisades went goalless by rule and 15-minute overtime, forcing penalties. From the start of the penalty shootout, the Royals had the momentum. Edan Lavarovitch scored for ECR and then Ceja used his feet to deflect the ball and thwart Palisades in the first try. The Dolphins missed another shot that went over the net.
The game ended when ECR's Jonathan Rabinovitch scored the Royals' decisive goal, leading to a victory celebration and suspense as they reached the final. Birmingham and El Camino Real have already played twice, with Birmingham winning one and drawing the other. El Camino Real have won six City titles and Birmingham four.
In Division II, Carson defeated Garfield on penalties to earn a berth in the finals.
baseball
Foothill 6, Santa Margarita 4: Andrew Parker, Ty Cowley, Tyler Hawkins and Andrew Harbor each had two hits for Foothill.
Eastvale Roosevelt 6, Warren 2: Chris Medina hit four in two shutout innings of relief for a 5-0 Roosevelt.
Cleveland 10, Kennedy 3: Kevin Vazquez went three for three to lead the Cavaliers.
Los Alamitos 2, La Mirada 0: Left-hander Cole Tryba hit 10 in six innings.
Arcadia 9, La Serna 4: Devon Eskridge had two doubles, a single, and two RBIs for Arcadia.
Damien 2, Mater Dei 0: Andrew Carter threw the shutout for Damien.
Anaheim Canyon 16, El Toro 1: Cohen Gomez contributed four hits and four RBIs, and Johnny Lopez led Canyon with a homer.
Alemany 8, Paraclete 6: Andrew Garcia went four for four to lead Alemany.
soft ball
Orange Lutheran 1, Great Oak 0: Brianne Weiss batted 15, allowing a hit for the Lancers.
Norco 7, Chino Hills 0: Kaley Cook contributed three goals for Norco.
Esperanza 6, La Palma Kennedy 4: Makenna Millman had three RBIs and Charley Duran hit eight in four innings for Esperanza.
Sherman Oaks Notre Dame 2, Arcadia 1: Sarah Jacobs struck out four for Notre Dame.
Basketball for girls
49 Fremont, 17 Camino Nuevo: The Pathfinders won the City Section Division V championship.
https://www.latimes.com/sports/highschool/story/2023-02-22/prep-roundup-el-camino-real-advances-city-section-soccer-final Roundup: El Camino Real advances to City Section soccer final