Roundup of active western Washington wildfires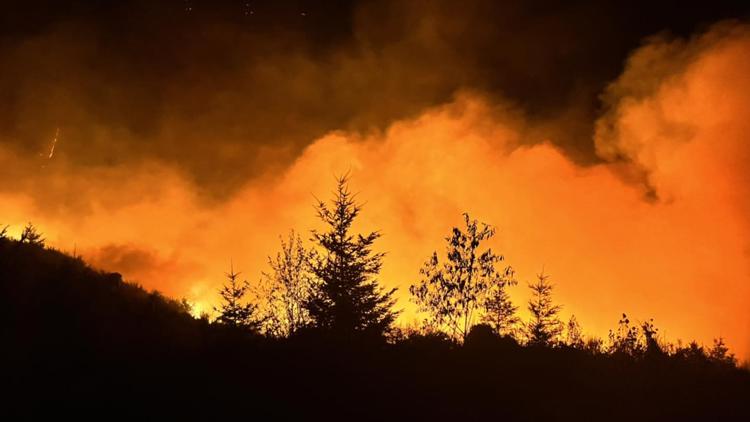 Several wildfires are raging across the state.
A recent spell of dry and hot weather in western Washington has allowed a number of wildfires to flare up, affecting thousands of acres and beginning to close some roads.
Jim Creek Fire
A fire that started Sunday at the Jim Creek Naval Recreation Area in Arlington has spread and forced staff and guests to evacuate the area.
Firefighters have continued to battle the blaze since Monday afternoon, and it is active on Mount Wheeler and neighboring Blue Mountain. There is no information about additional containment or evacuation, but the Washington Department of Natural Resources and several local agencies are involved.
Bolt Creek Fire
This man-made fire started on September 10 and has now burned 14,208 acres per InciWeb. As of Monday afternoon, the fire was 41 percent extinguished.
US 2, which has been partially opened and closed several times since the fire started, remains open but "could be delayed intermittently" if more debris falls onto the roadway.
The Baring and Index areas are on the Level 1 (Get Ready) Evacuation Guide, although that level will be reviewed by the fire manager as further progress is made in containment.
Nakia Creek Fire
Burning in southwestern Washington near Camas, the fire has burned 1,565 acres and is 5% contained as of Monday afternoon. The fire started Sunday, October 9, and is believed to be man-made.
The Conifer Adjustment Center, located about 5 miles from the fire, evacuated inmates Monday when Level 3 (Go Now) evacuation notices were sent to some homes. Below is the most recent map of which areas are below which evacuation notice levels.
Suiattle River Fire
This fire started on August 30 and is believed to have been caused by lightning. The size of the fire is estimated at 30 acres, and a Level 3 (Go Now) evacuation notice was issued Monday for the Lower Suiattle River Valley.
Goat Rocks Fire
The blaze is 5,765 acres southeast of Mount Rainier and was 2% under control as of Monday afternoon. All areas north of Butter Creek have a Level 2 (Be Set) evacuation notice, including Upper and Lower Forest, Goat Rock, River Dance, and parts of the High Valley.
Murphy Lake Fire
Burning about 2.5 miles southeast of Scenic in King County, this blaze began in a lightning strike on August 18 and has grown to 279 acres.
White River (& Irving Peak)
Another fire believed to be caused by August lightning, the White River and Irving Peak are actively burning across the Okanogan-Wenatchee National Forest. The fire covers 14,412 acres and is 10% extinguished as of Monday afternoon.
Siouxon Fire
Believed to have been caused by an abandoned campfire, the Siouxon Fire began on September 22 in Skamania County. It has grown to 1,792 acres but is burning in steep, remote terrain and is not expected to escape the fire zone.
Fire Kalama
The cause of this fire is still under investigation and began August 31 in Cowlitz County. It is 37% contained and covers an area of ​​493 acres. Firefighters believe it can be brought under control by the end of the month.
Map of wildfires in Washington state
https://www.king5.com/article/news/local/wildfire/wildfires-impacting-western-washington/281-1c9655fa-428e-4017-b662-c759bf1f0da8 Roundup of active western Washington wildfires