Russia attacks Kyiv after four military planes destroyed in alleged Ukraine drone strike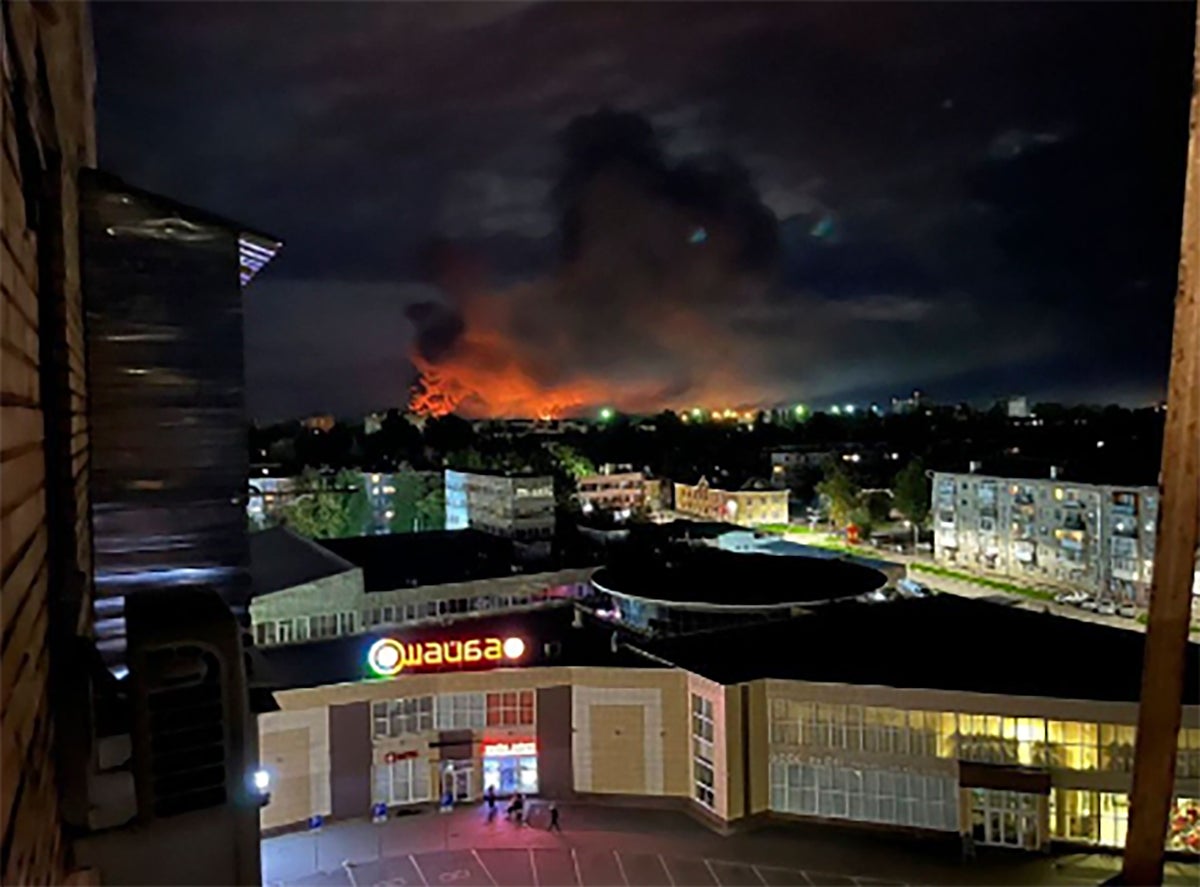 Russia said at least four of its military transport planes were damaged after Ukraine launched its largest drone attack on Russian soil since the invasion began.
The Il-76 transport plane was damaged after drones struck an airport in the western Pskov region, 660 km north of the Ukrainian border and close to the borders with Estonia and Latvia.
Two of the military planes "burst into flames" after the attack, the Tass news agency reported, and images from around the city showed fire rising high in the night sky.
All civilian flights to and from the airport were canceled on Wednesday so that the damage could be assessed in daylight, Pskov Region Governor Mikhail Vedernikov said.
"According to initial assessments, nothing bad happened, but that can hardly be determined during the night. If all is well, the airport will resume normal operations on Thursday," he said, adding that there were no civilian injuries.
According to the Defense Ministry, more drones were shot down over Oryol, Bryansk, Ryazan, Kaluga and the Moscow region around the Russian capital.
The airspace around Moscow's Vnukovo Airport was briefly closed overnight after the strikes, while flights at Domodedovo and Sheremetyevo airports were delayed.
Footage shared by the governor showed smoke rising over the city of Pskov and a large fire breaking out. According to unconfirmed media reports, between 10 and 20 drones may have attacked the airport.
Russia has accused Ukraine of steadily escalating its drone strikes on Russian soil and Russian-occupied territories in recent weeks.
Ukraine usually does not comment on who is behind the attacks on Russian territory, although officials have publicly expressed satisfaction.
Moscow responded on Wednesday with a "massive combined attack" on the Ukrainian capital using drones and missiles, killing two people and wounding another.
Sergei Popko, the head of the military administration in Kiev, said Russia fired Shahed drones at the city from different directions and then attacked the capital with missiles from Tu-95MS strategic aircraft.
He said more than 20 targets were shot down by Ukrainian air defenses.
The deaths and injuries occurred when debris fell on a commercial building in Shevchenkivskyi district, Mr Popko said.
Explosions in Ukraine were also reported from the southern city of Odessa and the Cherkassy region.