Russia launches huge drone attacks on Ukraine ahead of Victory Day holiday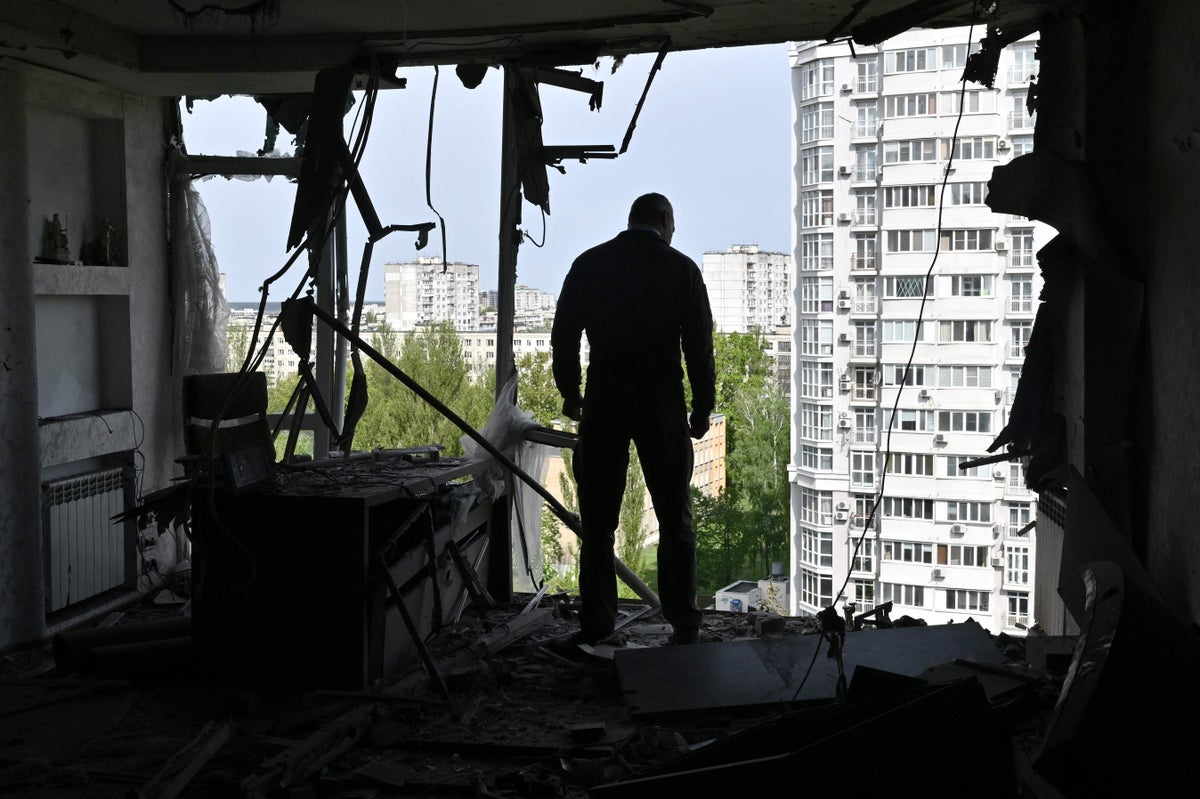 Russia launched its biggest swarm of drone strikes on Ukraine on Monday, while also preparing for annual commemorations of Nazi Germany's defeat in World War II.
Vitali Klitschko, the mayor of Kiev, said Russia fired 60 Iranian-made kamikaze drones at Ukrainian targets, including 36 in the capital. All those who fired on Kiev were shot down, he said, although debris hit apartments and other buildings, injuring at least five people.
"It was the most massive drone attack on the capital in the entire war," said Mr. Klitschko, the former heavyweight boxing champion.
The attack is part of a renewed Russian air campaign unleashed 10 days ago after a lull since early March.
A food warehouse was also set on fire by a missile in the Black Sea city of Odessa, where officials said three people were injured.
Kiev said Moscow was also making a final push to try and capture the devastated eastern city of Bakhmut in a bid to deliver Vladimir Putin's only prize in a costly Russian winter offensive in time for Victory Day.
Moscow is gearing up for Tuesday's Victory Day Parade, the most important day on Russia's calendar under Putin, who is evoking the 1945 Soviet triumph over Nazi Germany by attempting to woo the Russians to his invasion of Ukraine.
But in a rift with Russia, Ukrainian President Volodymyr Zelenskyy marked Victory Day on Monday instead of Tuesday and announced that the date of the holiday would be changed by decree to conform with Western allies' practice.
"Remembering the heroism of millions of Ukrainians in this war against Nazism, we see the same heroism in the actions of our soldiers today," said Zelenskyy, addressing the nation from a hill overlooking Kiev.
"Just as evil invaded our towns and villages then, so it is today. Just as it killed our people then, so it does now," he said. "And all the old evils that modern Russia is bringing back will be defeated, just as Nazism was defeated."
The surrender of the German Wehrmacht in 1945 took effect in Berlin late at night on May 8, when it was already May 9 in Moscow, the date that became a Soviet holiday.
Russian Foreign Ministry spokeswoman Maria Zakharova said that by moving the date, Zelensky betrayed the memory of Ukrainians fighting the Nazis. "What's worse than an enemy? A traitor. This is Zelensky, the embodiment of Judas in the 21st century," she said.
Ukraine, part of what was then the Soviet Union, suffered higher per capita casualties than Russia in World War II and was one of the core countries of European Jewry, which was wiped out in the Holocaust.
Russia issued a massive security crackdown ahead of Tuesday's commemorations. At least 21 Russian cities have canceled traditional military parades for the first time in years.
Regional officials blamed unspecified "safety concerns" for the restrictions and cancellations, or vaguely referred to "the current situation."
Ukraine, which last year pushed Russian forces back from the capital's city walls and retook considerable territory, has maintained a defensive stance for the past six months but says its counteroffensive will begin soon.
Ground forces commander Colonel-General Oleksandr Syrskyi said Sunday Kiev intends to prevent Russia from declaring victory in Bakhmut until Tuesday.
The block-by-block Russian advance is led by Wagner, a private army that recruited thousands of convicts from prison.
Explosions could be heard in Kiev all night. Three were injured in explosions in the Solomyanskyi district and two when drone wrecks fell in the Sviatoshyn district, Mr Klitschko said.
The Kiev military administration said the wreckage of a drone crashed onto a runway at Zhulyany Airport, one of the city's two commercial airports. Drone debris also damaged a two-storey building in the central Shevchenkivskyi district.
In Odessa, flames engulfed a 1,000-square-meter food warehouse that the Ukrainian Red Cross said was operating. All humanitarian supplies stored there were destroyed.
Natalia Humeniuk, a spokeswoman for Ukraine's Southern Command, later said the body of a man – a security guard – had been pulled from the rubble.
After hours of airstrike alerts sounded over about two-thirds of Ukraine, local media said explosions could be heard in the southern Kherson region and southeastern Zaporizhia.
Russia-appointed regional governor Yevgeny Balitsky said some 3,000 civilians had been evacuated from areas near the frontline that had come under fire in Zaporizhia, one of the areas where Ukraine could launch its counteroffensive. Mr Balitsky said 1,552 of them, including 632 children, had been relocated from areas near the Zaporizhia nuclear power plant.
Reuters and Associated Press