Russian-made missile hits Poland, key questions remain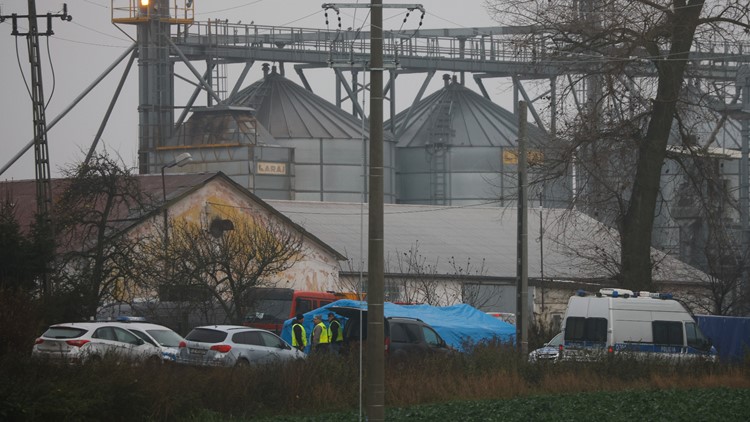 Three US officials said initial findings suggest that the missile that landed in Poland was fired by Ukrainian forces at an approaching Russian missile.
PRZEWODóW, Poland — Poland said on Wednesday that a Russian-made missile had crashed in the east of the country, killing two people, although U.S. President Joe Biden said it was "not likely." it was fired from Russia.
The explosion, which Ukrainian President Volodymr Zelenskyy called "a very significant escalation," prompted Biden to call an emergency meeting of G-7 and NATO leaders. A deliberate hostile attack on NATO member Poland could trigger a collective military response by the alliance.
But key questions surrounding the circumstances of the missile launch – no larger than who fired it – remain amid confusion caused by a series of intense Russian air strikes over the nearby border in Ukraine. Russia denies any involvement in the explosion in Poland.
Three US officials said preliminary assessments showed the missile was fired by Ukrainian forces at an oncoming Russian missile as a salvo crushed Ukraine's electrical infrastructure on Tuesday. Officials spoke on condition of anonymity because they were not authorized to discuss the matter publicly.
That assessment and Biden's comments at the G20 summit in Indonesia contradict earlier information Tuesday from a senior US intelligence official who told the AP that Russian missiles had flown to Poland. .
The Polish government said it was investigating and improving the military's readiness. Biden pledged to support the Polish investigation.
A statement from the Polish Foreign Ministry identified the weapon as manufactured in Russia. President Andrzej Duda was more cautious, saying it was "most likely" Russian-made but its origin was still being verified.
"We are acting calmly," Duda said. "This is a difficult situation."
Ukraine maintains an arsenal of weapons made by the former Soviet Union and Russia, including the S-300 air defense missile system.
Biden's decision to call an emergency meeting upset the schedule for the final day of the G20 summit in Indonesia.
European Commission President Ursula von Der Leyen said participants there discussed the explosion in Poland and expressed continued solidarity with Ukraine.
"We provide full support to Poland and support the ongoing investigation. We will stay in close contact with our partners in the next steps. We will stand with Ukraine for as long as necessary," she said.
Biden, who was woken up overnight by staff to news of the rocket while attending the summit, phoned Duda to express his condolences. On Twitter, Biden promised "the full US support and support for the Polish investigation," and "reaffirmed the unwavering commitment of the United States to NATO."
NATO Secretary General Jens Stoltenberg convened a meeting of the alliance's special envoys in Brussels. The United Nations Security Council was also scheduled to meet on Wednesday for a previously scheduled briefing on the situation in Ukraine.
The Polish statement did not mention whether the attack could have been by mistake or whether the missile could have been knocked out by Ukrainian defenses.
Poland and NATO have used language that suggests they do not consider the missile explosion a deliberate Russian attack, at least for now. A NATO statement called it a "tragic incident."
If Russia deliberately targets Poland, it risks drawing a 30-nation coalition into the conflict at a time when it is already struggling to fend off Ukrainian forces.
Polish media reported that the strike took place in a grain drying area in Przewodów, a village near the border with Ukraine.
CIA Director William Burns was in Kyiv on Tuesday during a Russian missile strike against dozens of targets in the country. He stayed at the US Embassy in Kiev during the strikes.
Burns informed Zelenskyy and Ukrainian officials of his meeting in Turkey with the head of Russia's foreign intelligence service, according to another unnamed US official to discuss intelligence matters. .
Burns told Ukrainian officials he had issued a U.S. warning to Russia not to use nuclear weapons, the U.S. official said.
The Russian Defense Ministry denied being behind "any attack on targets near the Ukraine-Poland border" and said in a statement that the photos of purported damage "have nothing to do with it." to Russian weapons.
Polish Foreign Minister Zbigniew Rau summoned the Russian ambassador and "demanded an immediate detailed explanation", the government said.
The attack came to light as Russia hit Ukraine's energy facilities with its largest-ever missile salvo, hitting targets across the country and causing widespread power outages.
The attack also affected neighboring Moldova. An official said they had reported widespread power outages after strikes cut the main power line supplying the small country.
The missile attacks plunged much of Ukraine into darkness and drew defiance from Zelenskyy, who swung his fist and declared: "We will survive anything."
In his nightly address, the Ukrainian leader said the strike in Poland was proof that "terrorism is not limited by our national borders".
Russia fired more than 90 missiles and more than 10 strike drones into Ukraine on Tuesday, Ukraine's General Staff said in an update Wednesday morning. Ukrainian forces shot down 77 missiles and 11 drones.
Ukraine's energy minister said the attack was the "largest-scale" bombardment of energy facilities in the nearly nine-month invasion, hitting both transmission and power generation systems.
Minister Herman Halushchenko accused Russia of "trying to cause maximum damage to our energy system on the eve of winter".
The attack killed at least one person in a residential building in the capital Kiev. It follows days of excitement in Ukraine due to one of the country's biggest military successes – the recapture of the southern city of Kherson last week.
The power grid has been devastated by previous attacks that destroyed about 40% of the country's energy infrastructure.
With battlefield losses on the rise, Russia increasingly targets Ukraine's power grid, seemingly hoping to turn the approaching winter into a weapon by leaving its people in darkness and cold.
In other developments, the leaders of most of the world's economic powers are moving closer to ratifying a statement strongly condemning the Russian invasion.
On Tuesday, Biden and Zelenskyy pressed G20 leaders at a summit in Indonesia to strongly condemn Russia's nuclear threats and food embargo. More discussions and a possible vote were expected on Wednesday.
https://www.king5.com/article/news/nation-world/ukraine/russian-made-missile-hits-poland-key-questions-who-fired-it/507-6ae6bbba-35d6-4214-aca1-62ad5e337081 Russian-made missile hits Poland, key questions remain