Russia's Lavrov rubbishes Ukraine peace plan and warns conflict will be resolved on battlefield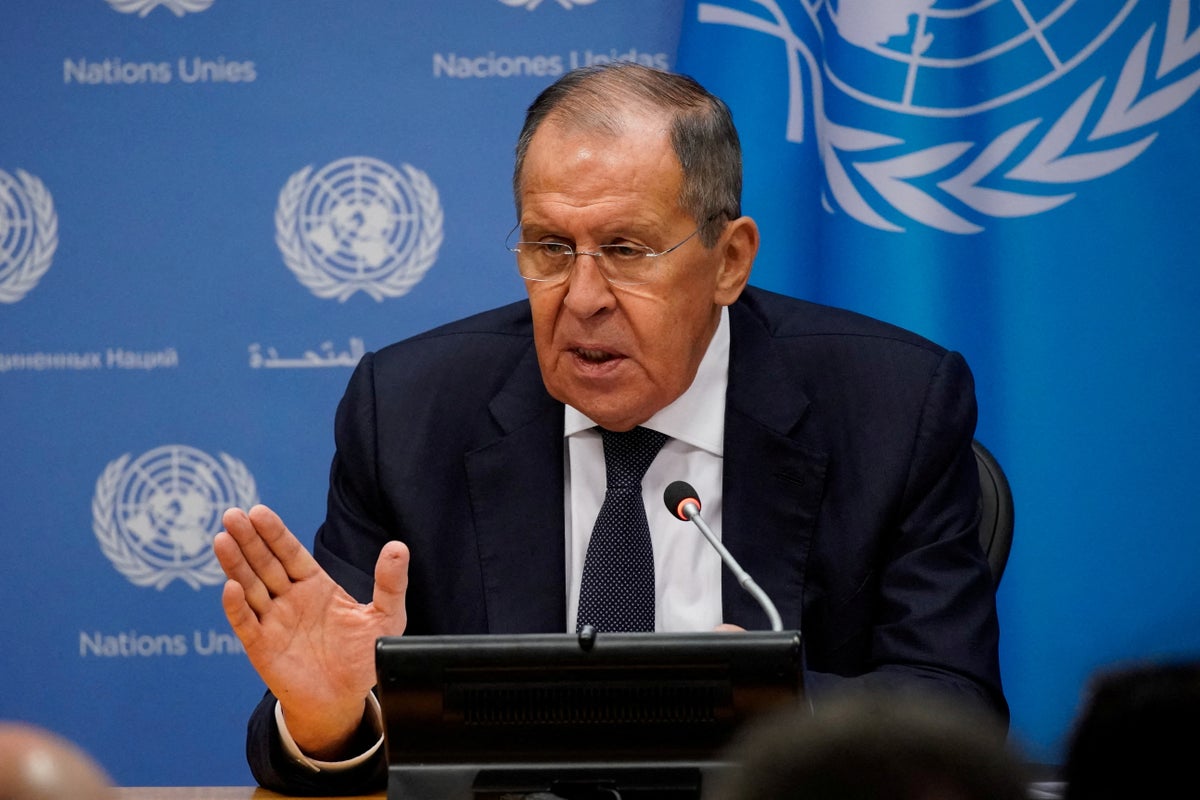 Russian Foreign Minister Sergei Lavrov has rejected Ukraine's 10-point peace plan and warned that the battlefield conflict will be resolved if the West continues its engagement.
In his address to the U.N. General Assembly on Saturday, Lavrov called the West an "empire of lies" and said the plan promoted by Kiev was "completely unworkable."
In a letter to Mr. Lavrov last month, U.N. Secretary-General Antonio Guterres outlined four measures the U.N. could support to improve Russia's grain and fertilizer exports to persuade Moscow to return to the Black Sea agreement that allowed Ukraine to export grain exporting the corridor and helped address a global food shortage.
"We explained to the Secretary General why his proposals will not work," Lavrov said. "We don't reject them. They're just not realistic. They cannot be implemented."
Earlier Saturday morning, Ukraine launched another missile attack on Sevastopol in occupied Crimea, a Russian-appointed official said, a day after an attack on the headquarters of Russia's Black Sea Fleet left a soldier missing and left the main building smoldering.
Sevastopol was on airstrike alert for about an hour after debris from intercepted missiles fell near a pier, Governor Mikhail Razvozhayev wrote on the messaging app Telegram. Ferry services in the area were also suspended and later resumed.
According to a pro-Ukrainian news channel Telegram, which reports on developments on the peninsula, loud explosions were also heard near Vilne in northern Crimea, followed by rising clouds of smoke.
Crimea, illegally annexed by Russia in 2014, has been a frequent target of Ukrainian forces since Vladimir Putin ordered a full-scale invasion of the neighboring country nearly 19 months ago.
Ukrainian intelligence chief Kyrylo Budanov told Voice of America on Saturday that at least nine people were killed and 16 injured in Kiev's attack on the Black Sea Fleet on Friday.
He claimed that Alexander Romanchuk, a Russian general who commanded forces along the key southeastern front, was "in a very serious condition" after the attack.
Elsewhere, Ukraine said its heavy artillery would inflict "hell" on Russian lines near Bakhmut.
The Western-supplied heavy weapons were captured by Russian forces in May and are causing significant damage to enemy lines. The 155mm howitzers supplied by the US and NATO allies are expected to prove key to the long-awaited counteroffensive.
"She [the Russians] "I hate our hardware," said 30-year-old unit commander Oleksandr. "We find out from our interceptions. We hear we continue to give them hell and they keep wondering how much ammo we have left."
Oleksandr described Klishchiivka – a village near the destroyed city of Bakhmut – as "one of the places [the Russians] that we held on to. We'll see what comes next. We will continue to develop our success."
Meanwhile, Canadian Prime Minister Justin Trudeau has announced several support packages for Ukraine, including military, economic and humanitarian aid. He has also pledged additional diplomatic support for steps to punish Russia for its war in Ukraine.
In a news conference with Ukrainian President Volodymyr Zelensky, Mr. Trudeau confirmed that Canada would continue to "impose costs on Russia" and ensure that "those responsible for this illegal, unjustified invasion do not benefit from it."
"We stand here absolutely united in our defense of democracy and our condemnation of Vladimir Putin's unprovoked, unjustified and unconscionable invasion of Ukraine," Mr. Trudeau added.
Canada and Ukraine have agreed to form a working group with G7 partners to analyze the seizure and confiscation of Russian assets, including from the Russian Central Bank. In addition, 63 Russian individuals were added to the sanctions list, including those "involved in kidnapping children and spreading disinformation," Trudeau said.