Samantha Morton Claims Harvey Weinstein Tried to Destroy Her Career
The actress claimed Weinstein wouldn't cast her in his movies after she turned down a role in what she described as a "really misogynistic" film.
Samantha Morton is opening up about her alleged experience with disgraced Hollywood mogul Harvey Weinstein.
During a recent appearance on The Louis Theroux Podcast, the 46-year-old actress claimed Weinstein attempted to "destroy" her career after she turned down a role in his 2000 romantic comedy About Adam, which she described as a "really misogynistic" film.
Morton said she was approached with the project after Weinstein saw her performance in the 1997 film, Under the Skin. However, she wasn't interested in starring in the film — and according to Morton, Weinstein didn't take it well and subsequently threatened her career.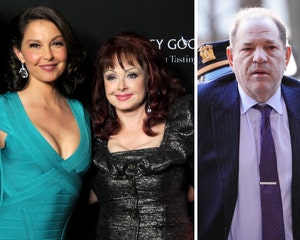 Getty
Harvey Weinstein Accuser Ashley Judd Reveals Late Mom Naomi Told Her to 'Go Get Him'

View Story
"I said, 'I don't like it,'" Morton said of About Adam. "I think the film is really misogynistic, and I don't want to be part of it.' The casting director came back with, 'You don't say no to Harvey.' Well, it's not to him. I just don't want to do this film … and I had just worked with Stuart Townsend on Under the Skin. It was just not interesting to me. I was uber-polite."
"I [then] had a phone call saying, 'You can't say no,'" she added. "The 'no' wasn't being listened to. So they kept coming back with this role, and I was told unequivocally, 'You're not going to work again unless you do this role. I'm going to make your life hell. You will not work again.'"
The Minority Report actress claimed her decision to turn down the offer resulted in Weinstein blackballing her from starring in his films, including The Brothers Grimm. The role in the fantasy film — which starred Matt Damon and Heath Ledger — ultimately went to Lena Headey.
According to Morton, Weinstein called her "unf—able," before recalling her reaction to Weinstein not casting her in the project. "It made me question why he was anti-me?"
"I forgot about [About Adam] because it was years earlier," she explained. "And then all these years later, I realized that [when] I get an offer, get a letter from a director, if Miramax or then the Weinstein Company had anything to do with it, it was just awful for me."
"He had a reason, a deep-seated reason, to just try and destroy my career, and he couldn't," Morton added. "He categorically couldn't because I kept working, doing independent cinema all over the world."
Weinstein addressed The Walking Dead star's comments in a statement to Variety, denying her claims and accusing her of using his "name" and "situation" to "make headlines."
"Samantha is a brilliant actor and can do anything well, and that is for certain," he said. "What you need to know is that we picked Lena Headey for Brothers Grimm simply because we believed her to be the best for that particular role — not for anything other than that. The comment Ms. Morton claims I said was said by one of her own team members and not me. This is an old story and, once again, someone is using my situation to make headlines for a project they want to promote. And kudos to Ms. Morton — this is exactly what happened."
"It didn't happen that way. She is a great actor, and she didn't get picked because we thought someone was a better fit for the part," he added. "That is how producing a great film works. People should just stop using my name to advance their own agendas at this point — it's too easy to say it and for it to go viral, but it doesn't make it fact."
In March 2020, Weinstein was sentenced in New York City to 23 years in prison for third-degree rape and a first-degree criminal sexual act, which he is currently serving. Nearly three years later, he was sentenced to 16 years in prison in Los Angeles after the jury found him guilty of rape.
Meanwhile, among the many projects — across film and television — Morton appeared in the 2022 film She Said, which centers on the 2017 New York Times exposé that took down Weinstein.