Saquon Barkley mulls sitting out season, says 'I might have to'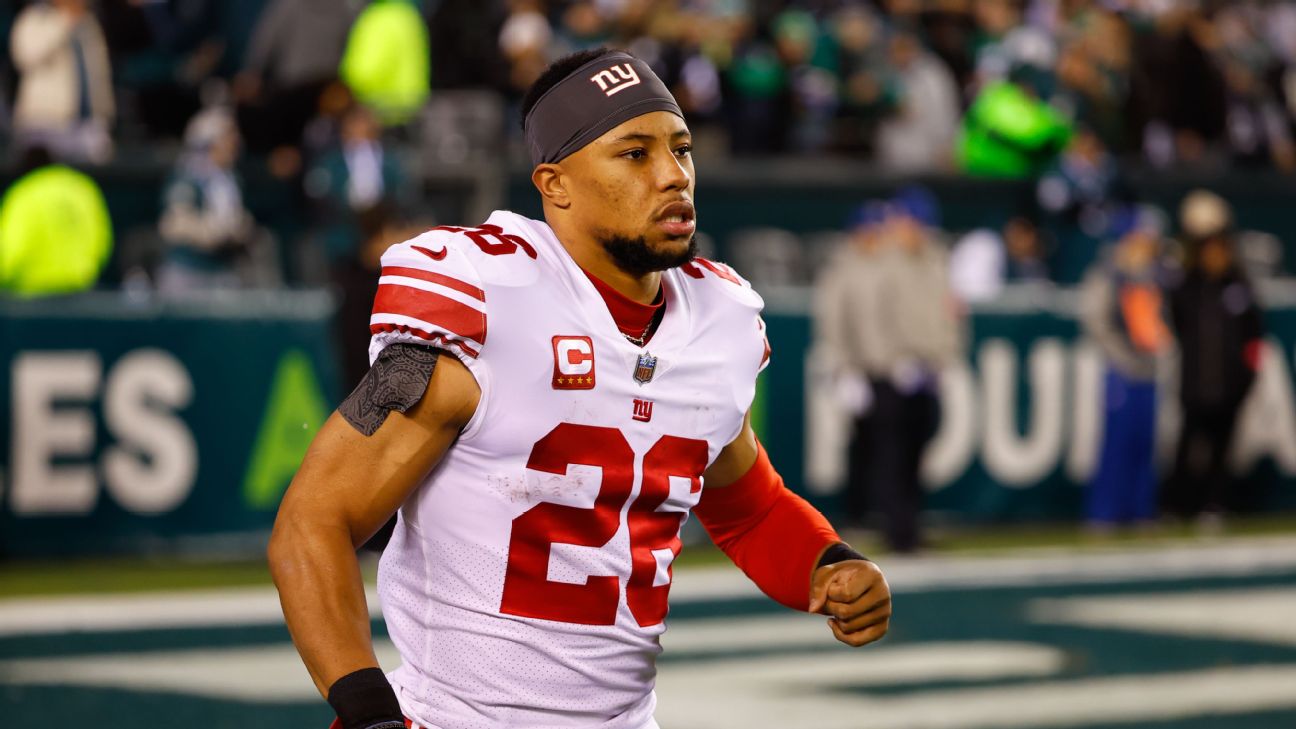 Saquon Barkley says he's considered not playing for the New York Giants this season, admitting in a recent interview that given his standoff with the team over a long-term contract, he "may have to go to that level."
Barkley discussed his "influence" on the Giants' contract negotiations during an appearance on The Money Matters podcast, which was taped ahead of Monday's deadline for franchise players to agree to long-term contracts.
The Giants and Barkley failed to agree on a deal before the deadline, meaning the star running back must play next season as part of the $10.091 million franchise tender.
Because he still hasn't signed the tender, Barkley can't be fined for missing training camp, which begins July 25 for the Giants veterans. The two-time Pro Bowler will only lose money by missing regular-season games and forfeiting game checks — a possibility he admitted he's considered.
"My leverage is that I could say 'F— you' to the Giants, I could say 'F— you' to my teammates," Barkley told The Money Matters podcast, where the interview from July 11 was released Monday. "And say, 'You want me to show you my worth? Want me to show you how valuable I am to the team? I won't show up. I will not play defeat.' And that's a piece I could use.
"Anyone who knows me knows I don't want to do that. Is it something that's crossed my mind? I never thought I would ever do that, but now I'm at a point where I'm like, 'Jesus', "Maybe I have to take it to this level." Am I willing to take it to this level ? I don't know it."
Barkley said he wants to discuss his options with his family and advisors to "devise strategies for it" rather than "just sparking emotions." Sources told ESPN's Adam Schefter earlier this week that Barkley is unlikely to show up for the start of training camp.
The player to last sit out an entire season was star running back Le'Veon Bell with the Pittsburgh Steelers in 2018.
Barkley reiterated during the podcast that he considers himself the best running back in the NFL, but also said he still wants to help the Giants win a Super Bowl.
"I can try to get as much money as possible, but what really counts is the win," he said. "I know if I can help bring a championship to New York, it will go miles ahead of this contract."
The Giants' contract negotiations with Barkley did not go smoothly from the start. Multiple sources told ESPN's Jordan Raanan that the Giants made an initial offer during farewell week last November that Barkley never seriously considered before the two teams only held postseason talks.
The Giants' offers for Barkley increased earlier in the year, reaching a point where a deal could max out at $14 million per season, sources told Raanan. But the sticking point was the guaranteed money and structure that never remotely satisfied Barkley, prompting the Giants to finally apply their franchise tag to Barkley in March.
Barkley, 26, ranked fourth in the NFL last season with a career-best rushing yards of 1,312, rushed for 10 touchdowns and secured the team's lead with 57 receptions. He has appeared in 60 career games in five seasons since being named Offensive Rookie of the Year in 2018.