Scientists aiming to move closer to cracking concussion code for female athletes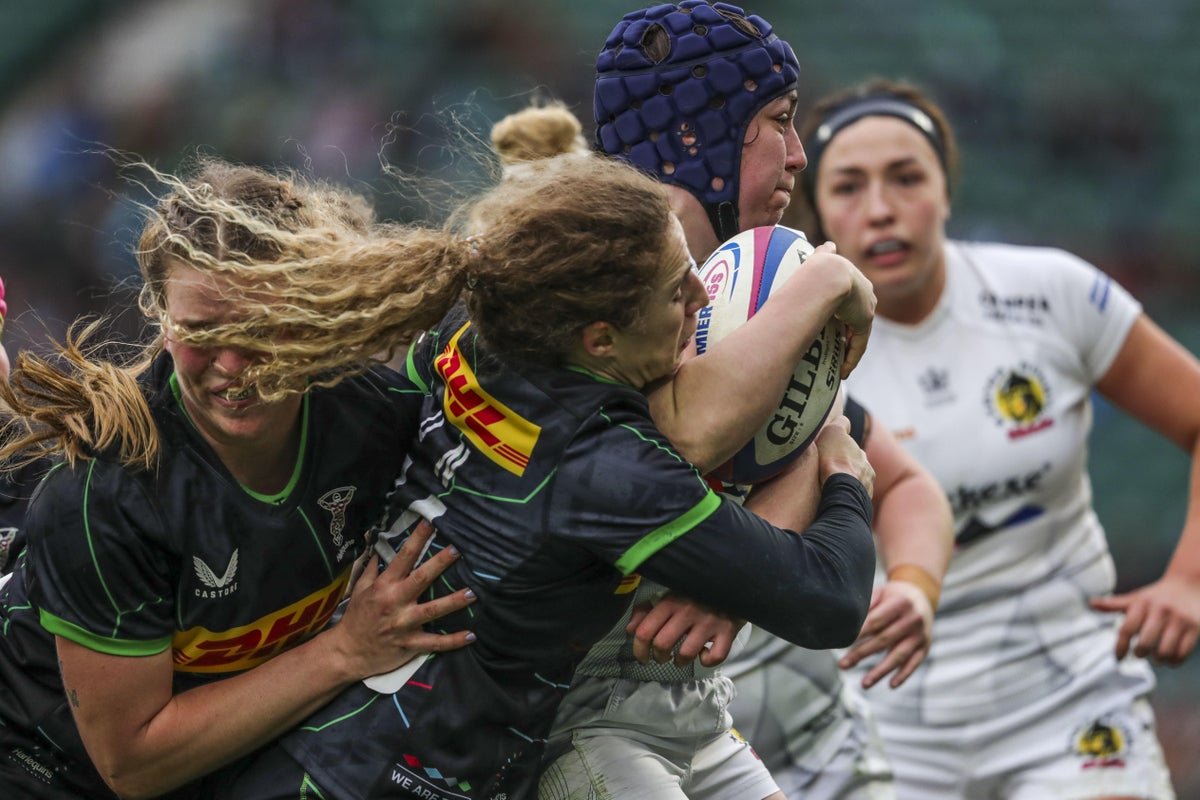 Scientists hope to get a step closer to solving the concussion code for female athletes later this year.
Marker Diagnostics has developed a tool that can identify the "unique signature" for concussion in a male player's saliva.
In 2021, a University of Birmingham study found the tool was able to accurately predict the outcome of 94 percent of head injury assessments (HIAs) performed on elite male rugby players.
Marker researchers are now working to determine whether the same test can accurately and objectively diagnose concussion in female players, or whether a female-specific test is needed.
Testing has been taking place in the English women's top flight since 2018, last year at the Women's World Cup and the Farah Palmer Cup in New Zealand and last year and this year at the TikTok Six Nations.
The study, co-funded by World Rugby and Marker, is set to continue in top-flight English sport and this summer's Farah Palmer Cup, and possibly other women's competitions where HIAs are run.
All players who agree to participate will receive a saliva swab and complete a health questionnaire prior to the competition. They will then be retested if they undergo an HIA at any point during the competition.
These tests are performed at each stage of the HIA – immediately after an impact during a game, immediately after the game and between 36 and 48 hours after the game.
Patrick O'Halloran, a senior medical adviser at Marker, told the PA news agency: "We saw differences between men and women early in the study. By the end of this year we should be able to find out if concussion is different in women or is it just diagnosed differently and what happens after that concussion.
"It could be, 'OK, men and women look a little different based on these markers, but actually these differences are proportional and after a concussion, the test is still positive when we expect it to be.'
"Or it could actually be that in women you need a completely different panel of biomarkers."
When asked why this study is so important, O'Halloran added, "This is a group of athletes playing at a unique time when women's sport is exploding in terms of popularity."
"The opportunities for women's sport are currently very, very large. Unfortunately, the same resources are not available in women's sport as in men's sport. But women still suffer from concussions.
"Women's sports physicians still face the challenge of objectively diagnosing concussion in female athletes. Therefore, creating something that can fill this resource gap will be of great importance as women's sport continues to grow and evolve.
"This will provide additional information, unique information not previously available to keep players safer.
"That's what everyone wants – players, players' representatives, coaches want more clarity and objectivity and what the leagues want is a more consistent standard of care and again consistency and objectivity."
"What we are looking for is the unique signature of a concussion to enable medically sound treatment."
Published research suggests that female athletes are more likely to experience concussions, which may be associated with a wider range of more severe and longer-lasting symptoms compared to their male counterparts.
dr Valentina Di Pietro, of the University of Birmingham, said: "Concussion can be difficult to diagnose, particularly in grassroots sports where specialist assessment is not possible."
"Consequently, some concussions may go undetected. A non-invasive and accurate diagnostic test using saliva is a real game changer and will be an invaluable tool in helping physicians diagnose concussions more consistently and accurately."