Sean Dyche hopes Everton are close to solving their goalscoring problems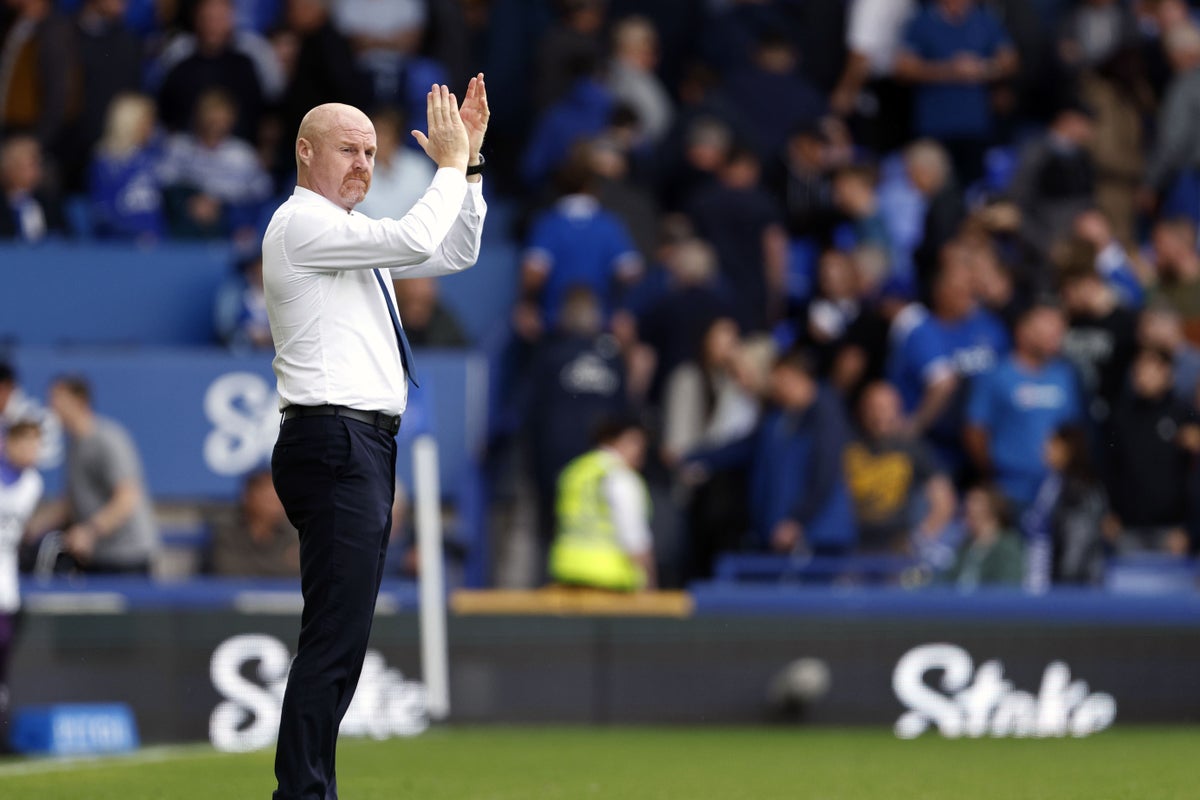 Everton manager Sean Dyche is confident the goal problem that has plagued the side for a year will soon be resolved.
Despite creating 19 chances against Fulham, the Toffees suffered an opening defeat at home – where the top-flight top scorers lost a record 10 league games last season.
At the heart of the problem is the continued unavailability of the injured Dominic Calvert-Lewin, who may be a few weeks away from being ready due to a lack of minutes in pre-season play.
However, the additions of Arnaut Danjuma on loan – who made his debut as a late substitute – and young Sporting striker Youssef Chermiti, who watched from the stands, will hopefully help ease the strain as current substitute Neal Maupay creates numerous chances forgiven He extended his dismal tally to one goal in 30 appearances for the club.
"Dominic will get some football among other things this week," said Dyche, who is still on the lookout for reinforcements but knows he needs to do more with the limited resources at his disposal.
"He's at the end of his rehab so we're going to be stronger over the next week or two just by our own group and let's see if we can get something that helps us too."
"Arnie (Danjuma) is getting fit, really fit – he knows he's a bit behind the curve.
"I'm confident that we have to rely (on the players) within the squad because that's who we are at the moment. If we can influence it, we will."
Everton only had 41 percent possession but made the most of it and could have won the game by half-time with a better finish.
Although the result was disappointing, the manner of performance was more encouraging than most relegation duels as Dyche took over in January and saved them on the final day of the game.
"Some of the breakaways, some of the moments, some of the quality of the chances were excellent," added the Toffees coach.
"One of our analysts said that xG, which I don't really believe in but is still a point of reference, was around three, which is a high number in the Premier League.
"It's inevitably just a measure, but we have to look at where we've been and where we are now – and I think that was a big shift.
"Now we have to find the right moments to score goals.
"But there is a really strong sign today, a strong sign that there is a good team there that creates a lot of chances and a lot of good things, so we have to believe in that."
Fulham were lucky to leave Goodison Park with a third straight win and manager Marco Silva admits there is still plenty of room for improvement.
"We need more time to work, our pre-season wasn't at the level it should be, so we lacked a bit of energy," he said.
"But we were able to win a football game and that shows that we have the quality to work."