Seattle 1K race features beer and donut stations instead of water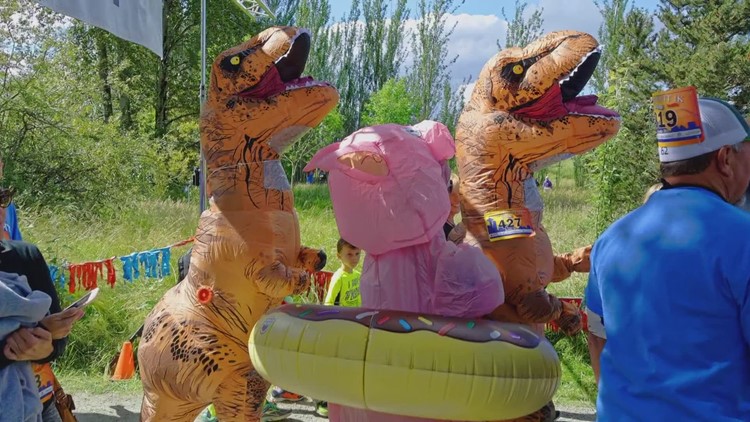 Lard Butt 1K (0.62 miles) takes place on August 5 at Magnuson Park in Seattle. The event also serves as a food drive for the University District Food Bank.
SEATTLE — If you're in for an upcoming summer "race" in Seattle, you might be really screwed.
Organizer of butt fat 1KMark Peterson, says the run is about confidence-building and fun.
His organization describes itself as an apparel and lifestyle company dedicated to below-average athletes and weekend warriors.
The race is scheduled for Saturday, August 5, at Magnuson Park in Seattle.
Instead of traditional water stations, Peterson the Lard Butt 1K has donut stations every 250 meters and a well-stocked beer garden before and after the race.
>> Download KING 5's Roku and Amazon Fire apps for on-demand live video and newscasts
Participants were asked to bring at least one non-perishable food item for a canned food drive for College food bank.
Everyone is encouraged to run or walk in costume for the "Spirit of Lard Butt" costume party.
The show-off wave: For those with "the audacity to run"
Legends Wave: For those who weigh more than 250 pounds
Waddlers Wave: For Everyone
Free Kids Dash: For those aged 10 and under
Walking/running/waddling starts at 9:30 a.m. on August 5, registration opens at 8 a.m. The Beer Garden opens at 8:30 a.m.
Pre-registration is $35 at www.lardbutt.com, which includes event access, Lard Butt 1K t-shirts, unlimited donuts, one beer or mimosa for those 21 and older, plus any other benefits. other on the spot.
Parents with baby strollers are welcome, and the event is dog-friendly for leash pets.
Daily subscription cost increased to $40.