Seattle air quality worst among major world cities Sunday night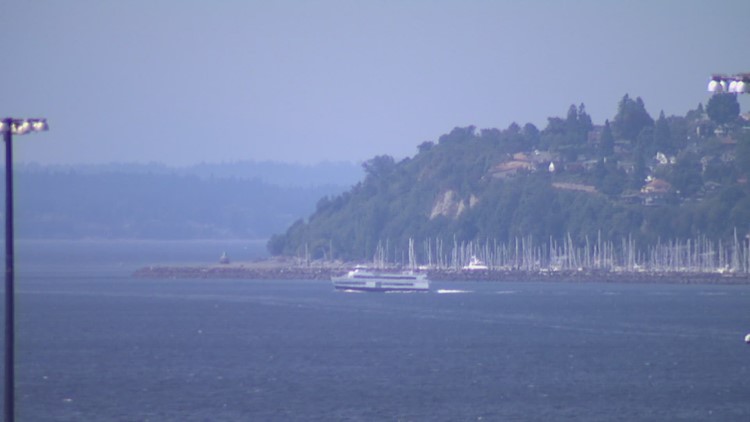 The weekend smoky skies are expected to disappear within the first few days of the work week.
SEATTLE – Seattle saw some of the world's worst air quality on Sunday as wildfires raged across the Pacific Northwest, but the Emerald City's air is expected should improve when the work week begins on Monday.
Winds changed direction from Friday night to Saturday morning, bringing smoke into western Washington, according to Puget Sound Clean Air Dealer (PSCAA). Wildfire smoke reached the northern Sound on Saturday morning and continued to move south throughout the day.
Based on PSCAA Air Quality Map, much of Seattle reached the "unhealthy" level for all groups on Sunday afternoon. Seattle topped the world's major cities with the worst air quality index (AQI) of 183 on Sunday night, according to IQ Air.
Smoke from the fires that have burned more than 10,000 acres in Spokane County has been pushed westward across the state west of Washington as a result of Hurricane Hilary activity on the lower West Coast near Mexico and California.
Relief will reach the Washington coast before entering Puget Sound and foothills.
An approaching system will reverse inshore winds Sunday through Monday, bringing in cooler air and gradually improving air quality as smoke is pushed out of the area. Monday's air quality improvement will be slow–air quality improves from west to east.
Air quality affects health
Isha Khanna, PSCCA's air resources specialist, says people can feel some health effects if exposed to air quality, especially those in sensitive groups.
"When I say sensitive population, it means anyone, infants, children, people over 65, or people with any pre-existing health conditions," says Khanna.
While people in sensitive groups may feel the effects of poor air quality more quickly, prolonged exposure to fresh air can have negative effects for anyone.
Negative symptoms include chest pain, cough, fast heart rate, headache, irritated sinuses, burning eyes, and shortness of breath.