Seattle airport court ordered to allow ICE deportation flights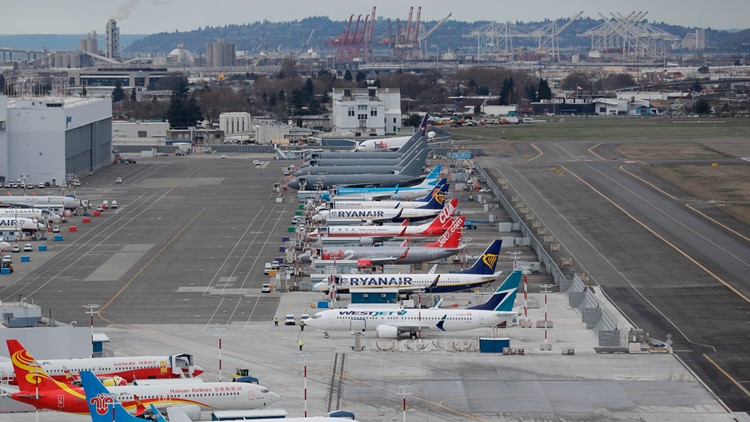 A 2019 King County executive order banned all deportation flights to combat "troublesome immigration practices."
SEATTLE – Boeing Field, officially known as King County International Airport (KCIA), has been ordered by a court to allow US Immigration and Customs Enforcement (ICE) to resume deported flights. after a years-long battle in court over an executive order issued in 2019.
In April 2019, King Dow County CEO Constantine issued an executive order put a ban on all deportation flights of immigrants detained out of KCIA, a publicly owned airport, to combat "troublesome immigration practices" that "could lead to abuses and violations of human rights"
ICE said in a statement that its air operations transport detained non-citizens to various ICE-managed facilities across the country or to the detainees' countries of origin. kept in a "safe and humane" manner.
The county also stated that it felt that "if ICE flights continue and advocacy groups change from advocates to activists, [they] are very likely to witness protests" and that businesses operating outside the airport "most likely decide that this is not the airport they want to operate in and move their business to another place."
The documents say ICE has explored the use of other airports in the area including Seattle-Tacoma International Airport, Portland International Airport, the airport at Joint Base Lewis-McChord and one at Bellingham , but no airport accepts ICE charter flights. Finally, flights were resumed from Yakima Airport.
U.S. District Judge Robert J. Bryan ruled in March that the entire executive order must be declared invalid. He ruled the county executive order "discriminates against the federal government because other users of the airport are not subject to the restrictions found" in the order.
ICE confirmed at least one deportation flight took place at KCIA last week. Last week's flight finally landed in Guatemala after making stops in Arizona, Texas and Louisiana.
ICE said it does not confirm or discuss future flights and is pending for security reasons.
King County said that starting May 15 and 15 of each month, KCIA will release information about ICE flights from the previous month on county website.
"King County has always been dedicated to protecting the public's right to complete transparency about any federal action at the airport that violates our values. We will continue our longstanding commitment to creating a welcoming community that respects the rights of all," Constantine said in a statement Friday.