Seattle Convention Center features Indigenous art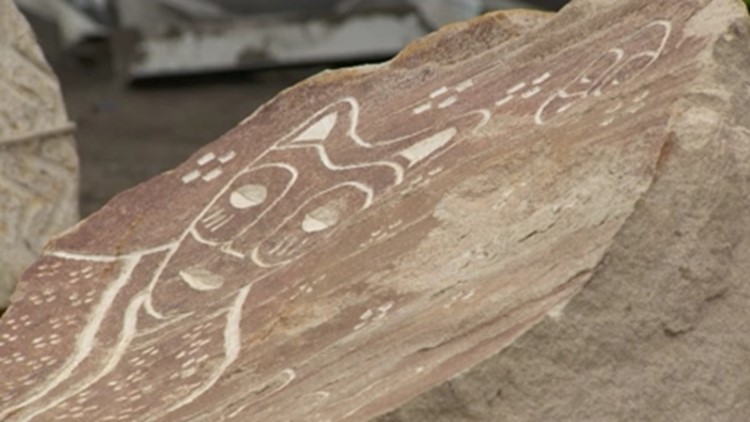 As part of an ongoing program in Seattle, indigenous art is being installed at the new convention center to greet guests as they enter the remodeled space.
SEATTLE — New artwork will be on display at the Seattle Convention Center opening Wednesday.
Five indigenous female artists were selected back in 2019 to create artwork that decorates the entrance of the new convention center.
Malynn Foster is an indigenous artist who creates Salish carvings. Foster has several carvings being installed at the convention center, two of which will greet visitors at the 9th Avenue entrance.
"The truth is, whenever it comes to public art, if indigenous artists don't get a chance to talk about our own work, our own living experiences, our cultural belief systems. us and only indigenously inspired art was created and brought into these lands," said Foster. "It creates a false narrative about who we are."
This newly remodeled convention center project is part of a larger effort to bring more authentic Indigenous art into public spaces around the city. Thanks to the support of local art groups and an increase in awareness of Indigenous history, Indigenous artwork hopes to soon become a common sight in and around Seattle.
Andrea Wilbur Sigo, who was recently commissioned by the Chief Seattle Club, has two Coast Salish carvings to be installed downtown later this year.
Foster was selected for the Seattle waterfront project and is expected to install a sculpture in 2024.
In conjunction with the recent project, local art groups are creating a roster of Indigenous artists with the goal of taking steps to decolonize the artist selection process for commissioned public works. rights in the future.
"It's really important that we're telling our own stories," says Foster. "And that's what our artwork is, our own stories, or where we've been, where we hope. Our early teachings, what we hope to leave behind for our great-grandchildren, those stories."
https://www.king5.com/article/news/community/facing-race/indigenous-art-welcomes-visitors-seattle-convention-center/281-dcbfa7bf-165f-41ed-8681-7631127348d2 Seattle Convention Center features Indigenous art