Seattle could set rainfall records in June with atmospheric river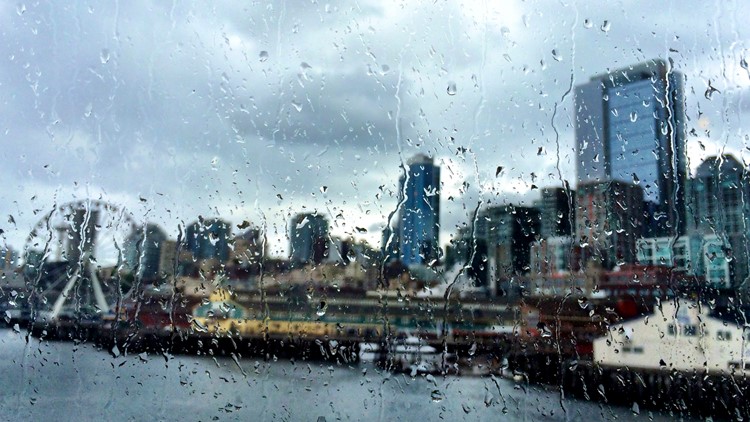 An unusual spring weather setup will bring areas of heavy rain to parts of western Washington later in the week through the weekend.
SEATTLE — June is historically one of the drier and sunnier months for western Washington, but a rare storm system for this time of year is expected to bring heavy rains to the region later this week through the weekend.
A moderately strong atmospheric flow is forecast to develop later this week and continue into the weekend, pumping subtropical moisture into the Pacific Northwest. This setup is more typical of what our area would expect in the fall, not late spring.
LATEST WESTERN WASHINGTON FORECAST
timeline
The event is expected to be some sort of double whammy setup, with the first whammy being the more eye-catching of the event.
A wave of moisture and associated rain will sweep western Washington Thursday through Friday. This first rain wave will be the heaviest of the two.
Snow levels are expected to rise to 11,000 feet on Thursday and Friday before falling to about 8,000 feet over the weekend.
A second surge of moisture and associated rain is expected on Saturday. This second surge in moisture continues to trend down, with the greatest impact expected in Oregon.
Thursday morning
Rain begins early Thursday morning for coastal beaches and the Olympic Peninsula. It is expected to rain lightly at first before increasing in intensity in the morning hours.
Thursday afternoon
The rain spreads across the region on Thursday afternoon, with the heaviest rain appearing on the Olympic Peninsula and the Central and South Sounds. Expect moderate to heavy rainfall here.
Thursday night
The surge in moisture continues Thursday evening with reduced intensity and coverage across the Olympic Peninsula. Heavier rain is expected to shift to the cascades and foothills.
Thursday's rain could be 1 inch in many areas with higher volumes at the Olympics and Cascades. Additional rain accumulations are expected on Friday, Saturday and Sunday.
effects
The main impact of the rain will be moderate to heavy rain accumulations from late in the week through the weekend. Widespread rain of 0.75 to 1.50 inches is expected for much of western Washington. The Cascades and Olympics and foothills are expected to receive the heavier rainfall, exceeding two inches in some areas. The heaviest rain falls from Thursday afternoon until early Friday morning.
For the entire month of June, Seattle averages 1.45 inches of rain. Seattle could receive nearly 1 inch of rain, if not more, making this June one of the wettest on record and potentially breaking a daily rainfall record for June 9. Additional cities can expect to potentially break daily precipitation records with this event.
Significant flooding problems are not expected at this time, but minor flooding is possible in areas with heavier rainfall, particularly areas with poor drainage and urban layouts.
Rivers will rise across the region and could be nearing a minor flood stage due to rain and snowmelt. The Skokomish River in Mason County is at an increased risk of approaching a minor flood phase so this is being closely monitored. A flood warning has been issued for the Stehekin River at Stehekin in the Cascades, affecting Chelan County.
There is also an increased risk of landslides due to high soil moisture, particularly near steep, unstable slopes.
https://www.king5.com/article/weather/new-rainfall-records-possible-atmospheric-river-over-washington/281-cda6c909-1631-440d-ab1c-fce16361ea13 Seattle could set rainfall records in June with atmospheric river