Seattle hotel celebrates the art of ink with live tattooing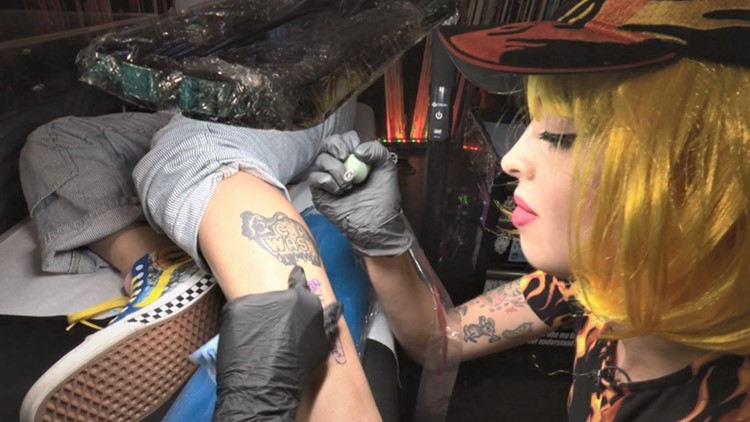 W Seattle teamed up with tattoo artist Lolli Morlock to celebrate "Lollipop Tattoo Week". # k5evening
SEATTLE – A downtown Seattle hotel is performing live tattoo art throughout the week.
W Seattle Hotel partnered with Lolli Morlock of Lollipop Tattoo to offer guests a unique experience: the chance to see her work.
"There are a lot of people who have never seen anyone get a tattoo before, so it was really fun for me," she said.
The week-long promotion is in honor of National Tattoo Day, which happens on July 17.
Morlock is setting up a shop in the Living Room Bar and doing flash tattoos of her own design.
Visitors can stop by and watch her create from noon to 6pm
From 11am – noon, they can also apply to be one of her models (she gets 5 tattoos a day and the slots are raffled.) They range in price from $100 – $250 , depending on the size.
"I think it was really therapeutic for both of us. It was one of the only times when I could shut my mind off and it really became meditative for me," says Morlock. "Being able to connect people to their bodies in a way that really empowers them is a really special gift."
Public tattooing is an ideal fit for the colorful hotel and its distinct vibe.
"Music, fashion, fuel, design. What's more rock and roll than tattoos?" said Greg Campbell, director of sales and marketing. "Tattoos are an art form. It's something that reflects their own personal stories and lives. Putting it in a hotel is exciting and we wanted to bring that to life here."
For Morlock, it's also a way for people to connect with their bodies and sense of self.
She said: 'It's unbelievable to see how many different types of people have tattoos.
Lollipop Tattoo Week runs through July 22. The event is free, but visitors can sign up to receive updates.
The hotel also hosts a local music festival the first Friday of every month by hosting free concerts at the Living Room Bar, in partnership with non-profit radio station KEXP.
Watch the story to know Jose Cedeno of the evening got a tattoo from Morlock!
King 5's Evening Northwest celebration. Contact us: Facebook, TwitterInstagram, Email.
https://www.king5.com/article/entertainment/television/programs/evening/seattle-hotel-celebrates-the-art-of-ink-with-live-tattooing/281-fe5d93e4-3cba-44e6-9ad9-44c6f80f5c37 Seattle hotel celebrates the art of ink with live tattooing