Seattle man living in RV hopes to humanize homelessness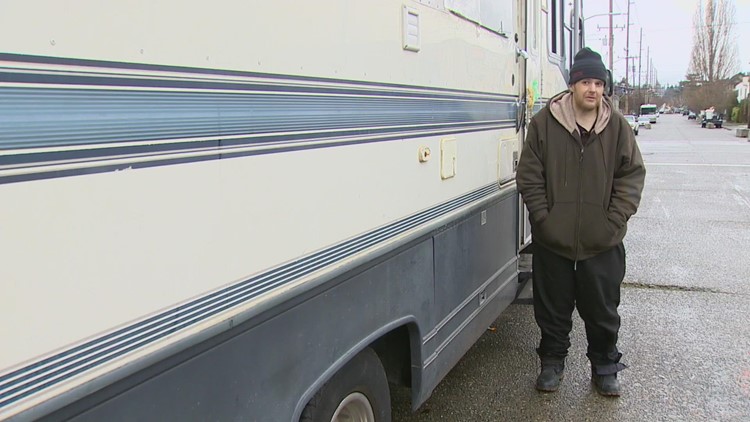 Timothy Barto wasn't always uninhabited. However, rising rents have forced him to live in cars and RVs. He's been out on the streets since 2017.
SEATTLE – Timothy Barto says people have a lot of misconceptions when they see someone living on an RV.
"They thought we weren't normal or that we didn't have a normal life at one point," Barto said.
Having lived in Seattle since 2015, Barto began to get annoyed by the high rents during his first two years as a Seattle resident.
"We were paying $2,700 a month in Cap Hill for a two-bedroom apartment. We couldn't afford it, so we ended up subletting it," he said.
Barto said he rented two rooms and lived in the basement, but the landlord forced him to stop doing it. There is also a $300 rent increase
"It would be $3,000 a month and we couldn't do it," Barto said.
Since 2017, he lives on the street in a car and RV, all of which, apart from his current home, have been impounded for excessive fines.
"If it's forfeited. Who can pay? It's like $1,200 to get it out."
It is a vicious cycle and a multifaceted problem that the City of Seattle is working to solve. In his 2023-2024 budget, Mayor Bruce Harrell allocated $250 million for affordable housing. Ninety-five million dollars are being sent to the King County Area Homeless Authority for them to continue their work.
On the April Special Election Ballot, King County voters will decide on a proposed nine-year $1.25 billion property tax to improve mental health services.
RELATED: Voters will decide on a $1.25 billion proposal to improve behavioral health in King County
"You can't force people to go to therapy or treatment, but I mean, you can certainly make it more accessible," says Barto.
He hopes improving mental health services will address the drug problem he sees in his community.
"It's a big problem, fentanyl. Like everywhere in the country, it's rampant here and that's a problem," Barto said.
As the homelessness problem worsened, complaints about it from business owners and people living near refugee camps continued to be noticed by local media and elected officials. Barto says their frustration is well-founded.
"In general, RVs are messy and people are disrespectful," he said. Barto hopes, however, that there may be a middle ground. A mutual respect goes hand in hand with the understanding that everyone is human. Since becoming homeless, Barto says he's been haunted by the amount of hate he's experienced.
"I've never experienced such a blind feeling of disgust and hatred by the public. It's strange," he said.
Barto plans to hit the streets next month. He needed to start dialysis soon and his father, in Florida, agreed to let him come back to live with him. Despite the unfortunate health issue and partly due to the stress of living on the street, he's thankful that there's something so many others on the street don't: an exit.
https://www.king5.com/article/news/local/man-living-in-rv-shares-story-humanize-homelessness/281-38a2440e-d97a-44cd-bd1f-bc7a9748e07f Seattle man living in RV hopes to humanize homelessness