Seattle Mayor Bruce Harrell discusses incoming city council members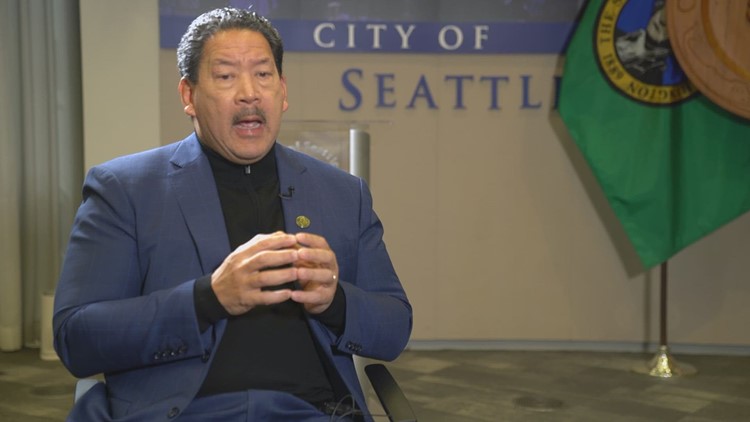 Mayor Bruce Harrell said he believes the new city council will be more engaged with Seattle residents and that they will focus more on the basics.
SEATTLE – Mayor Bruce Harrell sat down with KING 5 to discuss the incoming Seattle City Council after preliminary results of November's general election showed two-thirds of the Seattle City Council will have new member.
"I think you're going to have a council that listens and is more relevant to the people, a little more focused on the basics," Harrell said.
All five people endorsed by the mayor in the general election appear to have won their races. KING 5 asked the mayor how he thinks it will help him pass policy next year and what types of policies he would like to see help enact.
"I think they were there with me to help recruit officers and do that work. I think in terms of our housing strategy, I mean what's been lost, the lead that's been buried, is that we passed the largest housing tax in our history, almost a billion dollars. So I think working with housing developers, communities, there's going to be some interesting work."
What do you hope to see in the first 100 days of the new council taking office?
"So first of all, I think this council will agree with me on public safety strategies, that they are willing to try new things, like technology. I think our old board, quite frankly, was on board with the things I wanted to try."
Seattle is on track to have its most murders in a single year. Harrell said he and the city council will try to address issues related to violence.
"Well, the murder rate in our city and across the country is alarming. And you know, for me, it's not necessarily my responsibility, my job is to make sure people are safe. So, of course, whenever I hear about someone being murdered, it makes me very sad. I have probably attended more funerals and talked to more grieving widows and partners than anyone else around," Harrell said.
"This council and I will look at new ways to address these problems," Harrell said of the high murder rate. "Whether or not the city can enact better gun laws, any law we can enact right now, we have preemption through state law. Whether it's working with our state legislators to create better, more effective laws, they need to understand that that's what we need as a city."
Mayor Harrell pointed out that this new council is very diverse and he believes they will meet the needs of minority groups in the city.
"They elected a very diverse group. We have two African Americans serving on the board, we have LGBTQ+ members serving on the board, we have someone who I think identifies as of Puerto Rican heritage," Harrell said. "I mean, we have a diverse leadership group here with diverse experiences."
In January, the new Seattle City Council will be tasked with choosing a replacement for the seat of Councilmember Teresa Muslimda, who appears to have won the King County Council race. Some community members said they want Tanya Woo to fill the vacancy. Woo appears to have lost a very tight race for Seattle City Council in District 2.
"Tanya ran a phenomenal race. She is an outstanding community leader. That's the council's decision," Harrell said. "So I'm sure they'll have dozens, dozens, maybe hundreds of people come out. And again, I think I'm just looking for someone who has a lot of connections to where the voters want us to go."