Seattle Pacific students have no plans of slowing down sit-in protests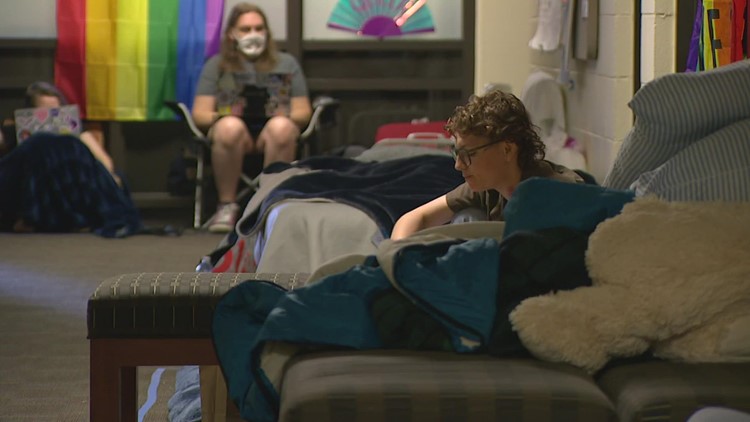 It's been two weeks since SPU students started holding a sit-in at the school's administration building, and they plan to continue through the summer.
SEATTLE — It's seniors week at Seattle Pacific University and in just three days many will be heading into summer break. However, there are still students holding a sit-in in the university's administration building to protest what they describe as discriminatory life expectancies for faculty and staff.
Demaray Hall is now full of students sleeping in the hallway.
"We wanted to be in a place where we would be visible to those in power," said Laur Lugos, president of the Associated Students of Seattle Pacific.
Lugos said faculty, alumni and local businesses have all supported her efforts.
"We really are the support from Seattle. Someone from Renton called us up the other day," said Lugos.
The SPU faculty recently voted on a resolution allowing people in same-sex marriages to seek employment and empowering the faculty council to consider alternative affiliations.
"What the students understood as the most important part of this protest is that we have select members of our board of trustees who are unwilling to change their minds about our discriminatory lifestyle expectations. So what we need is for them to step down," Lugos said.
SPU was founded by Free Methodist pioneers and is currently affiliated with the Free Methodist Church. The board cited the church as the reason for continuing a policy prohibiting employees from engaging in same-sex sexual activity.
Here is part of their statement, published on March 23, 2022.
"We want the SPU community to know that this was a thorough and prayerful deliberation," said Board Chairman Cedric Davis. "Although this decision evokes complex and heartfelt reactions, the Board of Directors made a decision that it believes most closely aligns with the mission and creed of the university, and chose that SPU should work in fellowship with its founding church, Free Methodist Church USA remains as a core part of its historical identity as a Christian university."
Over the past four decades, the SPU has received over $320,000 in financial support.
"Students are also asking to leave the Free Methodist Church because if our membership causes them to discriminate, then why are we a member," Lugos said.
As summer vacation begins, Lugos said alumni have offered to join the sit-in, a sign there is no intention of stopping.
"We'll be here, that's all I can say," said Lugos.
The students have raised more than $20,000 and are considering possible legal action.
https://www.king5.com/article/news/education/seattle-pacific-students-sit-in-protests/281-468e72d8-8753-4b81-ba7a-6545fde564ed Seattle Pacific students have no plans of slowing down sit-in protests