Seattle police chief candidates explain why they're best for the job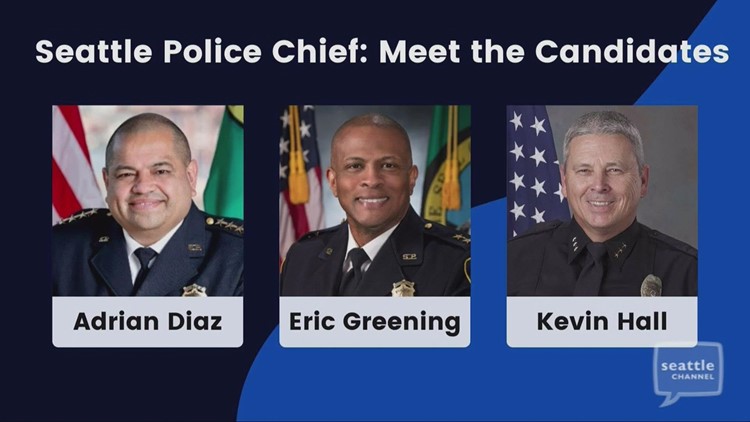 SEATTLE — Two years after Seattle Police Commissioner Carmen Best resigned from her role, the city has narrowed down applicants to three candidates wanting to fill the role.
Seattle Interim Police Chief Adrian Diaz, Seattle Deputy Police Commissioner Eric Greening and Tucson Deputy Police Commissioner Kevin Hall participated in a city-led question-and-answer session Thursday based on questions , collected from contributions from the community.
The candidates are pursuing a job that will tackle one of Seattle's worst violent crime records amid a staffing crisis.
The hiring process officially began in April this year when the city hired an outside search firm to source candidates. The city spent about $75,000 on the search firm's services, according to the Mayor's Office communications director, Jamie Housen.
In May, the city conducted a public poll to gather feedback from the community on what they expect from candidates.
During July and August, the city held seven separate community talks. In early September, the city narrowed it down to five candidates who sat a qualifying exam.
On Thursday, the final three candidates held a televised forum where, for the first time, the public had a chance to hear from the candidates about their plans to lead the department.
Each candidate answered the same six questions, including what policing alternatives they support, how they will address violent crime and firearm proliferation, and does the SPD need a culture change?
"As chief of police, we own the past, the present and the future," Diaz said.
Diaz served the role in a transitional capacity for 26 months and acknowledged that 2020 saw Seattle hit a 25-year high for homicides. He said his priorities are creating a sense of well-being among his employees.
"Really, the primary focus is on keeping our people. We want to put together a comprehensive economic package that's so important to making our officers feel valued and respected that we're looking at shifts that actually make it easier for officers to have that time off. to be able to have that rest and relaxation," Diaz said.
Hall, a 30-year veteran with the Tucson Police Department, said he supports an evidence-based approach to alternative policing.
"Behavioural Health Crisis Response doesn't have to be a cop. It absolutely isn't. There are places like Tucson and other places around the country where it's an unarmed crisis intervention team that goes to these calls, not the police. ' Hall said.
Hall also said support for the police is intertwined with the community.
"Providing public safety is co-produced with the public we work with," Hall said.
Greening, a 28-year veteran with the SPD, said staff morale is linked to higher positions.
"Officer morale will not improve unless we improve leadership morale from the top down," Greening said.
Greening also said that public safety is his priority and he wants to balance the city's perception of crime.
"When I'm in my neighborhood in north Seattle, I walk down the street with my daughter and dog and I feel comfortable. You can't always be 100 percent safe, but you should be able to walk down any street in the city and feel reasonably safe and not afraid of crime," Greening said.
What was not asked was how the candidates will address homelessness and nonviolent crimes such as property crime and theft.
The chief is ultimately appointed by the mayor and confirmed by a majority decision of the city council in accordance with the city charter.
Visit here to view the full candidate forum.
https://www.king5.com/article/news/local/seattle/spd-chief-candidates-why-best-for-job/281-81052da9-1299-4313-b012-e7433ad5e596 Seattle police chief candidates explain why they're best for the job