Seattle police introduce less-lethal weapons officers will be using on duty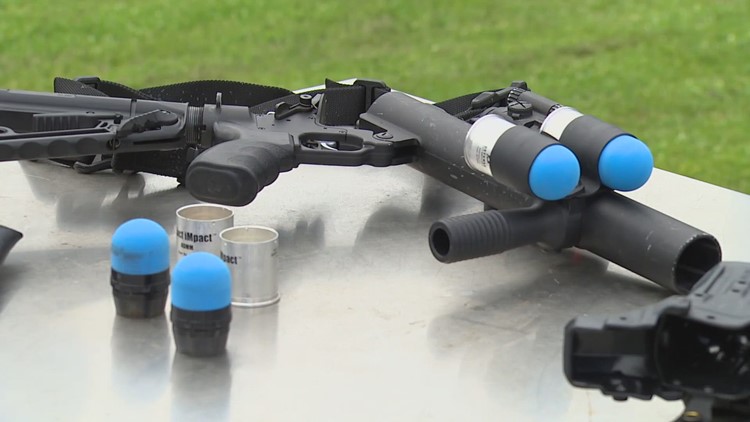 "Less lethal" weapons give officers more options that don't involve deadly force.
SEATTLE — The Seattle Police Department has released a new focus on the use of "less lethal" weapons in the line of duty. Seattle Police officers demonstrated the use of four less-lethal weapon options Monday, all in an effort to save lives.
"With these tools, it allows us to actually get someone to comply or gain someone's compliance without having to use lethal force, which is what we really intend to do." making sure we save people's lives," said SPD Director Adrian Diaz.
A less lethal weapon category includes a new teleconstrictor device called the "Bola Wrap." The device has a 20-foot range and is designed to wrap around an individual's leg or arm.
The department has distributed the new tool to 30 officers, who will use it in a six-month pilot program before SPD considers purchasing it for the entire department. In the meantime, you might get used to less-lethal options. That includes an upgraded mission, which has a 45-foot range and gives officers 10 shots instead of two. The Department hopes to have these new Taser available in the fall.
Along with stun guns, the SPD displayed pepper spray and 40 mm launchers. Sheriff Diaz hopes all of these tools will lead to safer outcomes when police respond to emergency calls.
"Try to reduce shootings involving officers," said Chief Diaz. "And there can be these options from different levels of brute force, so having Bola Wrap on brute force level 1 and having a mission on level 2 using brute force and that only provides gives officers options for how they can handle a situation so they don't hurt someone."
Officers will still carry their guns. Sheriff Diaz said the weapon would be used as a last resort.