Seattle Pride bars police from marching in parade in uniform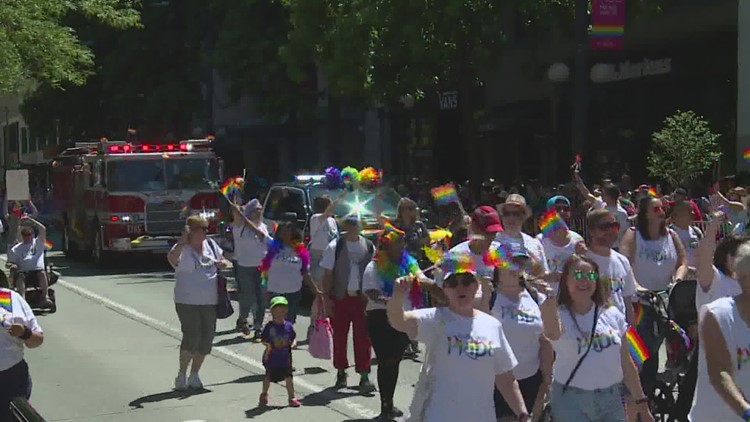 Seattle Pride said individual officers could march, but they would not be allowed to wear their law enforcement uniforms, logos or insignia.
SEATTLE — Seattle's Pride Parade, the fourth-largest in the nation, will be held in person for the first time in two years on Sunday.
"Family reunions are our theme, and we have so many people excited to march and participate," said Krystal Marx, executive director of Seattle Pride.
But a group that has been there for 30 years will not be participating this year.
Earlier this month, Seattle Pride organizers said Seattle police officers could attend the parade, but they couldn't wear a uniform or wear anything with law enforcement insignia or logos. Now the Seattle Police Department says they will conduct the parade, but their officers will not march.
The decision came after over 1,300 members of the LGBTQIA+ community responded to a poll saying they did not want police to be represented at the parade.
"You're okay with officers marching in the parade not in uniform," Marx said, "but we don't want that constant reminder of the brutality that happened to be seen."
Marx refers to historic clashes between police and the LGBTQIA+ community, including the Stonewall riots in 1969, which are considered the first major protest for equality for the LGBTQIA+ community.
Organizers also said the decision stemmed from multiple deadly police encounters involving black Americans across the country. The decision hasn't gone down well with Victoria Beach, chair of the SPD's African American Advisory Council.
"To jump on this bandwagon to carry this forward for my own motives," Beach said. "I want peace and [to] Stop the division."
Seattle Pride said they are not trying to hijack any movements but instead want to support black and brown communities within the LGBTQIA+ community. Still, Beach and SPD officials she spoke to are frustrated with the organization's decision.
"I know a few officers who have said they are beyond upset. 'Why do we have to show up when we're not wanted there?'" Beach said.
More than 300 uniformed officers will ensure public safety and security during the parade. In addition to SPD officers, Seattle Pride has also hired 80 private security officers.
"Hopefully this will be a big step in building that trust in our community," Marx said. "To see that [they're] ready to give, we are ready to give."

Seattle Police Chief Adrian Diaz released a letter responding to Seattle Pride's decision, saying in part, "SPD officials will respectfully decline to participate in the parade, as they have for nearly three decades."
Diaz said the decision was greeted with sadness by more than 100 LGBTQIA+ officers, commanders and civilians. The letter went on to say that the decision is particularly hurtful because other city employees are allowed to participate in uniforms or badges that identify their department.
Seattle Pride responded with a statement, saying in part that Diaz's letter "highlights a lack of understanding and an apparent disregard for the concerns of our larger community — and highlights why so many Pride organizations here and nationwide encourage uniformed police participation." limit".
https://www.king5.com/article/news/local/seattle/seattle-police-seattle-pride/281-bb2943fc-de5b-4288-8d71-94dbfd10618b Seattle Pride bars police from marching in parade in uniform