Seattle road rage shooter charged with second-degree murder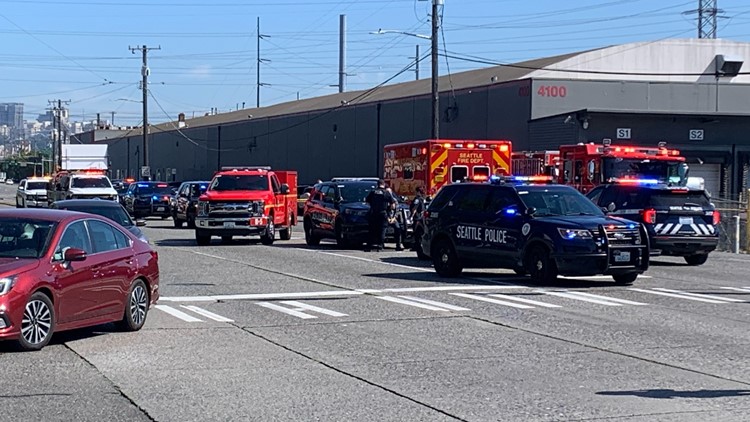 The shooting happened on July 21 in Seattle's industrial area. The suspect said he shot the victim in self-defense.
SEATTLE – The suspect in a Seattle traffic shooting has been charged with second-degree murder.
Angel Anthony Valderrama, 38, was arrested on Saturday August 20, almost a month after the shooting. Valderrama is accused of shooting dead 68-year-old Robert Jensen after Valderrama refused to let Jensen run together in front of him while they were driving on Fourth Avenue in Seattle.
Prosecutors are asking that Valderrama be held on $2 million bail.
Prosecutors are also demanding that the defendant be banned from possessing any weapons or firearms and that he have no contact with the victim's family.
On July 21, the Seattle Police Department's 911 Center received multiple calls reporting a shooting at 4401 Fourth Ave. Reported S at the entrance to the Costco parking lot. Five different callers, including Valderrama, said a man had been shot dead in the street.
When officers arrived at the scene, they found Jensen in his white Chevy pickup with a gunshot wound to the lower left torso. Paramedics from the Seattle Fire Department rushed Jensen to Harborview Medical Center, where he later died.
>> Download KING 5's Roku and Amazon Fire apps to watch live newscasts and videos on demand
Valderrama stayed at the scene to give a statement to the police. Valderrama claimed the altercation took place after he refused to let Jensen merge in front of him on a section of Fourth Avenue where two lanes merge into one, according to court documents.
Valderrama said Jensen stopped behind him at a red light. Valderrama claimed Jensen got out of his pickup truck and walked towards Valderrama's Subaru and appeared to have something in hand, according to court documents. Valderrama claimed he got out of his Subaru and warned Jensen not to advance further, according to court documents. Valderrama claimed he pointed his gun at Jensen as he got within two meters of his car. Valderrama claimed Jensen said "I'll kill you" and grabbed Valderrama's gun, at which point Valderrama aimed the gun low and fired a shot.
However, Valderrama's story has been contradicted by surveillance video and testimonies from witnesses who spoke to police at the scene.
A surveillance camera mounted on the southeast corner of the Costco near the shooting captured the incident on video, according to court documents. The video showed Valderrama and Jensen stopping at the intersection. Jensen is then seen getting out of his car and approaching Valderrama's Subaru. Valderrama then gets out of his car and Jensen quickly finds himself backing away as he bends forward, seemingly holding his stomach.
There was "little or no time for any significant interaction between the two men," court documents said.
A witness who was in a truck in the lane next to Jensen and Valderrama told police he heard no exchange of words between the two men and that Valderrama "opened his door and shot Jensen almost immediately," court documents said.
Police later searched Jensen's truck and found nothing they believed Jensen might have been holding that could be perceived as a weapon, according to court documents. Police did find two small flashlights and a folding pocket knife, but Jensen's truck was jammed and they didn't appear to be "immediately available" to him at the time of the incident, court documents say.
Valderrama was committed to the King County Jail. His next court appearance is scheduled for September 1 at 8:30 am.
https://www.king5.com/article/news/crime/seattle-road-rage-suspect-arrested-murder/281-a152a2ad-9dc1-4b27-8674-c78aeb74d778 Seattle road rage shooter charged with second-degree murder