Seattle 'Social Housing' proposal could be headed to voters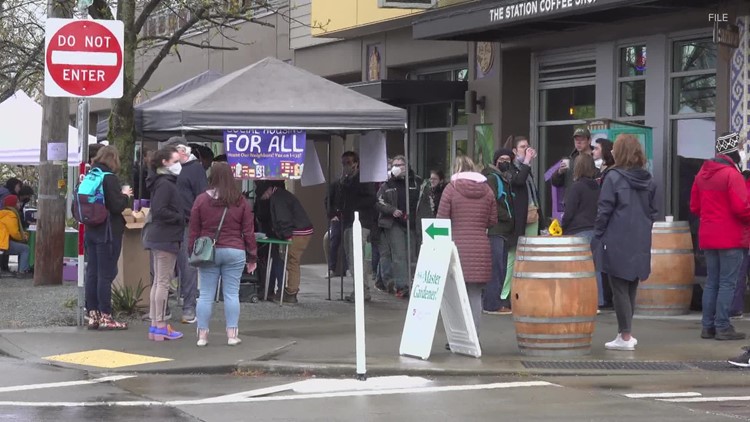 Initiative 135 activists say they have collected enough signatures to secure a spot in November's election.
SEATTLE — Organizers of Initiative 135, a proposal that would create a public housing developer for the city of Seattle, said they had collected and submitted enough signatures to earn a position in November's vote.
If adopted, the initiative would create a "Seattle Social Housing Developer" to "develop, own and maintain social housing for every workforce and community in Seattle."
"What the public housing developer would bring is housing for the people who make 0% of the area's median income all the way up to 120% of the area's media income, so we're talking about teachers, bus drivers, nurses, people who are in the city all the time rent-burdened, and then those at the bottom of the income spectrum," said organizer Tiffani McCoy.
According to the organizer, it differs from public/non-profit housing models in that it is not funded by the federal government, i.e. it is not subject to these specific requirements. Rent would be permanently restricted, building management would be run by tenants, and tenant income spreads would rise to 120%, allowing for more working-class housing for people in the 80-120% range.
"Your bus drivers, your school teachers, lab technicians, these are a few, these are people who make on that income spectrum and they're still being pushed out of town all the time because they can't afford private rent that just keeps going up and." there is no end in sight," McCoy said.
Rent would be based on income, and as someone grows in their career and makes more money, they could pay more instead of having to move. The organizers say legally that they could not include a funding mechanism in this initiative; If passed, it would set up an organizing committee and they would then start a campaign for funding.
In King County, petitions go through a 4-step process of organizing, collecting, submitting the petition and verifying the signature. The signature verification process for I-135 is scheduled to begin Tuesday, July 5 at 9 a.m. with 26,520 signatures required and 27,527 submitted.
King County Elections claims that if the petition receives a sufficient number of verified signatures, the Seattle City Council would have to pass a resolution to include it in November's vote by August 2. If the numbers aren't enough, Seattle's rules would allow activists 20 days to collect more signatures rather than start a whole new petition.
The City of Seattle said once referred to the council, members have four options. You can adopt the initiative as an ordinance, reject it, not implement it, or reject it and adopt another measure on the subject. If they reject it or don't respond to it within 45 days of its introduction, the initiative will be put before voters in the next regular election.
If they choose to pass a different measure, both measures will be put before voters at the next regular election, or an earlier election if the council decides to put one.
Since the campaign was launched, a number of groups have spoken out in favor or against the measure.
https://www.king5.com/article/news/politics/seattle-social-housing-proposal/281-fd9786c5-39f3-493f-bdbf-92263dc2d339 Seattle 'Social Housing' proposal could be headed to voters