Seattle Sounders-Providence partnership draws public pushback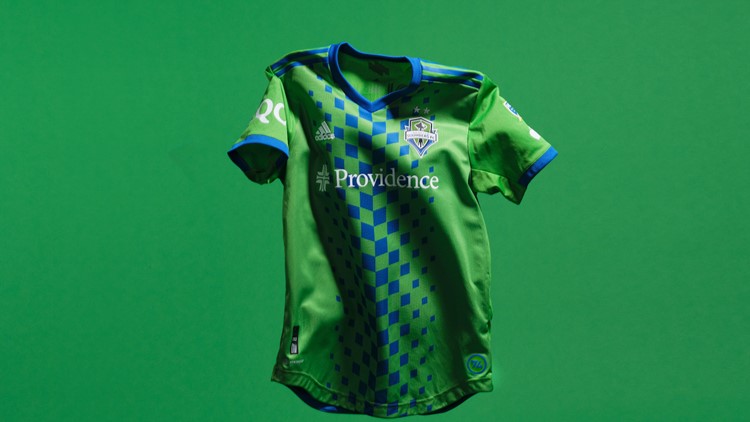 The Seattle Sounders will now have the Providence logo on the front of their team jerseys.
SEATTLE — The Seattle Sounders' choice of a new sponsor on the front of the team's jerseys has sparked backlash from fans.
Providence Swedish and the Sounders announced a "community-focused" partnership, with Providence replacing Zulily as the team's new shirt front sponsor.
The Sounders FC Community Alliance Council – an officially sanctioned group of season ticket holders at the club – released a statement on Monday expressing concerns about the partnership. It said the group plans to meet with Sounders leadership in the coming days to discuss concerns.
"The Seattle Sounders have asserted themselves as a club that believes, among other things, that 'reproductive rights are human rights' and that they 'stand for LGBTQ+ equality.' However, these values ​​do not appear to be reflected in Providence's abortion rights, fair treatment of transgender people and low-income patients. This is a confusing and disappointing decision by the club and is in direct contradiction to the aims and promises of Sounders' Social Impact," the council statement read in part.
The Washington Department of Health's website states that Providence, a Catholic non-profit health care system, does not cover most abortion-related services due to a religious objection. DOH pays abortion benefits for people with Providence health plans because Providence is part of the state health insurance market.
Nine Providence-affiliated entities were also part of a lawsuit filed by Washington Attorney General Bob Ferguson in February 2022 alleging failure to ensure that low-income Washington residents received rebates to which they were legally entitled.
Washington's Charity Act requires hospitals to provide free and discounted inpatient and outpatient care to eligible residents, according to the Washington State Hospital Association. Hospitals are responsible for maintaining their own charitable programs.
The lawsuit alleges that Providence instructed employees not to accept "the first no" from patients. Hospitals have reportedly trained staff to encourage staff to continue pressuring patients to pay, even when they say they are unable to pay. Employees are allowed to discuss financial assistance when patients decline to set up a payment plan.
Ferguson also claimed hospitals failed to inform patients that they were eligible for charity, even after determining that they qualified. Washington law requires hospitals to give notice that charitable care is available and screen patients for eligibility for charitable care before attempting to collect payments.
In a November filing, a Providence chief financial officer admitted that hospitals continue to send patients eligible for financial assistance to collections, according to the AG's office. Ferguson claims hospitals have failed to ensure eligible patients receive charity care since 2018.
The trial is scheduled to begin in August 2023.
Emerald City Supporters, the largest Sounders fan group, posted an open letter to the team's leadership on their website entitled "What happened to our shared values?"
The Sounders shared a statement with KING 5, saying the team has had and will continue to have discussions with support groups and the Alliance Council.
"Following Friday's announcement," the statement begins, "our club has actively listened to feedback from members of the Sounders community and engaged with our support groups and Alliance Council. We have had honest and productive conversations with these groups, and we'll continue that dialogue in the coming days. Openness and transparency are key pillars of our Democracy in Sport ethos and we always welcome direct discussions with our fans.
"We remain proud of our relationship with Providence and all that it can do for our region. From our earliest conversations together, this partnership has always been about a shared organizational commitment to youth in the area and to making communities healthier places to live.
"We also need to let our community know that our club values ​​remain unchanged. We believe that every woman has the right to make decisions about her health care. Our club also has steadfast support for the LGBTQ+ community, and we are committed to making Washington the safest, most inclusive place to live, work, and play, especially for transgender and gender-balanced youth. We are deeply committed to these beliefs.
"As a club, we work with many types of people and organizations in our community. Part of living our values ​​is communicating them to different audiences. Providence chose to partner with Sounders FC because they value it Laying who we are and what we are They stand behind us wholeheartedly to continue to honor our core beliefs of the club."
In a statement, Providence said it was "not surprised at how passionate Sounders fans are." However, misinformation is being spread about Providence, the statement said.
"Providence has been part of the Seattle community since 1877. Swedish has been here since 1910. Collectively, we serve approximately 1.6 million patients across Washington State each year. We are deeply committed to the health of this region and want to see it grow and prosper.
"We are also proud of our long history of working with various goodwill partners to meet the needs of the community, particularly those who are underserved. Our new partnership with the Sounders is a prime example of this.
"We respect that the team has taken strong positions on key issues and are not asking them to change. We want the Sounders to continue to be exactly what they are.
"Together, we will focus on a common area of ​​interest: adolescent mental health. One of the things that spurred us into action was a recent study that showed that more than 20% of 12th graders in King County had had suicidal thoughts in the past 12 months, while 16% of 8th graders said they had a detailed plan to end her life. The urgency to act couldn't be greater, and as two Renton-based organizations, we're excited to start in our own backyard and partner with the Renton School District. As the details of our youth mental health program take shape, we look forward to it , Sounders fans, and the Seattle community.
"At the core of Providence's mission is a deep commitment to serve all, especially the most vulnerable.
"We are particularly proud of the care available at Swedish to meet the needs of the LGBTQIA+ community. To learn more visit:
https://www.king5.com/article/sports/soccer/sounders-fc/seattle-sounders-providence-jersey-sponsorship-pushback/281-5f2dc982-1731-43b1-8d9c-31cb569e3e0b Seattle Sounders-Providence partnership draws public pushback