Seattle star Rainn Wilson's worldwide search for true happiness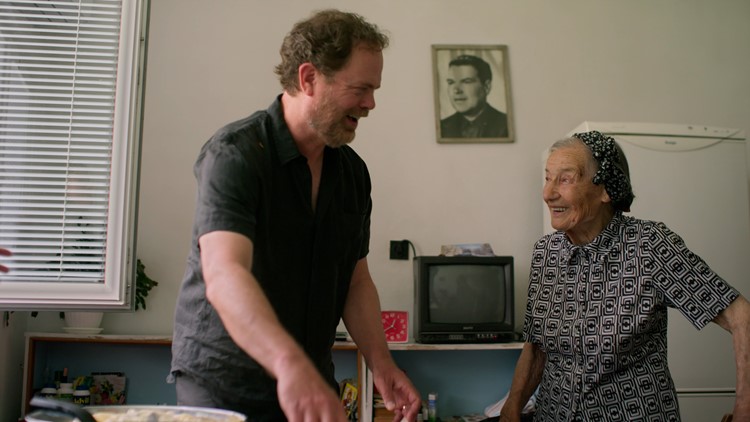 'The Office' ended its run 10 years ago this week and the man who played Dwight Shrute has a new show close to his heart. #k5evening
LOS ANGELES – He's the one who knows all about "The Office" on the popular NBC TV show. But in real life, Seattle Rainn Wilson admitted he didn't understand at all.
"I have a lot of trouble around these issues, around mental health, anxiety," says Wilson. "I wanted to find a way to live with more connections and less anxiety."
So he travels the world in search of happiness, connection and how to drive a Thai tuk-tuk taxi, among other adventures, inside new series of peacocks"Geography of Ultimate Bliss."
Where is the happiest place on earth?
"Issaquah, Washington," he said, "closely followed by Fife, Milton. Cle Elum is close too."
Just kidding. It could be Iceland.
"Iceland is a truly magical place with so much joy to be found there," says Wilson, "I don't know if it's the happiest place on earth, but I've found countless joys fun to learn from Icelanders and travel in Iceland."
He loves the Pacific Northwest.
"Born and raised, University of Washington, the whole thing," he said.
Wilson remains friendly with other locals who have found success in Hollywood, including Chris Pratt and Joel McHale.
"We met. We went to Ivar's Acres of Clams. We took the Bremerton ferry, and we planned to destroy Portland," he joked.
Yes, the Seattle boy brings his hometown close to his heart.
"I'm sad about those Krakens," Wilson said, lamenting the team's recent elimination from the Stanley Cup knockouts.
Wilson may not have found true happiness yet, but he is enjoying the search.
"It's a fun show, it's essential, it's inspiring, and you know what?" He said, "That's funny."
"Rainn Wilson and the Geography of Happiness" is streaming now Peacock.