Seattle Storm holds girl's basketball clinic, surprises each player with tickets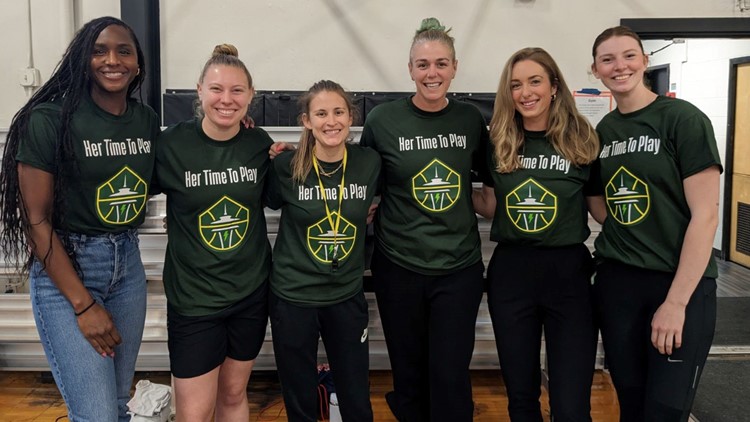 Each participant was invited to Sunday's Seattle Storm game to see Sue Bird honored and her jersey removed.
SEATTLE — The sound of dribbling exercises and the creaking of sneakers on the field filled the Seattle Rotary Boys and Girls Club on Saturday afternoon.
Storm Seattle, Sue Bird's TOGETHXR and the Rotary Boys and Girls Club organized a girls' basketball clinic to study fundamentals, exercises, and scenarios.
Girls ages 9 to 14 and children who have been identified as non-binary are invited to attend.
Seattle Storm star and former WNBA champion Crystal Langhorne was among the coaches at the clinic Saturday.
"That means a lot. I mean, I was a young athlete, I know what it's like to have someone come back and help you expand your game, teach you the basics. It teaches you that it's more than basketball. It's about your attitude, how you treat other people and your teammates," Langhorne said.
Coaches include other Seattle Storm players and KING 5's Madison Wade.
The partnership between Seattle Storm and the Boys and Girls Club of King County has been around for a long time.
Jayme Hommer, Development Manager for the Boys and Girls Club of King County, said: "What an exciting opportunity and we are fortunate enough to have been community partners with the storm for a very long time and for this to continue is a really exciting development." .
Each student-athlete was given a swag bag and inside was a voucher for two free tickets to the Seattle Storm on Sunday, June 11.
Sue Bird will be honored and her jersey will be retired at the Climate Pledge Arena.
For more information on future events, click here.