Seattle woman calls for change after 2 assaults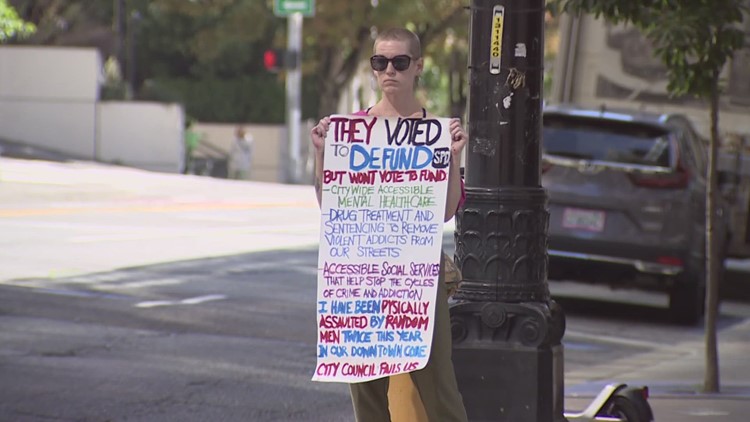 Jessica Hovater took a stand outside Seattle City Hall on September 8 after she was assaulted twice in one year in downtown Seattle.
SEATTLE — Jessica Hovater, who lives, works and raises her children in Seattle, said she had never felt unsafe downtown until this year.
"I just walked out this door and walked exactly two blocks up Virginia to my bus stop," Hovater said. "A man approached me while I was on the phone with my husband, asked me to turn on the lighter and when I refused, he punched me in the face."
She said what happened after she left work around 5pm on Monday was unacceptable.
Photos taken after she was assaulted showed her swollen and bloody lips. Hovater said this was the second time she was assaulted this year.
"I won't carry my wallet anymore, I won't answer my phone downtown anymore, now I'll always have my hands free when I'm downtown," she said.
The Seattle Police Department said officers responded and arrested a man, who also had a warrant, for investigation of assault in this case.
"Are we supposed to feel proud of our city when we can't even walk down the street? Those two things don't add up." "This is what Seattle did to its own residents."
What happened to Hovater points to a more widespread, violent trend. Seattle surpassed last year's record number of murders. In downtown Seattle, there have been 139 serious assaults this year — more than double the number of assaults reported in nearby Belltown.
"I love this city and I'm not ready to leave, so I'm going to fight for it," said Hovater, who is protesting in hopes of City Councilmembers paying attention and responding.
"We can't continue to invite and spend all this money on our city when the rest of the people who live and work here can't even go to work," she said. "That's what I want to see, I want to see them actually take action."
Seattle City Council members, and specifically Councilman Andrew Lewis, who represents Downtown Seattle, did not respond to KING 5's request for an interview for this story.