Seattle's social housing initiative: What is I-135?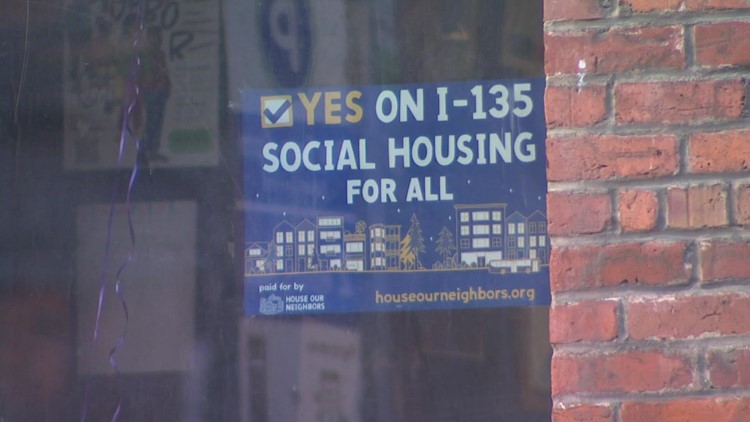 Seattle voters have until next Tuesday, February 14, to vote on a social housing initiative with the goal of creating more affordable housing.
SEATTLE — In a week, Seattle voters will decide on a new initiative to address affordable housing problems across the city. Initiative 135 was the only thing on the ballot and is a petition-led initiative that provides a new "social housing" framework.
The goal is to create more affordable housing, but that's a different model and something new to the United States but widely used across Europe.
"While we are making many significant investments in affordable housing, we have to be honest," said Tiffani McCoy, Advocacy Director for Real Change, and I-135 campaign director. that is not enough.
Tiffani McCoy and others have fought to put I-135 on the ballot and said the measure is another tool to address the housing crisis.
If approved, I-135 would create a "social housing developer" with the city of Seattle. It will develop, own and maintain publicly owned affordable housing.
Seattle residents earning between 0 and 120% of the area median income qualify to live there. According to the Census Bureau, the median household income is $106,326.
Housing will be permanently affordable so tenants won't have to pay more than 30% of their income in rent, whether that changes or not.
"Having social housing developers can also adapt to a wider population, which is going to be really important to make sure teachers stay in their communities and nurses stay in their communities," McCoy said. attracted here," McCoy said.
The passage of I-135 will not create immediate housing, but the beginning. McCoy said the city of Seattle will provide $750,000 in funding for the first 18 months, and some state legislators are asking for a $1.3 million budget for operating costs over two years.
Cost has been a concern before for some groups such as the Housing Development Association, which now say if passed, they would cooperate in the effort.
"In our association, we have members who have different thinking and approach to solutions. and that difference in thinking and approach actually applies to initiative 135, which is why as HDC we are neutral on this ballot measure." Patience Malaba, executive director of the Housing Development Association said.
Malaba says there simply isn't enough housing to meet the demand.
"It is disproportionately affecting low-income households. It is increasingly affecting middle-income households and the majority of them are People of Color, Black, Indigenous Peoples of Colored communities. I think solutions need to be targeted, to look at as a whole the ways in which we support our community as a whole," Malaba said.
The association also points to recent work on the JumpStart fund and current impulses toward renewing the Seattle Housing Tax and King County Veterans, Aging and Human Services Tax this year.
https://www.king5.com/article/news/local/seattle/i-135-seattle-social-housing-initiative/281-7dcb18be-9e1f-4de6-976c-0389f823c944 Seattle's social housing initiative: What is I-135?