News
Semi-truck crash blocks multiple lanes of I-405 in Tukwila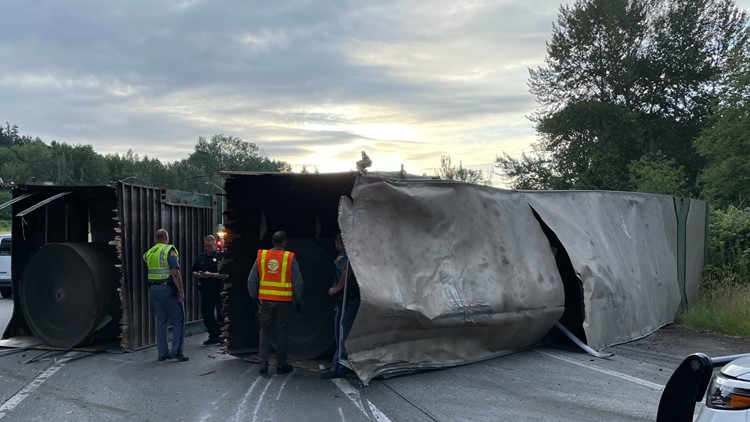 An accident on I-405 northbound blocks the exits of I-5 southbound and SR 518 eastbound to I-405 northbound in the Southcenter area.
TUKWILA, Wash. — A tractor-trailer overturned on northbound Interstate 405 in Tukwila Wednesday morning. caused several lane closures and delays in the Southcenter area.
The Washington Department of Transportation (WSDOT) first tweeted about the crash around 6 a.m The accident partially blocks the exit of southbound Interstate 5 to northbound I-405 and the exit of eastbound State Route 518 to northbound I-405.
Around 9:55 a.m., the said WSDOT Vehicles on southbound I-5 and eastbound SR 518 to northbound I-405 were moving "somewhat more efficiently, albeit slowly." However, the department continued to advise travelers to use alternative routes or expect delays.
Only one lane was open on eastbound SR 518 as of 6:50 a.m., the Tukwila Fire Department tweeted.
>> Download KING 5's Roku and Amazon Fire apps to watch live newscasts and videos on demand
The Washington State Patrol (WSP) said the tractor-trailer driver was fine. Around 7:30 a.m., WSP Trooper Rick Johnson tweeted that there would be an extended closure because the trailer would fall apart in the crash.
A tow truck arrived at the scene around 7 a.m
Tukwila Fire Brigade said there were no casualties and a fuel leak was stopped after a container broke in half. Tukwila Fire said drivers on eastbound SR 518 "should expect long delays."
This is an evolving story. Check for updates again.
Download our free KING 5 app to keep up with news from across western Washington.
CLOCK: KING 5's top stories playlist on YouTube

https://www.king5.com/article/traffic/semi-truck-crash-blocking-multiple-lanes-i-405-tukwila/281-3c75d001-c98f-4cca-bcc7-8bd42e28bb7f Semi-truck crash blocks multiple lanes of I-405 in Tukwila