Seventeenth century 'vampire child' with padlocked ankle unearthed in Polish 'necropolis'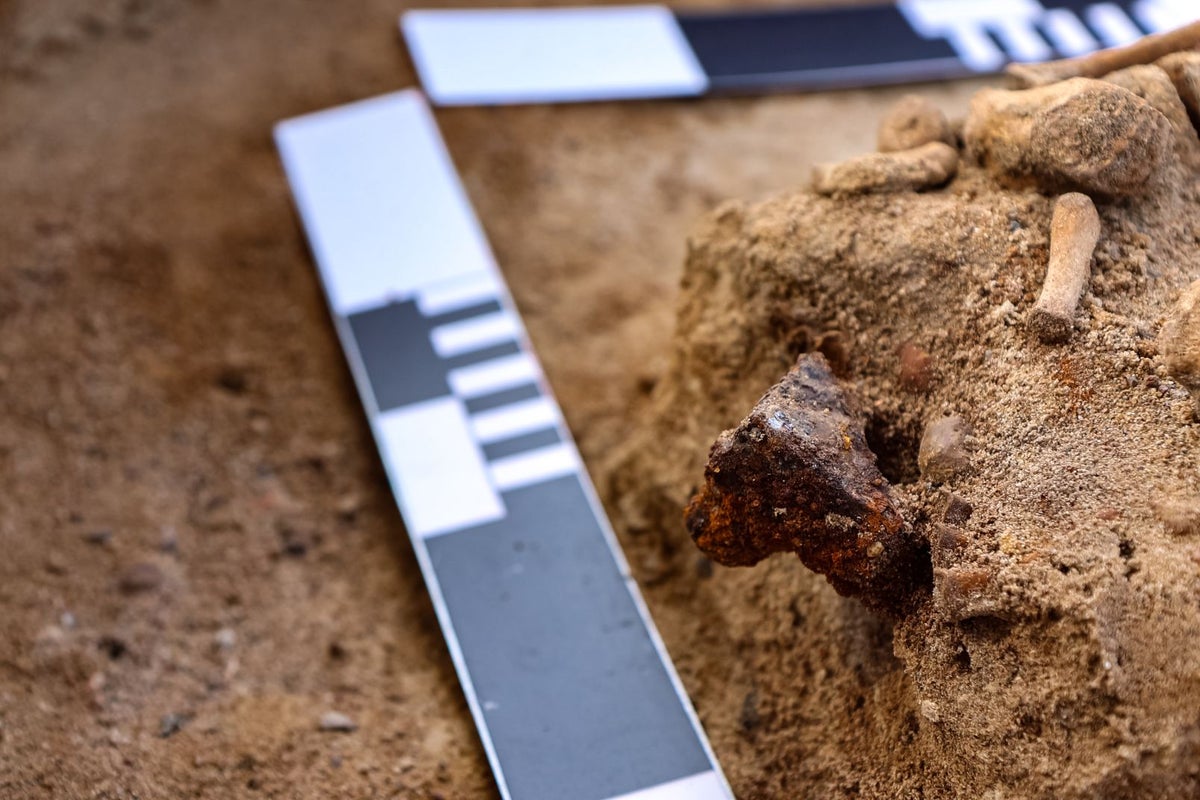 Archaeologists have unearthed the unusual remains of a 17th-century child buried with a padlock fastened to the foot. Scientists said these were clues to fears in the Middle Ages that the dead might come back to life as "vampires," reports say.
Researchers, including Nicolaus Copernicus University's Dariusz Poliński, explored and excavated tombs in an early medieval "necropolis" cemetery near Dąbrowa Chełmińska in Poland in search of unique burials.
Here, last year, they made a groundbreaking discovery at the burial of a young medieval woman whose body was doubly protected "from rising from the grave" by a triangular padlock on the big toe on her left foot and a downward-pointing sickle with the blade placed around her neck.
In search of other similar burials nearby, archaeologists have now uncovered the strange and unprecedented 17th-century burial of a child aged around 5 to 7 years.
The child's remains were found buried face to the ground in the burial cave, suggesting that he was a deceased and his "activity" after death was "feared".
Such face-down burials were likely performed in the region in the Middle Ages to "bite the ground" with the deceased and ensure they "posed no danger to people," scientists said in a statement.
Among the child's bones, archaeologists also discovered a triangular padlock almost resembling the one that accompanies the remains of the medieval woman excavated at the site last year.
An analysis indicated that the child's grave was likely violated and part of the body was taken away. However, it is not known when and why this happened or what happened to the remains.
Near the child's grave, researchers also discovered an "enigmatic cluster" of several children's skeletons, one of which contained a green-stained jaw fragment.
A similar greenish discoloration was also seen on the palate of the woman unearthed last year, scientists said.
Researchers suspect that an object made of a copper alloy could have been in the mouth of this person.
During the field research, they also found the unusual burial of a pregnant woman in which the remains of her fetus appeared to have been preserved.
Scientists hope to conduct further laboratory studies with DNA testing of the remains to understand the woman's eye color, skin, hair and possible genetic diseases.
Given the large number of atypical tombs at the site, with evidence of strange medieval practices, scholars strongly suspect that people of the time were "scared" of at least some of those who died.
They said there was likely a cemetery in the area that might have been Protestant, particularly for those who were excluded from the general community.