Severe storms threaten the East for Fourth of July holiday travel
Millions of Americans are at risk of severe weather Sunday as thunderstorms and extreme heat warnings go into effect for many states.
According to meteorologists, Americans in Arkansas, Illinois, Indiana, Kentucky, Tennessee, Alabama, Georgia, Ohio, Mississippi, Missouri and a county in North Carolina are experiencing a severe thunderstorm throughout the evening.
According to weather experts, another severe thunderstorm warning is in effect along the Texas/Oklahoma panhandle and it covers areas northeast of New Mexico.
Meteorologists say the main threat to millions is strong winds, but some tornadoes could develop.
The overall risk zone for severe thunderstorms stretches from Arkansas to New Jersey, as several clusters are expected to break out as afternoon turns into evening.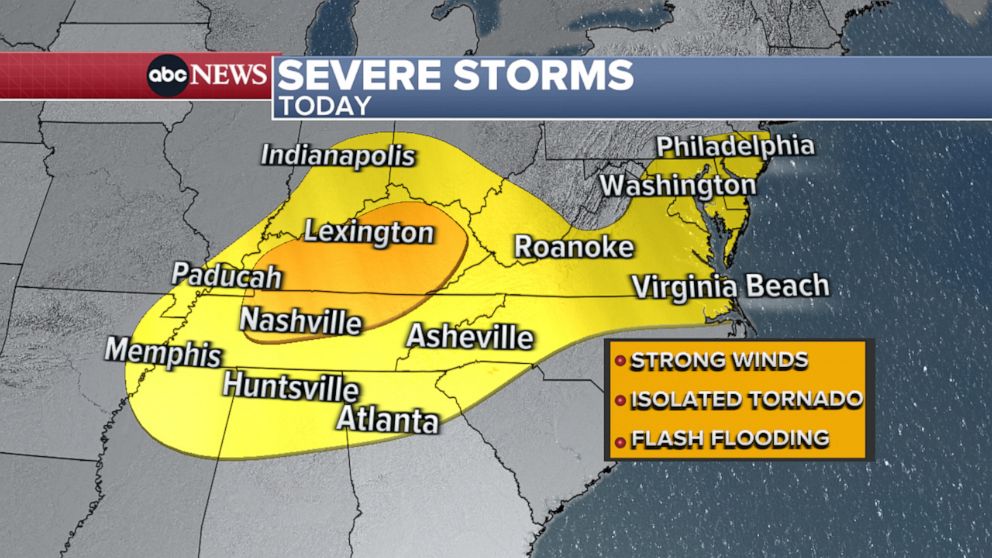 Just north of the severe weather threat, there is an ongoing flash flood warning for the Chicago area.
According to experts, a low-pressure system is right over Chicago, causing heavy rainfall.
Meteorologists said Chicago saw more rain on Sunday than during May and June combined. Midway Airport got nearly 4 inches of rain on Sunday.
Extreme heat also extends from coast to coast, with temperatures soaring above the 100-degree mark in California and the heat index (feeling-like temperature) reaching 110 degrees in the southeastern United States.
About 68 million Americans from Oregon to Arizona and from Texas to North Carolina are under extreme heat warnings or heat warnings.
Meteorologists say the southwest won't cool down anytime soon. The 7-day forecast in Phoenix, Arizona, is calling for temperatures above 110 degrees every day next week, with temperatures on Monday expected to hit 115 degrees.
In the southeast, temperatures will return to more typical summer levels as we move through the week, according to meteorologists.
In parts of the South on Saturday, the heat index ranged from 105 to 115 degrees in at least eight southern states from Texas to Georgia. The entire state of Mississippi is under extreme heat warning.
Air quality has improved significantly across the northeast since Saturday, largely due to a storm system that brought scattered rain and thunderstorms to the eastern United States.
There are 19 states with air quality warnings as of Friday. As of Sunday, air quality warnings have been canceled in every state except northern Michigan.
ABC News' Nadine El-Bawab and Kenton Gewecke contributed to this report.