Sex offender housing delayed amid protests in Thurston County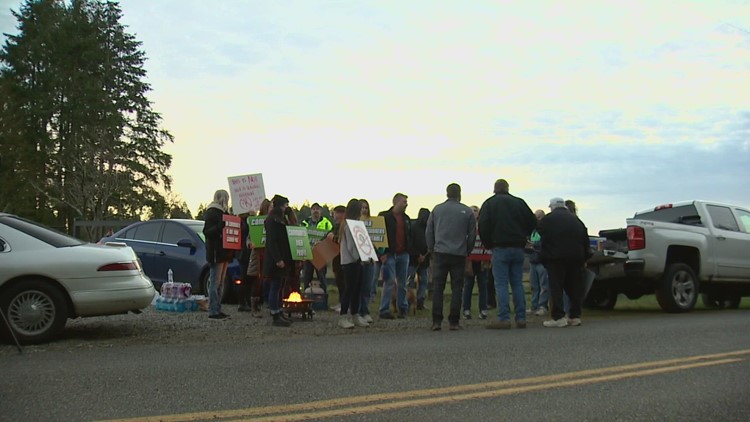 On Wednesday, state officials' plans to move the first residents into the home were shelved. Meanwhile, community members protested outside the property.
MAYTOWN, Wash. – "Protect people from predators": a call to protest was heard throughout the Thurston County community Wednesday due to outrage over Washington state's plan to detain sex offenders at an estate in Maytown, near Tenino.
On Wednesday, state officials' plan to move the first offender into the home was shelved. Meanwhile, community members protested outside the property.
Kathy Taylor, a protester who lives nearby, said: "We have kids around here. "There's a bus stop right across the street… these are sexual deviants, these aren't normal people who would say, 'Hey, I shouldn't have done that.'"
The house will house five "sexually violent predators," as the court defines: former inmates who have served their sentences and will move from full custody at the Special Commitment Center on McNeil Island to house near Tonino.
State officials were supposed to attend a town hall on Sunday, but they canceled after receiving threats. On Wednesday, they held a virtual webinar to answer questions from community members.
During the webinar, representatives from the Washington State Department of Corrections (DOC) and Social and Health Services (DSHS) said five offenders will have to wear GPS-equipped monitoring devices at all times.
DSHS operates programs to help convicted sex offenders who have committed civil crimes. In this case, DSHS said Supreme Living, a residential care services company, would be on site, operating the facility.
They also said offenders would have to be supervised by chaperones at all times, whether in the community or at home. However, that chaperone only had to undergo three days of formal training, as one protester pointed out.
"It's a huge safety concern," says Sarah Fox, who lives nearby, "if you've just been in three days of training for a Level III sexually violent predator."
Taylor said if something happens, she worries about emergency response times, as they tend to be slower in rural areas like Maytown.
"We're our own 911 here," Taylor said.
State representatives tried to allay community fears on Wednesday.
"We've never had a resident on conditional release ever be convicted of a recidivism, recidivism," said DSHS's Keith Devos.
Opening day was supposed to be Wednesday, and the first violator was supposed to move in, but they didn't show up. The Thurston County Sheriff said on their Facebook page that they "have been informed that the plan… has been shelved", adding that they "will continue to make information available to the public as they proceed." [they] take it."
According to the lawmakers, Thurston County officials informed owners that existing water permits were insufficient. The Thurston County Department of Public Health and Social Services told Supreme Residential Care Services Tuesday that it needs to apply for new permits for drinking water and septic tanks.
"The county commissioners have really tried and they've been helpful and our sheriff here has been helpful too, but they're going against the state, and it's ridiculous how the county has to go against the state, you know, but it's David and Goliath," Taylor said.
Tenino area residents officially learned of the plan to open dormitories for sexual predators at a public meeting this month, less than a month before the first predator arrived.
Now, the situation is prompting action in the state capital and county seat. The legislation was introduced by Senator Drew MacEwen, District R-35, to require full public notice when DSHS contemplates placing sexually violent predators in nearby adult group homes.
Watch KING 5's top story playlists:
https://www.king5.com/article/news/local/sex-offender-housing-delayed-thurston-county/281-336cd02f-d865-4e40-8798-240d483849ce Sex offender housing delayed amid protests in Thurston County