Shanta Thake Put a Disco Ball in Lincoln Center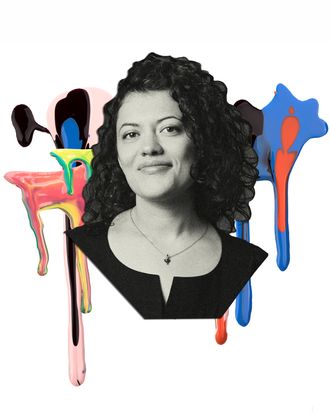 Photo-Illustration: by The Cut; Photo: Gregory Kramer, Courtesy of Lincoln Center.
If you pass by New York's Lincoln Center at any point this summer, you're likely to notice a 10-foot disco ball dangling from a fountain that sits between the three main performance spaces of the show. campus. It was the brainchild of Shanta Thake, Lincoln Center's first artistic director, who installed a disco ballroom and scheduled live band performances there all summer.
After moving to New York in 2002 to pursue an acting career, Thake quickly realized that she was happier with her internship performance at the Public Theater than running around auditioning around the city. . She stayed with the Public for the next 20 years, working her way up to senior vice president while championing the program allowing various Public shows to share resources and audiences. She eventually left in August 2021, joining Lincoln Center as a creative leader. In her current role, her top priority is expanding the organization's reach at every level, whether that means programming beyond the traditional scope of classical music or the world of music. introduce one "Choose what you pay" ticket model. One of her first events was the naturalization ceremony for 200 new US citizens, which took place outdoors at the Center. This month, she oversaw the reopening of David Geffen Hall, where the first performance was a multimedia jazz about San Juan HillPredominantly Black and Puerto Rican neighborhoods were demolished to build Lincoln Center in the 50s.
Thake works with ten independent organizations located on the Lincoln Center campus, all of which run their own programs, but she is responsible for the hundreds of events Lincoln Center hosts each year. By her estimation, she spends four or five nights a week doing some kind of live performance. She lives in Brooklyn with her husband, 7-year-old son and sometimes stepdaughter, currently attending a boarding school in Massachusetts. Here, she shares how she gets it done.
About her morning routine:
Several times a week, I wake up at 5:30 and exercise in Prospect Park. There is a fitness group for moms who do HIIT. Other times, I sleep as long as possible and wake up around 7. I make breakfast for my son and get us all ready for the day. My husband and I found out what our night looked like. We were figuring out who would see a show, if we had a babysitter in line, who would cook dinner if we were at home. I usually oppose cooking my son's lunch because I think he should eat his school lunch, so we're arguing about that right now. He started negotiating before the school year even started.
I left my son at school and went into Lincoln Center. It takes about an hour to get to the Upper West Side, and I often read or listen to podcasts during my commute on the train. Right now I'm listening to an audiobook my brother wrote, it's really interesting. I also check my email and everything on social media – there are ten other departments in our organization, so I wanted to see what was going on. I like to think I know all that, but there's a lot going on every day.
Balancing her schedule:
My husband is also a theater producer, so we spend our lives planning others, but our own schedule was a disaster. I have a rule for myself about how many nights a week I can go out. When I had my son, I made the conscious decision to step back from the gigs for a bit. My rule for myself is to go out three or four nights a week, whereas before we had him, whenever my stepdaughter wasn't with us, I would go out every night. With this job, the real deal is four or five nights in a week. I didn't know that I cracked this particular scheduler.
Now that my son is 7 years old, we actually take him to a lot of shows, so it becomes a lot more fun. On other nights, the childcare situation plays out a village, and fortunately we have a really beautiful village. My brother, aunt, and cousin live in the city, so I have a rotating list of relatives. And we basically raised our kids with one of our best friends, a couple who are also active in the arts and have a 7-year-old. That's how we make it work. But it is very fragile.
When going to work:
My job entails going to festivals and concerts all over the world. I made the decision when I took this job to travel all year so I could get a sense of how things work inside, so I'm just starting to consider what would be the best use of my time. your travel this year. The things I need to have on the plane are Wi-Fi and a Baubax sweater, stocked with a neck pillow, an eye mask, and about a thousand bags. Being able to sleep anywhere is one of my greatest gifts.
On finding her career path:
I moved to New York in 2002 and started working at Public almost immediately as an intern. When I can, I'll leave for about 5 hours to audition. But the office is vibrant. Rosie Perez will come in and sit on the couch, and I, Am I going to leave and go to a backstage audition where I sit in line for two hours and not get a role on a show I don't want to be in? Also, my best friends from college, who are also actors and stage producers, are working on a show, and I'm just waiting for my call to be a part of it. . They asked me to be on the board. I'm like, I feel like they are telling me something. They saw me in action… So I think they already know where my skills lie. Also, I really needed health insurance, and I realized my acting career wasn't going to provide that.
On bringing New Yorkers back to the theater:
Being the artistic director of Lincoln Center is definitely my dream job. In addition to re-imagining what a legacy organization can and should do, it's a lot about just making a case for live performance. I spend a lot of time outside of a gig thinking about things like: What are the barriers to getting in here for me? What are they for others who are not active in the live performance? How many people might be here for the only show they'll be watching this year? How many people are here because they go to the shows like I do? That's really important when we think about making sure people get out of their apartments and see each other and see things that challenge them and motivate them.
About her leadership style:
In terms of performance, you're rebuilding the house every year. You are thinking about, Okay, what does this city need right now, what does our audience need right now, what do we need right now? And that changes. So you always need everyone's best ideas at the table. I spend a lot of time listening and the rest of the time making decisions based on what I've heard. Programming for a diverse range of programs is one thing, but having all the mechanisms for someone to still feel welcome through the whole process – and back – is something you can't just from the programming team. submit. Our marketing team came up with the idea of ​​"choose how much you pay" tickets. That's how I think art should and can work at all levels.
Regarding the Lincoln Center program launch:
While we have an amazingly diverse and diverse audience that has been coming to Lincoln Center for decades, there are also millions of people who have never been. Our job is to be much more open-minded and say, "This is for you. Your favorite artists are here, you'll love it here, you don't have to wear formal clothes to get in. "
Feedback has been received. There is always a setback in times of change and re-imagining and expansion. It comes from the mindset of scarcity, that if we do one thing we certainly won't do another, which means that classical music will disappear from the planet if Lincoln Center doesn't put it on the line. head and center in everything we do. We must not fear it and continue to point to all the opportunities. We still present a large amount of classical art on campus, both ourselves and through the most highly regarded art institutions in the world with whom we share spaces and work. It doesn't do classical music to say it's only for these people this way and this is how you want to encounter it. Currently, there are many incredible musicians working in classical music, but there are also many incredible musicians working in hip-hop. The idea that we're segmenting on form doesn't really meet where the artists are creating right now.
https://www.thecut.com/2022/10/how-shanta-thake-gets-it-done.html Shanta Thake Put a Disco Ball in Lincoln Center