'Shelter in place,' U.S. Embassy warns citizens as fighting rages in Sudan
The US embassy in Sudan issued a security alert on Saturday, warning American citizens to "seek shelter until further notice," hours after the country's military said it had agreed to accept evacuation requests from the United States, Britain, France and China to guarantee.
"It is not safe at this time to conduct a U.S. government-coordinated evacuation of private U.S. citizens," the warning said, as fighting between the Sudanese army and its-turned-rival partner, the paramilitary group Rapid Support Forces, intensified Capital Khartoum, and other continued parts of the West African nation.
The warning said there was "incomplete information" about convoys heading from the West African country's capital, Khartoum, to the coastal city of Port Sudan. "The embassy is not able to support convoys. Traveling in a convoy is at your own risk," he added.
At least one American has been killed in Sudan since fighting began, the State Department confirmed on Friday. The US victim's name, gender, hometown and other details were not immediately released.
The warning was issued hours after Sudan's armed forces said in a Facebook post that "the United States, Britain, France and China will evacuate their diplomats and citizens from Khartoum by air on military transport planes belonging to their armed forces."
It said General Fattah al-Burhan, the Sudanese army chief, had agreed to guarantee the evacuation requests but did not say how the departures would be organized.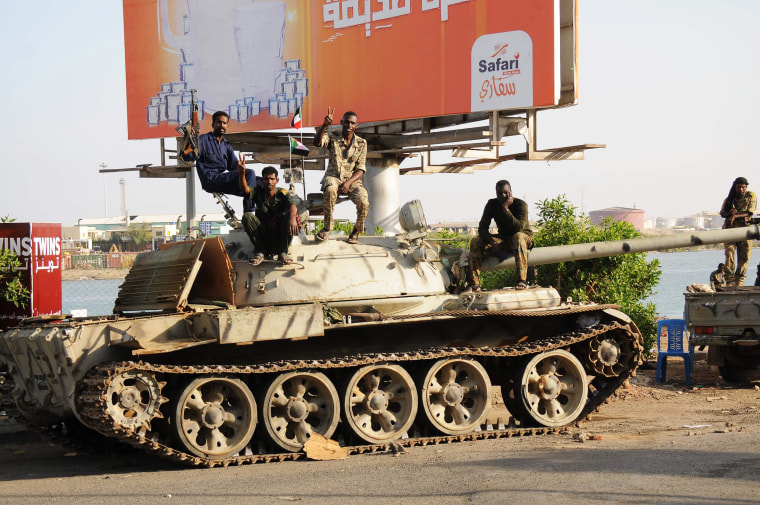 Khartoum International Airport is currently closed due to the fighting.
An estimated 16,000 Americans are based in Sudan, many of them dual nationals. Around 500 of those American citizens had contacted the US embassy as of Wednesday and 55 had requested an evacuation, with the number expected to increase.
A US diplomatic convoy came under fire in what appeared to be an attack by militants linked to one of the warring factions, Secretary of State Antony Blinken said Tuesday, calling the incident "reckless" and "irresponsible."
The Biden administration is tending to evacuate U.S. government personnel from Sudan, a military official and two congressional staffers, NBC News told Friday.
It was unclear when an evacuation might take place, but the Pentagon said Thursday that the US would send additional troops to the region if they were needed for an evacuation.
Elsewhere, the UK Foreign Office said in a statement it was "doing everything possible" to support its citizens and diplomatic staff in the country, but made no mention of an evacuation attempt. French officials have not yet commented.
The Sudanese Army's announcement comes after days of intense pressure from the international community for a ceasefire and help to facilitate evacuations from the country.
The Sudanese military said in a statement on Friday it had agreed to a three-day ceasefire "to allow citizens to celebrate Eid al-Fitr and to allow humanitarian services to run smoothly."
But fighting continued overnight into Saturday morning and explosions were heard in Khartoum. Two ceasefire attempts earlier this week also quickly failed.
The bombing, gun battles and sniper fire in densely populated areas have hit civilian infrastructure, including many hospitals.
The clashes have killed more than 400 people so far, the World Health Organization said in a statement on Friday, although it stressed the death toll was likely to be higher.
Fighting erupted after months of tension between the military and the Rapid Support Forces Rafter military coup in October 2021.
Both sides disagree on how the Rapid Support Forces should be integrated into the military, a key condition of the framework agreement. The Army wants the transition to happen in two years, while the Rapid Support Forces said it could take 10 years.
Burhan and his current rival and leader of the Rapid Support Forces, General Mohamed Hamdan Dagalo, a former camel trader widely known as Hemedti, were leaders of a counterinsurgency against an insurgency in Sudan's Darfur region, a conflict in 2005 that saw the country's dictator, Omar, seen al-Bashir becomes the world's first sitting leader to be indicted by the International Criminal Court on suspicion of genocide.
They were part of the military establishment that helped topple al-Bashir in 2019 after widespread popular unrest and sparked hopes for democracy after his 30 years in power.
The two generals then joined forces to overthrow the Western-backed government of Prime Minister Abdalla Hamdock in 2021.
However, earlier this month a conflict flared up over a disagreement over how the Rapid Support Forces, Hemedti's faction, could be integrated into the national army, a key condition of a framework agreement to return Sudan to democratic civilian rule.
Victoria Di Gioacchino And Nancy Ing contributed.