Silvi Says: Over-officiating quarterbacks leading NFL down slippery slope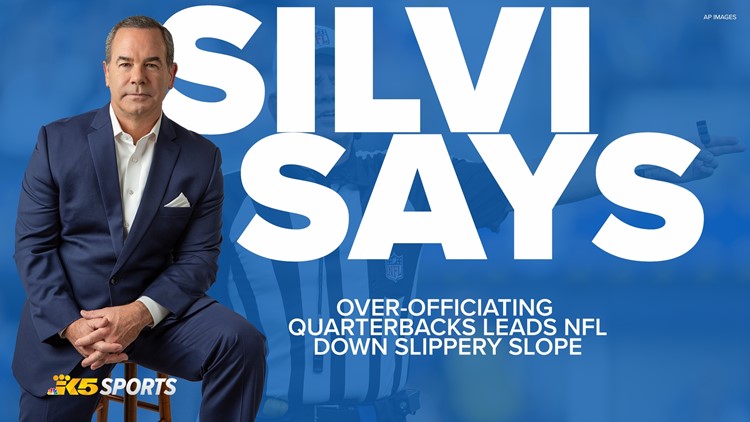 In recent weeks, officials have made fun of the harshness of the passer-by punishment.
SEATTLE — As the NFL continues to evolve, we're seeing changes in how officials call the game and penalize players.
Much attention and commitment has been given to the health and safety of players. It's good. It was long overdue, and the NFL is making strides in this area. The changes to the always-meaning Pro Bowl are a testament to that progression.
Dolphins quarterback Tua Tagovailoa's injury was a grim reminder of the rules needed to protect players. It wasn't like Cincinnati native Josh Tupou landed a dirty punch on Tua. It is that, by most reports, Tua should not have played in this game, having suffered from concussion-like symptoms in his previous game just four days earlier.
Defensive players have learned or are learning how to tackle a quarterback without using punishing, illegal shots.
This part of the game has changed for the better. 300-pound linemen can no longer launch into a quarterback and use the QB to cushion their fall while taking a crushing blow.
But in recent weeks, officials have made fun of the harshness of the passer-by penalty.
Atlanta Falcons defensive tackle Grady Jarrett was the latest casualty. He was called up to beat Tampa Bay Buccaneers quarterback Tom Brady on Sunday, and that ridiculous penalty kick drew the ire of football fans. Aside from wrapping Brady in a blanket and laying him on the grass, I'm not sure the quarterback could have had a softer landing. He's 6-foot-4, 225 pounds and Jarrett actually let him land on top of him before Brady hit the ground. Talk about cushioning the shock.
That penalty was just the latest in a series of questionable, and some would say horrible, decisions in NFL games.
Yes, the NFL is on heightened alert when it comes to concussions, but the league needs to find a middle ground. At this rate, Brady, 45, could be getting paychecks from the Bucs by the time it comes time to get Social Security checks from the government. I mean, why stop playing when nobody can ever hit you?
The NFL has been talking about protecting the shield for years. Protecting the integrity of the game. Well, an integral part of the NFL game is putting all players on a level playing field.
In-game ticky-tack penalties are leading the NFL down the wrong path.
The NFL is the most powerful league in the world, but it created its own kryptonite. It is weakened by over-governing on the pitch, hindering the true spirit of competition.
Fans watch big plays during games, but are forced to stop partying until they've scoured the field for a flag. That's what matters.
"Great game. Oh wait, there's a flag."
It gets to the point where even when players aren't making a game, they're looking for a flag to save them.
Sometimes you don't catch it. Sometimes you get fired before you get a pass. And sometimes you get caught holding a handset to prevent him from making a big play.
The NFL must not lose sight of this.
Let the players compete against each other. It's football. It's a violent sport. Players know that they risk injury every time the ball is caught.
But over-punishing players is increasingly affecting the outcome of games.
In the end, it comes down to intent versus integrity. It's not about choosing sides. It's about finding a balance.
https://www.king5.com/article/sports/nfl/silvi-says-over-officiating-leading-nfl-down-slippery-slope/281-0b5061fa-3244-4440-8784-9e87bcb5873d Silvi Says: Over-officiating quarterbacks leading NFL down slippery slope