Six injured in shooting at Oakland school campus
Six adults were injured in a shooting Wednesday afternoon at an Oakland school campus, with two suffering life-threatening injuries, according to local officials.
The two with the most serious injuries were classified as critical but stable at Oakland's Highland Hospital, the county's main trauma hospital, while a third victim was classified as stable, according to Alameda Health System officials.
The other three injured have either been released or are due to be discharged from another hospital soon, Oakland Deputy Police Commissioner Darren Allison said at a news conference. All six victims were 18 or older and had some "connection to the school," but Allison didn't say if they were students or staff.
The King Estate campus on Fontaine Street, where the shooting took place, is home to several schools with students in grades 6 through 12 on site. Police found the victims, all suffering from gunshot wounds, just before 1 p.m
No suspects have been identified, Allison said, adding, "We are currently and actively searching for a shooter, although other people may be involved."
The shooting follows a particularly violent week for Oakland, and comes just a day after the police chief pledged to use all hands to respond to the city's gun violence.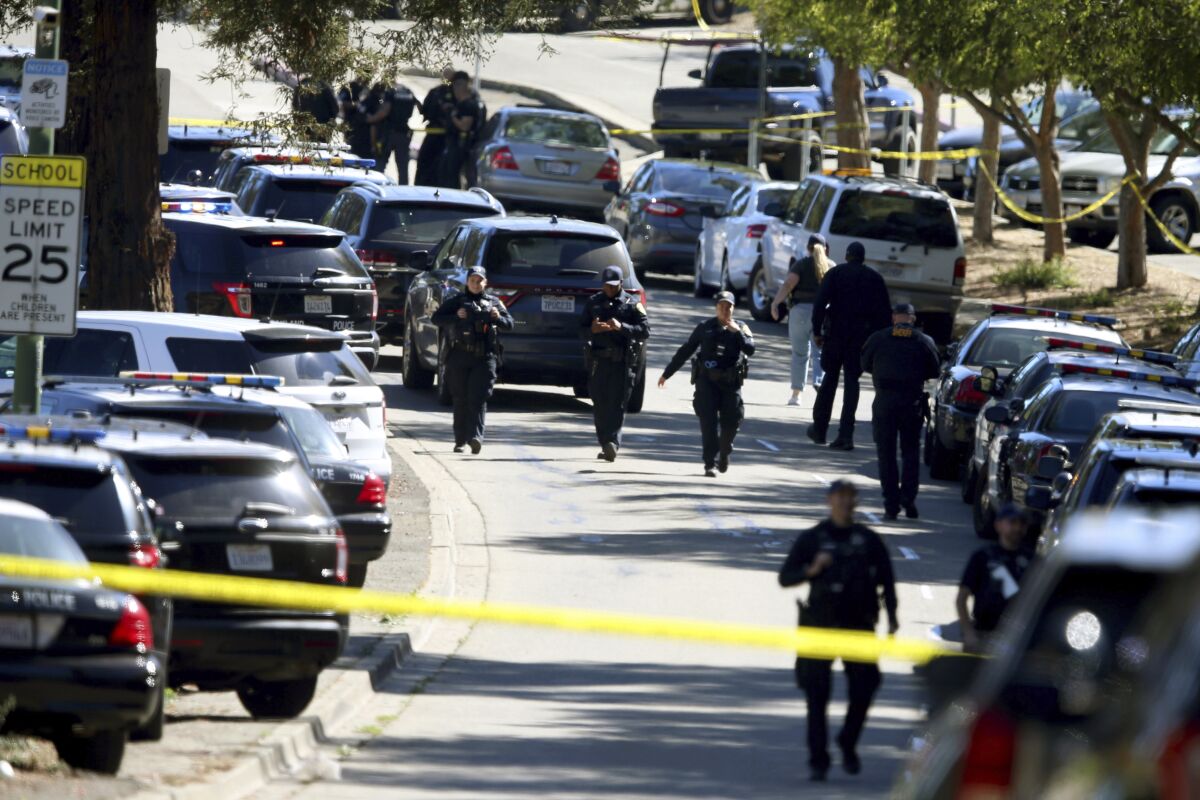 Allison said the shooting occurred on part of Rudsdale High School's campus, but he did not explain whether shots were fired inside or outside the school.
According to the school's website, Rudsdale offers an alternative educational experience for primarily immigrant students aged 16-21. Also on campus are Bay Area Technology School, a public charter school for grades 6-12, and Sojourner Truth Independent Study School, which operates an online learning program for K-12 students.
Because of the virtual facility, there were no Sojourner Truth students on campus, according to a statement from the Oakland Unified School District Wednesday. John Sasaki, a district spokesman, did not say if staff were present at the school's building, but said it was the location of the school's headquarters.
The Oakland Academy of Knowledge, an elementary school, is also near the King Estate campus, but Sasaki said the shooting "had nothing to do with that elementary school."
Oakland City Council member Loren Taylor said the incident "occurred close to home."
"Our schools are meant to be places of edification and empowerment," Taylor told ABC7 News, "…not [a place] to witness such tragedies."
Parents rushed to campus to reunite with their children on Wednesday afternoon after news of the shooting broke. Oakland Police Captain Casey Johnson asked that any witnesses or anyone with video of the shooting contact the agency.
Oakland Mayor Libby Schaaf has criticized the gun violence a post on Twitter. "The rampant access to firearms in our country is inexcusable," she said.
A Tweet from the governor's office called the shooting "a horrific act of violence that has become too familiar."
"Once again, our children were caught in the crossfire. It can't go on like this – gun violence has taken too much from our communities."
Less than 24 hours before the shooting, Oakland Police Chief LeRonne L. Armstrong addressed the community after eight people were killed in the city's deadliest week this year, according to the police department. He said the agency was reorganizing and dispatching additional officers to better respond to shootings, noting that most incidents were related to group and gang violence.
"We're going all out on deck to address gun violence in the city of Oakland," Armstrong said.
"This has been a tough year in Oakland," Sasaki, spokesman for Oakland Unified, said at a news conference. "But it doesn't define us; it doesn't define the school district and it doesn't define the city."
Late last month, a 13-year-old Madison Park Academy student was accidentally shot and killed by another student. The victim survived and the other student was charged.
"This can't keep happening in our city," Sasaki said. "Everyone must do whatever it takes to ensure our children are loved and supported."
Oakland schools have what Sasaki calls "culture keepers," unarmed school staff who assist students "to make sure they stay safe on our campus."
Culture guardians were on campus Wednesday, but it was unclear how many.
https://www.latimes.com/california/story/2022-09-28/at-least-five-injured-in-shooting-at-oakland-school Six injured in shooting at Oakland school campus