Skagit farmers feud over proposed wedding venue ordinance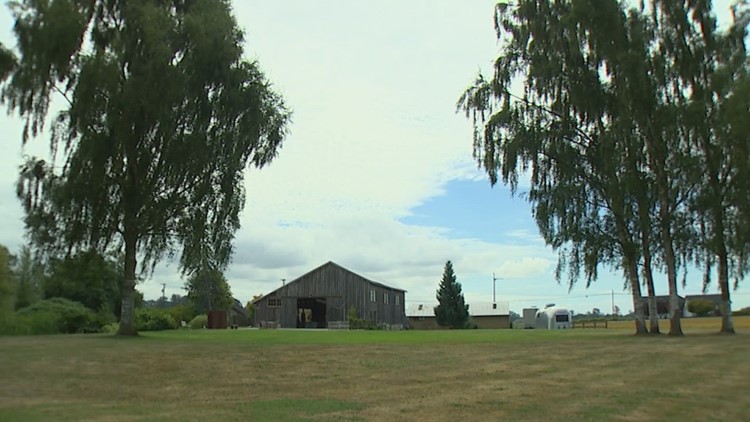 A proposed ordinance could ban "celebrating gatherings" on farmland.
SKAGIT COUNTY, Wash. – Farmers are protesting a proposed ordinance that some fear could devastate the wedding industry in Skagit County.
It's a neighborhood-to-neighborhood showdown as officials struggle to preserve farmland while keeping businesses afloat.
"Just know that we can make someone's special day that much more special," she said.
A proposed ordinance could outlaw so-called "celebrating gatherings" — like weddings — at Skagit County farm sites.
This move will essentially put people like the Clements family out in the pasture.
Katie said: "Not everyone who owns a farm is capable of becoming a farmer. "Smaller farms need other revenue streams to make up for that."
The Clements believe that concerns about losing farmland to grow and fear farmers are limited in what they can do when an ongoing event – like fertilizing – is causing the war.
"Farmers have the right to farm. We respect that," added Katie's husband, Brock. "We just want to find a way to live in harmony."
The Skagit County Agricultural Advisory Board proposed this ordinance.
The members declined an interview with KING 5, but submitted a statement that read: "The recommendations are made to help the county clarify and understand the rules and definitions that have been applied in this regard. nearly 30 years. Our role is to advise county staff on proposed changes to county policy. Since no changes have been proposed on this topic and there is a lot of confusion, we've tried to provide some clarity on the code."
The proposal would also cut the number of smaller events at the farm site, such as farm-to-table dinners, from 24 events per year to just 12.
Jeff and Jessie Anderson run a fifth generation farm, growing hay and berries.
They point to a county taxpayer-funded study that found that 68% of the Skagit County public favors farm wedding venues.
The couple believe group events bring revenue to the valley, not to mention their 10-acre family farm.
"Each wedding supports 10 other businesses in the area," says Jeff. "The florist, the caterer. That makes a lot of sense."
"If this goes through, I don't know what will happen to our family. I don't know what will happen to the local economy, but it will be devastating," added Jessie.
Looking back at the albums of nearly a decade of memories, Katie recalls her own wedding.
It was the first time at the warehouse.
She and her husband hope they haven't seen each other for the last time.
"This is what the valley wants here," Brock said. "We're bringing something beautiful to the valley. I don't want to see it disappear."
Katie said, "I can't imagine not being able to do that anymore."

The public comment period has been extended to August 17. To have your opinion heard, send an email to pdscomments@co.skagit.wa.us.
The county Planning Commission's decision could be made as soon as October 7.