Lifestyle
Skirball Cultural Center serves up history of the Jewish deli
Writer and scholar Lara Rabinovitch is sure to acknowledge her love of Jewish food and Langer's Delicacies in particular. It was at Langer that her future husband, who is known to have a PhD in pastrami, proposed to her 11 years ago. Indeed, her engagement ring was brought to the plate with Langer's 19 sandwich – macaroni with coleslaw, Russian dressing and Swiss cheese – as other patrons applauded. .
Today, an expert in food, restaurant culture and immigration history, Rabinovitch is natural as co-manager "I'll Have What She Got: Jewish Dining," inaugural. on Thursday at the Skirball Cultural Center in LA and watch until September 4 Unraveling how immigrants to America brought their foodie palates, exhibition ticket prices range from original footage from street vendors in New York City selling pickles from crates to photos of deli staff greeting diners like Elvis Presley and Barack Obama.
"The story of American cuisine is a story of immigrant adaptation," says Rabinovitch. "Jewish fast food in that story is a restaurant culture that was brought here from Eastern and Central Europe and expanded to become mainstream in American life. It has gone from being a humble Jewish dish to becoming an important part of American culture. "
Skate curators Laura Mart and Cate Thurston, who first came up with the idea of ​​a Jewish snack shop exhibit at lunch, teamed up with Rabinovitch to investigate the archives. and Jewish, immigrant and food collection as well as deli history. The result fills a large museum gallery with mid-20th-century menus, matchbooks and uniforms worn by counter staff and waitresses. There are very realistic replicas of matzo ball soup, beef burgers and other comfort food, not to mention a seven-minute 20-second video of a smiling chef narrating the making of bagels.
The exhibition's installations also include oversized images from a prominent 1960s New York City advertising campaign, long popular in the city's subways and elsewhere. Posters that say "You don't have to be a Jew to love Levy's real Jewish rye" and showcase Levy's satisfied-looking true Jewish rye patrons include a Native American and a black child.
Levy's advertising campaign highlights another exhibiting feature: the range of interested customers. There's a section about Broadway actors, writers, and comedians who are regular patrons. Another exhibit wall asks, "Who's at the table?" and answers with photos of famous politicians and others.
The screen showed TV and movie clips highlighting the salesman's role on the screen. In addition to screenwriter Nora Ephron's 1989 film "When Harry Met Sally…" — whose passionate shot with Meg Ryan and Billy Crystal titled the exhibition — clips also appeared from the shows. TV shows include "Seinfeld," "Curb Your Ebye" and "The Miraculous Lady Maisel. "
The curators ate a lot, and Mart noted that they met at Langer for "a great warm-up." "We ordered almost everything," she said. "Number 19 on rye. Some of their homemade ice cream sodas. Delicious pickles. A plate of white fish. " Thurston interjected: "I think we have to take a nap after that."
What food do they like best? "It's hard to say," said Mart. "It's like picking a favorite kid. I think we can say we've tasted so many incredible dishes, but it would be hard to pick the best one. I usually order a pastrami sandwich or matzo ball soup, and if I'm feeling ambitious, choose both. "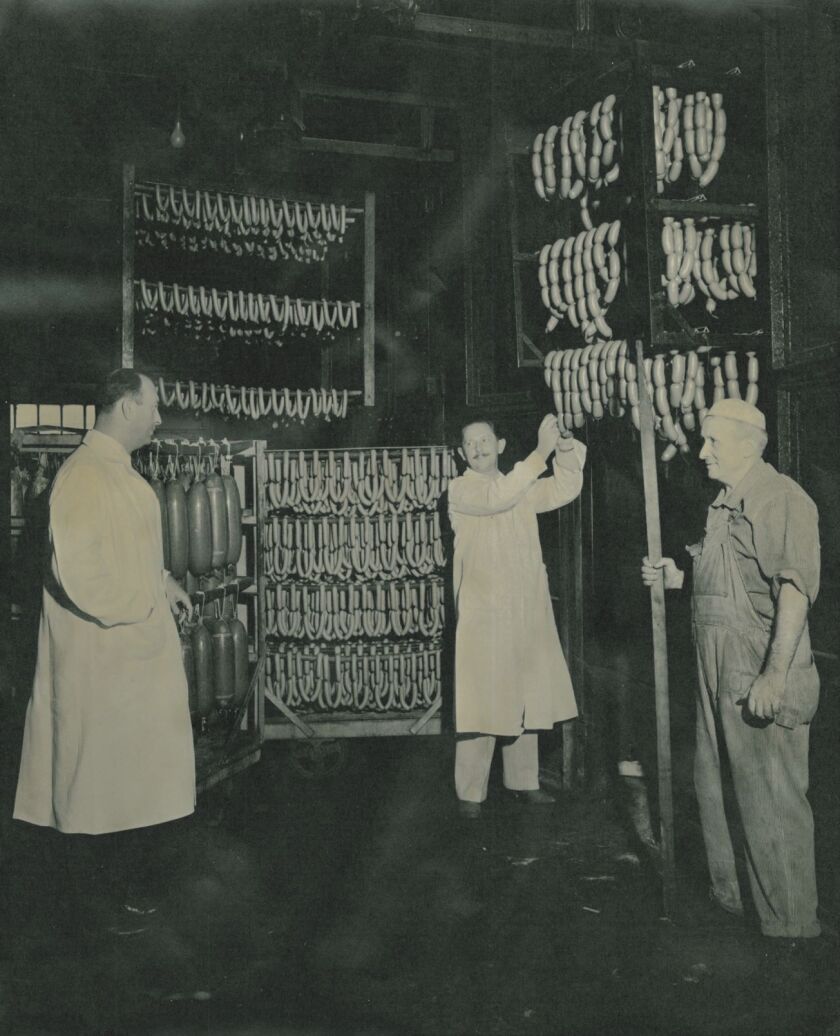 One thing they didn't envisage was the COVID-19 pandemic. They started the program in 2017 and began installing at Skirball in March 2020. "Some of the walls are already installed and we're about a week away from installing the objects," says Thurston. . "It's like we've hit pause."
Little has changed in the gallery, she says, for a long time, and since then they have refurbished the exhibition "probably six times".
"One of the attractions we were going to recommend – Beetroot Deli in Portland [Ore.] – closed during the pandemic, and many others closed temporarily. We had to modify the flow and all the different stages of social distancing. We just spin around, nimble, and wait for Skirball to reopen. And now the day has finally come. "
'I'll have what she's got: Jewish deli'
Where: Skirball Cultural Center, 2701 N. Sepulveda Blvd., LA
When: Thursday-September. 4; Closed on Mondays
Admission: This is a special exhibition with a timed reservation required. Admission is $13-$18 (including general admission to the center); Children 2 years and under are free. Admission is free for all Thursdays.
COVID-19 protocols: More information at skirball.org/ticketing-and-safety
Information: (310) 440-4500
https://www.latimes.com/entertainment-arts/story/2022-04-14/pickles-slaw-pastrami-on-rye-skirball-serves-up-a-tasty-show-on-the-jewish-deli Skirball Cultural Center serves up history of the Jewish deli