Snohomish County solid waste facilities may have to close temporarily due to excess garbage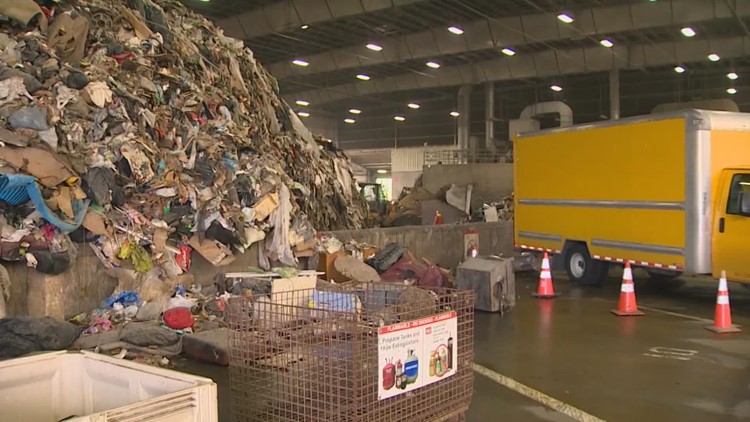 There are not enough storage containers available to transport the garbage that accumulates in waste facilities, posing an environmental, health and safety hazard.
SNOHOMISH COUNTY, Wash. – Snohomish County's solid waste facilities are piling up trash because it is difficult to ship by railroad to regional waste centers.
The increasing garbage is raising health, safety and environmental concerns for customers and employees, according to the county.
Waste facilities are struggling to find enough shipping containers to ship garbage to regional waste facilities. The issue is also impacting other waste facilities throughout the Puget Sound area and western Canada.
If the district continues to have problems moving the waste in the coming weeks, some solid waste facilities may have to close temporarily until the excess waste can be disposed of.
Transportation issues have affected Snohomish County's waste facilities intermittently over the past eight months. In early January, solid waste transfer stations were struggling to find enough railroad containers to transport the waste, and the garbage began to pile up over the next five months. In May, the district had to close solid waste facilities for two days to clean up excess garbage that had accumulated due to a lack of transportation to landfills.
In April, Snohomish County approved an emergency contract with Waste Management to assist the Solid Waste Department in removing excess trash at local transfer stations.
The contract expires in October. Garbage has been at a sustainable level over the summer months but has recently started to pile up again due to staffing issues at the railways and shortages of intermodal containers.
The county is working with Republic Services, the Burlington Northern and Santa Fe Railway (BNSF), waste disposal, local solid waste transportation companies and federal officials to find a solution, said Kelly Snyder, Snohomish County director of public works.
"We are experiencing significant delays in BNSF rail service to the landfill, but safety will remain our top priority during this emergency," said David Schonhard, Snohomish County director of solid waste. "We're working on all sorts of options to reduce waste at our facilities without shutdowns, but it's difficult. We appreciate the patience of our customers in this uncertainty."
The challenges are compounded by the possibility of a nationwide strike by more than 100,000 railroad workers, which could peak after September 15. The strike could exacerbate ongoing problems with waste transportation and disrupt other vital services across the country.
Meanwhile, county officials are urging residents to look for ways to divert waste from landfills. Snohomish County suggests finding ways to recycle reusable items and donating household items, books, or clothing that are reusable to thrift stores or selling them on community classifieds or online marketplaces instead of throwing them away.
CLOCK: KING 5's top stories playlist on YouTube
https://www.king5.com/article/news/local/snohomish-county-solid-waste-facility-potential-closures/281-f40ef014-cc02-4f33-9a73-844459a2eeb4 Snohomish County solid waste facilities may have to close temporarily due to excess garbage