Snowmobilers celebrate their 50th season riding on Mt. Baker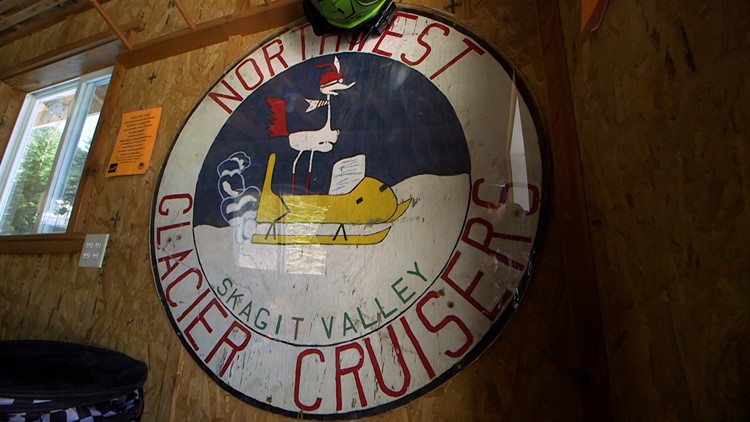 Northwest Glacier Cruisers promotes the sport through good camaraderie and sportsmanship. #k5evening
MOUNT BARKER, Wash. – Without a doubt, Mt. Baker is one of the most spectacular places to snowmobile in the Pacific Northwest in the winter, and the Northwest Glacier Cruisers crew knows all about it.
They are one of the first and oldest snowmobile clubs in Washington state. Founded on January 7th, 1972, the members are a mix of friends and family covering all levels of riding, from beginners to the most extreme mountain daredevils.
The club encourages families to come out and enjoy many of its family-friendly events.
"I have four kids and they all drive," said member Jessica Ronhaar. "For me as a mom, it's super cool to take my kids outside and teach them that they can achieve things."
Northwest Glacier Cruisers pride themselves on providing a safe environment when it comes to cruising. For the same reason, they've partnered with NWAC to educate members of all ages about the natural dangers of snowmobiling.
"We're here today with the Northwest Avalanche Center," said Tina Shields, a member of Northwest Glacier Cruisers. "They will take our children and do a little avalanche training with them."
"It's cool to see how they start young and how seriously a lot of people take this avalanche awareness and education," said Joey Fay of Elevated Backcountry.
This club also works with local authorities to maintain the riding arenas in the Mt. Baker area, help groom trails and build warming cabins for everyone to use.
The highlight of being part of this club is simply riding the fresh snow of Mt Baker and discovering places that not many people get to visit. With over 168 miles of snowmobile trails to take you through the forest.
If you are interested in joining Northwest Glacier Cruisers, they meet on the first Thursday of every month. Meetings are not required for membership, although they are a great way to get to know the group and participate in events.
So tune in and get ready to ride!
The evening of KING 5 celebrates the Northwest. Contact us: Facebook, TwitterInstagram, email.
https://www.king5.com/article/entertainment/television/programs/evening/celebrating-their-50th-season-riding-in-mt-baker-snowmobile-extreme-families-snow-oldest-northwest-members-kids-jose-glacier-fun-adventure-outdoors/281-81702bc4-5dd4-430a-8c8c-c7344c0eed5b Snowmobilers celebrate their 50th season riding on Mt. Baker