Some Hawaii residents using bottled water due to 'forever chemicals' in wells
About 650 Hawaii residents have relied on bottled water since March after the state health department discovered synthetic chemicals known as PFAS in the local water system.
The contamination dates back to at least October, when the Hawaii Department of Health discovered the chemicals in one of two wells that feed Kunia Village, an affordable housing development on Oahu.
The department announced in January that detected levels exceeded the Environmental Protection Agency's proposed limit for two types of PFAS — called PFOA and PFOS — in drinking water, as well as the state of Hawaii limit above which municipalities treat or provide their water systems should be an alternative source. However, the concentration is below the current EPA limit.
The village of Kunia stopped using the contaminated well afterwards. Then, in early March, the operator of the water system began distributing bottled water to residents amid concerns that the second well could also be contaminated, health department tests confirmed last week.
Residents have been instructed to use bottled water to drink or brush their teeth and tap water to wash their hands, wash or bathe.
"We just felt it was important to act quickly and conservatively," said Stephanie Whalen, President of the Kunia Water Association.
PFAS stands for Per- and Polyfluoroalkyl Substances, but they are more commonly referred to as "forever chemicals" because they are nearly impossible to destroy and can persist in the air, water, and soil.
The chemical class has been linked to health outcomes, including low birth weight, high cholesterol and thyroid disease. PFOA in particular has been linked to an increased risk of kidney cancer. A study published last year found that exposure to high levels of PFOS was associated with an increased risk of liver cancer.
PFAS are used in the manufacture of consumer products such as food packaging, cosmetics and textiles for their ability to resist stains, grease and water. They are also found at some military sites due to the use of a 1970's PFAS-based firefighting foam. The military still uses the foam to respond to emergencies, but no longer uses it for testing and training.
PFAS contamination is widespread
PFAS contamination in water is widespread in the US. The Environmental Working Group, a research and advocacy organization focused on toxic chemicals, told NBC News that at least 1,500 sites would violate the EPA's proposed PFAS limits for drinking water — 4 parts per trillion — the agency hopes , to be completed by the end of this year.
The EPA, meanwhile, said in March that as many as 6,300 water systems — serving up to 94 million people — contain levels of PFAS above proposed limits.
"There are very few places where we've looked for PFAS and haven't found them," said Jamie DeWitt, a toxicology professor at East Carolina University who reviewed the results of the water samples from the village of Kunia. "It's just a testament to how ubiquitous they are in the environment."
But Kunia's levels are higher than average background concentrations across the country, according to Anna Reade, a senior scientist with the Natural Resources Defense Council, an environmental defense group.
"That's a pretty alarming level they're getting at," Reade said.
In a well in the village of Kunia, PFOA levels were up to twice the EPA's proposed limit, and PFOS levels were up to 3.5 times higher. In the other, PFOA levels were about five to seven times higher than the proposed threshold, and PFOS levels were at least 11 times higher.
"It meets all the indications that it's too contaminated for people to safely drink," Reade said.
More water systems are beginning to be tested for PFAS
The Hawaii Department of Health said it was testing small water systems near likely PFAS hotspots — such as industrial or military sites — with the help of grants from the EPA.
Kunia Village is one such site, the department said, but added that before testing in October, it did not know how long PFAS had been present in the area's water.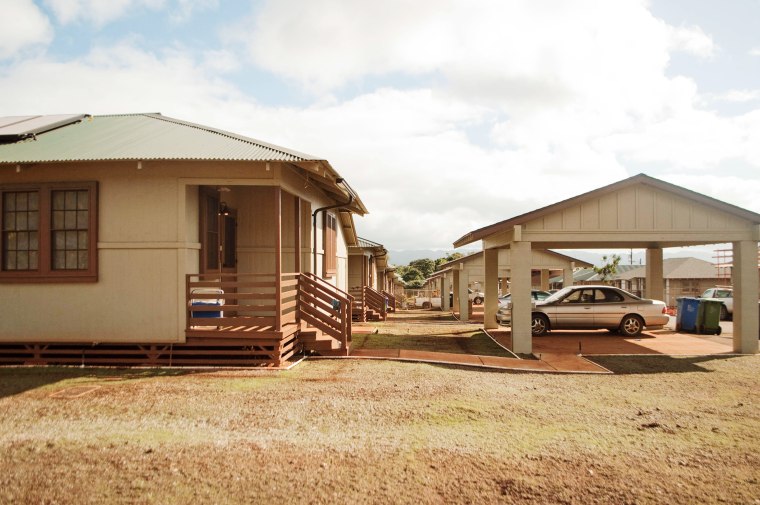 "The biggest concern is that people may have been consuming this for many, many years — maybe even decades," DeWitt said.
However, testing for PFAS is becoming more common: the Safe Drinking Water Act requires that large public water systems — and some medium-sized and small ones — be tested for the chemicals by 2025 and the results reported by the following year.
The type of monitoring that Hawaii does is voluntary, Reade said, but over the next few years "we're going to get quite a bit more information about what we have in our drinking water."
Individual water systems react differently to high concentrations of PFAS. Some are offering bottled water on a temporary basis, but Reade said many are also adopting long-term solutions like connecting to a new water source or installing a special treatment system.
However, it may take a while for communities to decide on or implement such solutions. The city of Emmaus in the US state of Pennsylvania B. is still evaluating her options more than a year after she was found to have elevated levels of PFAS in her water.
Hawaii's PFAS problem may stem from military activities
The source of the contamination in the village of Kunia has not been identified, but the health department said the detected PFAS compounds appear to be consistent with those from other sites with known fire-fighting foam contamination.
DeWitt also said that in the case of Kunia Village, "it appears that the sources are military sources as opposed to an industrial source or landfill."
The health department said it is waiting for the army, which owns one of the wells, to provide more information.
The US Army Garrison Hawaii said it does not know the source of the contamination but is investigating whether PFAS-containing materials may have been stockpiled, used or released at nearby military sites.
In April, Whalen said, the village of Kunia began running water from another source through the aqueduct to flush out the contamination. It is awaiting the results of more recent tests.
"These results come back clean, great. We will stop bottled water. You don't, then we proceed with bottled water," Whalen said.
Also this year, low levels of PFAS were detected in several water systems in Honolulu. Reade said it was not surprising given the state's history of military activities.
"I think unfortunately it's going to be an issue that Hawaii will have to deal with beyond a few wells," she said.