South King County mayors ask for help in fight against crime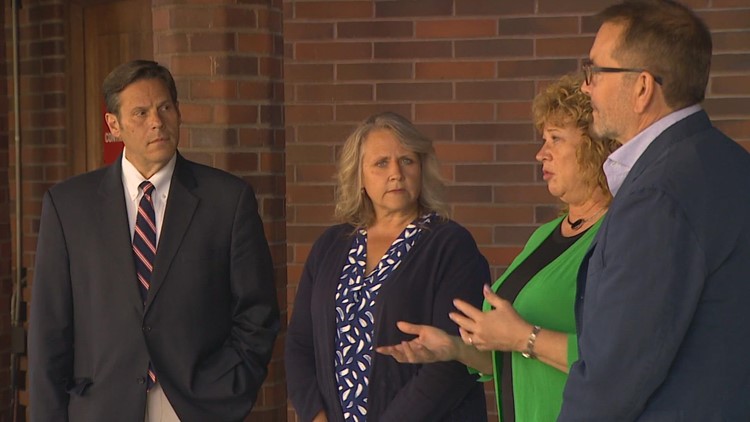 Mayors in Auburn, Black Diamond, Enumclaw, Federal Way, Kent, Pacific, Renton, and Tukwila are asking for help.
KING COUNTY, Wash. — Mayors in southern King County signed an open letter Thursday asking for help with efforts to reduce crime and violence.
However, at least one of the claims they have made is denied by the county leadership.
Mayors in Auburn, Black Diamond, Enumclaw, Federal Way, Kent, Pacific, Renton and Tukwila are asking King County and the state for help as those cities are seeing "worrying" increases in crime.
"We really need to provide a higher level of public safety. Our community demands this," said Renton Mayor Armondo Pavone.
Four of the mayors who signed the public pleading told KING 5 it's important for them to unite for people living in different towns in southern King County.
"No one knows where one city begins and another ends. Nobody cares, they just want to feel safe," said Auburn Mayor Nancy Backus.
According to the letter, the rise in crime coincides with several events, including the passage of Senate Bill 5476, which bars cities and counties from charging someone with drug possession in certain counts. The passage of House Bill 1054, which bar law enforcement officers from conducting vehicle pursuits in certain circumstances, is also a factor, according to the letter.
Federal Way Mayor Jim Ferrell, who is running for King County state attorney this November, said many criminals know they can get away with it.
"I mean, that's why auto theft has increased 88 percent statewide in one year," Ferrell said.
Alongside an "influx" of methamphetamine and fentanyl, the letter criticizes the justice system "where it takes many months, if not years, before criminal charges are filed, resolved, or brought to justice."
There is also a need for "enhanced and timely criminal accountability for juvenile and adult crimes at the county level," the letter said.
The letter specifically calls out King County's prison system, alleging it does not allow routine booking of suspects in a crime and that officials are spending house transportation and suspect booking due to booking restrictions.
Kent Mayor Dana Ralph pointed to the Norm Maleng Regional Justice Center in Kent, which Ralph said is no longer accepting regular offenses due to staff shortages. Instead, the letter said officials are being forced to take crime suspects to the Seattle jail.
"The biggest problem is when you take an officer off the road for four hours in a department that is already severely understaffed, it becomes a public safety issue.
In a statement, Chase Gallagher, communications director for Constantine's office, called the allegation regarding jail bookings "hyperbolic."
"Over the course of a single Sunday night in July, bookings were limited to the highest priority cases, allowing limited prison staff to prioritize safe operations at the prison," the statement said. "When this one-time restriction went into effect, prison staff continued to take calls from law enforcement, allowing them to submit high-priority cases when necessary, and indeed at least one jurisdiction did."
Although the affected city leaders have had meetings with King County and state legislatures to help resolve the issues, the "impact of the challenges on our system is real and immediate," the letter said.
The letter calls on the county and state to take action to address the toll that rising crime is taking on communities.
KING 5 reached out to Gov. Jay Inslee's office and King County Executive Dow Constantine's office.
Answers from the Office of the Governor, the executive branch of King County
A spokesman for Inslee's office said they did not receive the letter prior to KING 5's request because it was not specifically addressed to that office. The letter was still being examined on Thursday afternoon.
On the subject in general, however, a spokesman for Inslee's office wrote that the problem "is not unique to us".
"It's a nationwide phenomenon. As the Brennan Center for Justice says, 'The recent rise in crime is extraordinarily complex. Politicians and the public should not jump to conclusions or expect easy answers,'" the statement said.
"Resolving the challenges facing our law enforcement and criminal justice system requires collaboration between federal, state, provincial and local partners. The state will continue to do its part by listening to local partners to promote safety and share resources that address the root causes of violence and crime.
"Last month the governor introduced a proposal to improve police training opportunities across the state to make more candidates available for open officer positions in local departments. Since 2016, the state has increased salaries for state police officers by 40%. The state has made significant investments in behavioral health services, rapid supportive care, juvenile intervention programs, and diversion programs for first-time offenders and minor offenders.
"We all share the desire for safer communities."
The full statement from Constantine's office reads as follows:
"It behooves officials in positions of public trust to rely on facts and not exaggerations, as is the case with this prison booking allegation. Over the course of a single Sunday night in July, bookings were restricted to only the highest priority cases Limited prison staff were able to prioritize safe prison operations. When this one-time restriction went into effect, prison staff continued to take calls from law enforcement and allow them to bring high-priority cases when necessary, and in at least one jurisdiction did so.
"Public safety is at the top of our priorities and that means holding people accountable while also addressing the underlying causes. Every level of government has a role to play in solving the problems on our streets, exacerbated by a criminal court backlog created by the pandemic, decades of an underfunded behavioral health system, and centuries of institutional racism. We will continue to work with any government that has committed to working productively to provide security rather than clinging to outdated practices and mindsets that no longer protect our communities.
WATCH: Federal funds could come to Seattle to encourage victims to report hate crimes
https://www.king5.com/article/news/crime/south-king-county-mayors-fight-against-crime-help/281-c85b9581-e8de-4610-8a49-2deec9038a05 South King County mayors ask for help in fight against crime