Southampton choose Russell Martin as their new manager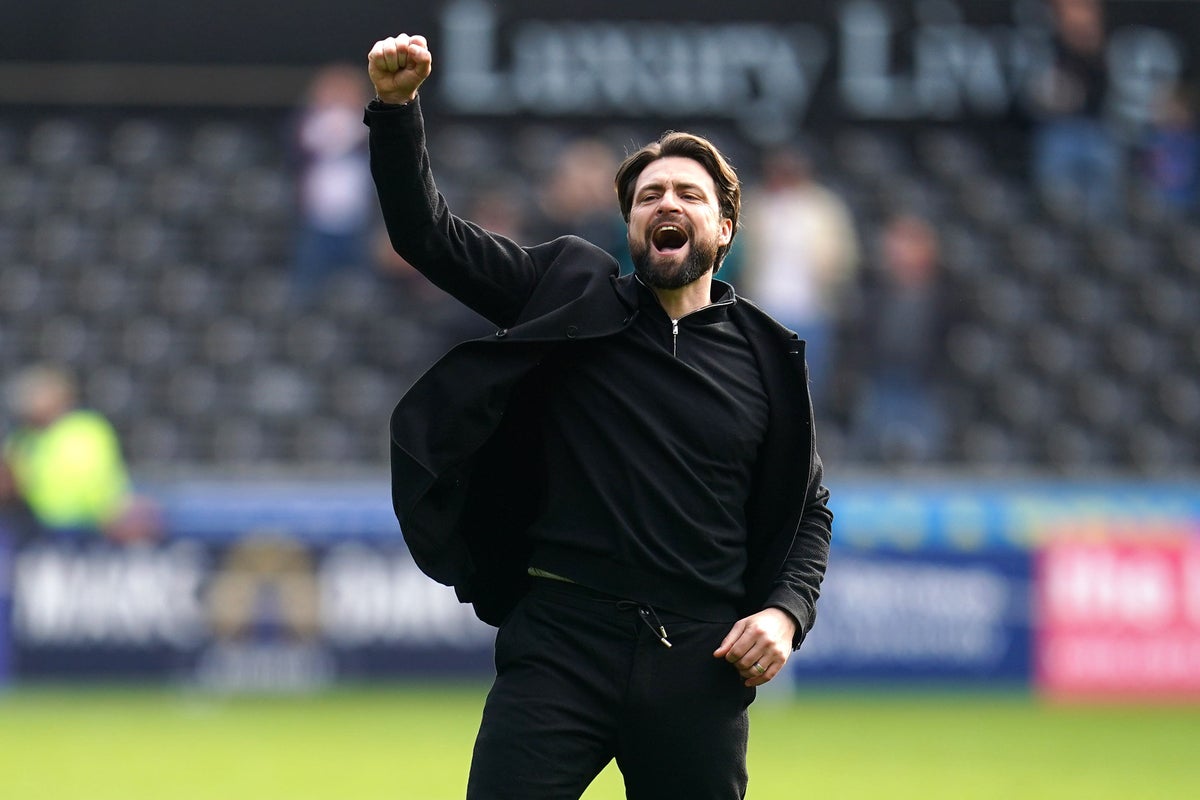 Russell Martin has been confirmed as the new Southampton head coach.
The former Scotland international joins a three-year deal after leaving Swansea.
Martin verbally agreed last month to take charge of St Mary's as the clubs continue to discuss compensation.
"It's a privilege to accept this opportunity at Southampton, a club with such a long and rich history," he said.
"My aim is to get this club back to where it belongs – in the top flight of English football. I am ready for this challenge and I will give everything to achieve this goal and to offer the fans a team that makes them proud. I am very happy to be here and can't wait for the work to start."
Leicester were also interested in the 37-year-old but Southampton were quick to make the switch after being relegated from the Premier League.
Several of his backroom associates, including assistant Mat Gil, are expected to join Martin.
Southampton and Swansea disagreed on the amount of compensation to be paid, causing the move to be delayed.
They had haggled over more than £700,000, with Martin's release clause being different for Championship clubs and Premier League sides.
The Saints felt they should pay the lesser amount, around £1.25m, after being relegated from the top flight, while the Swans are believed to have held out at £2m.
Martin led Swansea to 10th in the Championship last season despite having a bottom-four budget and the youngest squad in the division.
He has been praised for his style and Southampton are hoping the former Norwich defender can lead them back to the Premier League on the first try.
They finished bottom after a disastrous season in which they had used three coaches.
Nathan Jones replaced Ralph Hasenhuttl in November but only lasted 14 games, winning one and being fired in February. Ruben Selles took charge in the final months of the campaign but was unable to keep up with the Saints.
Last month, chief executive Martin Semmens resigned from his position following relegation, having been in office since 2019.
Jason Wilcox was appointed Southampton's director of football by Manchester City in January and will officially start work next week.
Wilcox added: "Russell has shown fantastic qualities in his managerial career to date and is someone who we believe will thrive in the great environment that we have here in Southampton."
"He's a fantastic fit for what we're trying to achieve with a strong track record of developing and nurturing young talented players to fulfill their potential and deliver results on the pitch." We can't wait for Russell to join the team from Staplewood as we prepare for the new season."
Swansea are in talks with Barnsley manager Michael Duff, the PA news agency announced on Sunday, with the former Burnley midfielder expected to be Martin's replacement.