Spider-Man: Across the Spider-Verse Review – The stunning sequel continues to push the boundaries of animation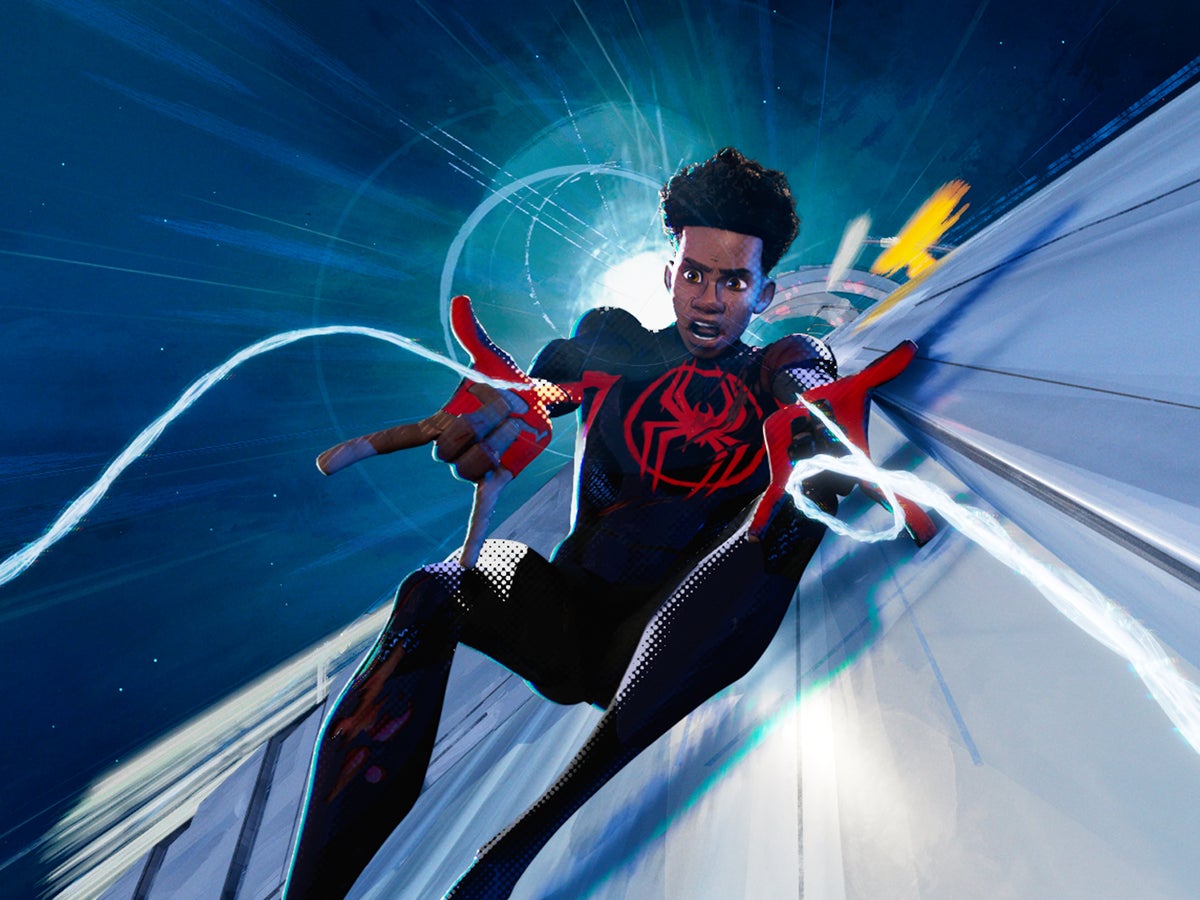 When it hit theaters in 2018, Spiderman: Into the spider verse was a radioactive arachnid bite in Hollywood's throat. It refuted the arguments that superhero films had to choose between pathos and humor; It showed how easy it is to bridge the gap between what lives in the pages of comics and what's possible on the big screen; and it proved that mainstream animated films shouldn't be forced to live in the shadow of Disney's fairytale castle.
His follow up, Across the spider verseis another lesson from the coolest teacher you've ever met. DC, the MCU… this is how you do both sequels and multiverse storylines without breaking a sweat. Miles Morales (Shameik Moore), the only Spider-Man in his world and a mainstay of the comics since 2011, discovers that all of his interdimensional shenanigans from the previous film have begun to unravel the delicate web of reality. That's where Spider-Man 2099 (Oscar Isaac) comes in, a deadbeat spider-man from a futuristic dimension with a Type A personality and zero sense of fun. He has made it his mission to fix the anomalies. And poor Miles is a thorn in his side.
Across the spider verseMuch like its predecessor, it takes its multiverse premise as a real creative challenge. There are cameos, gags, and visual references drawn from every corner and era of Spidey culture. The film sprints to the limit of visual overload but never exceeds it, thanks to the ease of director trio Joaquim Dos Santos, Kemp Powers and Justin K. Thompson, and writers Phil Lord, Christopher Miller and David Callaham. This is, dare I say it, the way fan service should be done. It's a lot easier to overlook the usual nostalgic reflections when it takes a backseat to real creativity.
Into the spider verseThe comic book style — with its split-screen panels, crosshatch, and Ben Day dots — has since been copied in the rest of mainstream animated films (see February's). Puss in Boots: The Last Wish). Across the spider verse deals with his own legacy. What is revolutionary about this franchise is not that it has created a new look, but that it has dared to push the boundaries of what is possible. As we enter new dimensions, the film reinvents its own look. The most notable of these is the homeworld of Gwen Stacy (Hailee Steinfeld), Miles' fellow Spider and closest friend. Gwen lives in a place of impressionistic pinks, purples and blues, where environments change in accordance with characters' emotions, and which at times seems to adopt the abstract designs of Swedish artist Hilma af Klint.
Mumbattan, where we meet Spider-Man India (Karan Soni), introduces a subtle palette of primary colors that draws directly from the country's pop art history; Spider-Punk (Daniel Kaluuya) is Sex Pistols collage work only. For a genre so adamant about its own seriousness, perhaps the most compelling argument against the idea that "comic films are not cinema" is casualness Across the spider verse integrated into the wider cultural landscape. There's even a bang on Jeff Koons, whatever you might think of it.
The film is part one of two and its narrative is scheduled to conclude with next year's Beyond the Spider-Verse. Admittedly, the climax overdoes it on the cliffhangers, and gets a little too intricate when it comes to cross-cut montages of spider characters that seem very serious, while Daniel Pemberton's pulsing score reaches an ever-increasing series of crescendos. But the Spider-Verse has earned the right to a little self-adulation. Of all the multiverses, this one is the easiest to find.
Directed by Joaquim Dos Santos, Kemp Powers, Justin K. Thompson. Starring: Shameik Moore, Hailee Steinfeld, Brian Tyree Henry, Luna Lauren Velez, Jake Johnson, Jason Schwartzman, Oscar Isaac. PG, 140 minutes.
Spider-Man: Across the Spider-Verse hits theaters June 2nd