SR3 marine hospital caring for harbor seal pups in Des Moines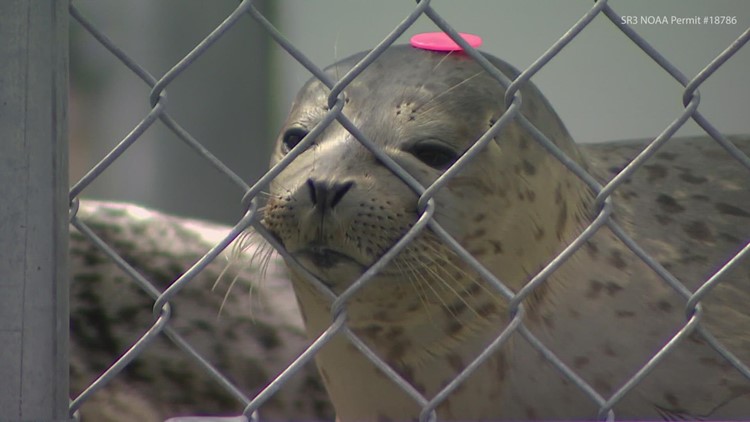 An adorable face and unique wag might be what we love about seal pups, but it could be argued that their cuteness is also their greatest weakness.
DES MOINES, Wash. – Caring for injured and abandoned harbor seals, the Sealife Rescue Center in Des Moines has a message that carries us into the hottest weeks of summer: keep your distance from baby seals.
The Sealife Response, Rehab and Rescue (SR3) Marine Animal Hospital opened in Des Moines in April 2021. They take in injured seal pups, many of whom were abandoned by their mothers after encountering a human.
It is the only hospital in the Pacific Northwest dedicated to marine life.
The hospital takes in mammals while they are at a sticky point in their lives – too young to take care of themselves but old enough to get away from their mother and get into trouble.
SR3 is currently caring for four seal pups.
Others weren't so lucky. Images taken along Vashon Island last year show three injured seal pups. One died after an encounter with a dog. A second was found by a rescue party, wrapped in a towel and emaciated after an alleged encounter with beachgoers.
"It doesn't take much for a dog to bite a puppy, and it can result in a life-threatening injury," said Casey McLean, marine biologist and executive director of SR3.
Every pup they treat offers a glimpse into the health of our oceans. Their health often shows warning signs of infectious diseases in the larger population.
"Even though we don't have a lot of information about what happens to these animals after release, the amount of information we can gather from them while they are in rehabilitation is actually quite significant and important," said Michelle Rivard , a vet for SR3.
And while some end up as whale feed, others are restored to full strength and returned to the waters where they belong.
"So we're doing what we're doing to be able to release these guys back into the wild and go back and be a part of the ecosystem," McLean said.
https://www.king5.com/article/tech/science/environment/sealife-rescue-center-harbor-seal-pups/281-25d0edf7-cfe0-4c9c-8bdc-112c6572b851 SR3 marine hospital caring for harbor seal pups in Des Moines